'This Is Us' Season 5 Will "Attack" the Coronavirus Pandemic "Head On"
The show has never been afraid to get real.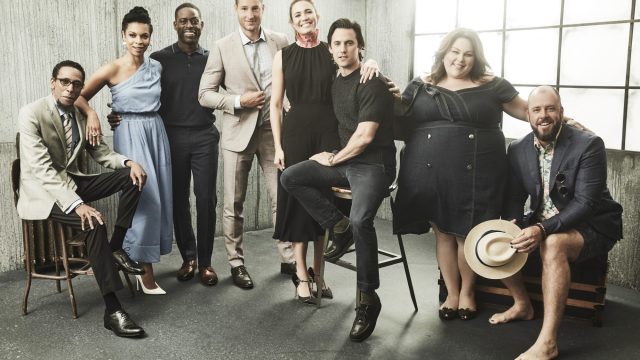 Production on most movies and TV series has been delayed due to the coronavirus (COVID-19) pandemic, with so many of our favorites waiting in the wings for the foreseeable future. But This Is Us creator Dan Fogelman just dropped some major news about the show's upcoming fifth season, revealing that the writing team will tackle coronavirus "head on." Here's what we know.
Fogelman gave some vague updates in a tweet on Sunday, August 16th, answering a series of questions from a fan as part of Deadline Contenders. The fan asked some of our most pressing questions, including when This Is Us Season 5 will go back to production, when will new episodes air, and if the writers plan to address COVID-19 during the scenes with the Pearson family in the present day—along with whether the planned series finale will change in light of the pandemic.
It turns out that the present-day Pearsons will have to deal with coronavirus in some capacity.
Fogelman wrote, "Yes on Covid. We've decided to attack things head on," and added that he's "very proud of" the This Is Us writing team.
Though he didn't give any further details—including whether or not one or more of the family members will deal with the virus personally—we're already keeping close eye on our stock of tissue boxes.
Unfortunately, it seems that Fogelman isn't sure when the series will go back into production, which means that it's impossible to know when Season 5 will actually air. It was slated to premiere in the fall, but like so many other shows, it seems that we won't be getting any new episodes anytime in the immediate future.
Still, we don't doubt that it will be worth the wait, though we're not sure our hearts can handle pandemic-related storylines just yet. (Too real? Too soon?) Fogelman also said that the pandemic won't impact the show's ending after Season 6, writing that it'll have the "same planned ending" and the "same route to get there."
Back in 2019, showrunner Isaac Aptaker told Deadline that the creators have had the ending planned pretty much from day one, revealing, "We've had this end in mind for a long time, so we're able to plan for it, and try to make it feel like it's a whole, as opposed to a series that's going to go endlessly."
It seems like we'll just have to pack our patience for now—but we're definitely gearing up for what is sure to be an intense ride for the upcoming final two seasons. 
As information about the coronavirus pandemic rapidly changes, HelloGiggles is committed to providing accurate and helpful coverage to our readers. As such, some of the information in this story may have changed after publication. For the latest on COVID-19, we encourage you to use online resources from CDC, WHO, and local public health departments.