"This Is Us" just had one of its Emmy nominations revoked for the silliest reason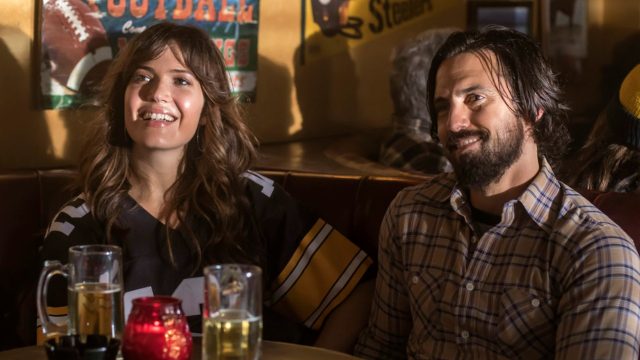 Some sad news for the This Is Us team. According to The Hollywood Reporter, the Academy of Television Arts & Sciences revoked one of the hit show's 11 Emmy nominations. And it's for a reason that seems a ~little~ nitpicky.
Unfortunately, fan favorite This Is Us has been disqualified in the outstanding contemporary costumes category.
Here's what happened: To be nominated in that category, the submitted episode must have at least 51 percent of the action take place in the last 25 years. For This Is Us, that means the episode has to have spent more than half of its time post-1992.
Normally, this seems like a pretty easy metric to pass. But what makes This Is Us so special is its nostalgic trips to the past. The episode they submitted is particularly heavy on the flashbacks, and consequently, the show is now one Emmy nom short.
The episode in question is "Moonshadow," the Season 1 finale — one of our favorites.
The many '70s flashbacks made it ineligible. But also, how can we complain about more Jack and Rebecca? A representative from the Academy of Television Arts & Sciences explained more about the case.
"Having reviewed the 'Moonshadow' episode of This Is Us, the Awards Committee noted that the entrant unfortunately miscalculated the proportion of scenes that were period versus contemporary. In fact, the episode is predominately period. The entry (and subsequent nomination) are thereby disqualified."
The decision sucks for the show's talented costume designers Hala Bahmet, Marina Ray, and Elinor Bardach. Still, it really isn't a reflection on the show's quality. Plus, This Is Us is still going strong with 10 nominations, including one for outstanding drama series and actor nods for Chrissy Metz, Sterling K. Brown, and Milo Ventimiglia.
Meanwhile, the remaining entrants for contemporary costuming include HBO's Big Little Lies, Fox's Empire, Netflix's Grace and Frankie and Amazon's Transparent. 
Better luck next time, This Is Us!