New "This Is Us" behind-the-scenes photos show Jack as a grandpa, and we're sobbing over what could have been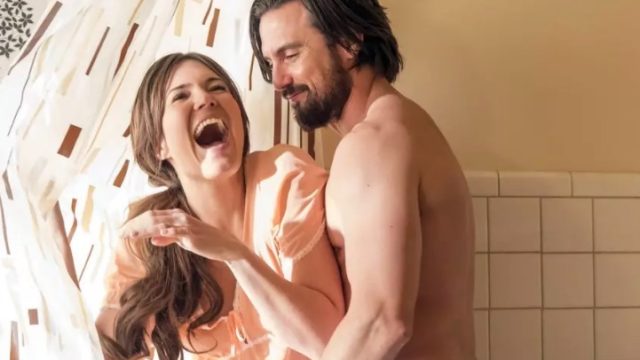 The next stop on the This Is Us quest to destroy our hearts? Even more alternate timelines and exploring what could have been. In case you need a refresher, Jack Pearson, a.k.a. the best dad ever, is no longer with us. Cause of death: cardiac arrest after inhaling too much smoke a fire in the Pearson home started by a faulty Crock-Pot. It was one of the most emotional episodes of TV we've watched in a long time. And even though we know Jack can still live on in flashbacks, it's just not the same anymore. But new photos suggest that Jack may pop up in a new timeline too — the present-day one. (Or at least an alternate version of it.) As Grandpa Jack. And our hearts can barely handle it.
A site called The Blast published several behind-the-scenes pics of what looks like Grandpa Jack and Rebecca in blissful old age. In the photos, the two stand together in wedding attire, possibly renewing their vows, looking gloriously unharmed. Since we know for sure that Jack is gone, this must be some kind of fantasy, dream, or alternate universe sequence. Basically, This Is Us is about to engage in even more emotional manipulation. As if we hadn't already felt Jack's death intensely enough already.
The internet is taking this new development pretty hard. Twitter users are speculating about what it could mean for the show's storyline. It's a lot of information to take in.
This Is Us fans are not emotionally prepared for Grandpa Jack.
false
But the general consensus is that Jack would have been the best grandpa ever, and it is truly a tragedy his family won't get to experience that. So showing us a short glimpse of what could have been is pure torture. It just feels so real, okay?
We could barely handle future Randall. How are we expected to deal with Grandpa Jack?!
But it's fine. Keeping ripping our hearts out at every turn, This Is Us. We can handle it. Maybe.