The cast of "This is Us" serendipitously matched in royal blue dresses at the 2018 SAG Awards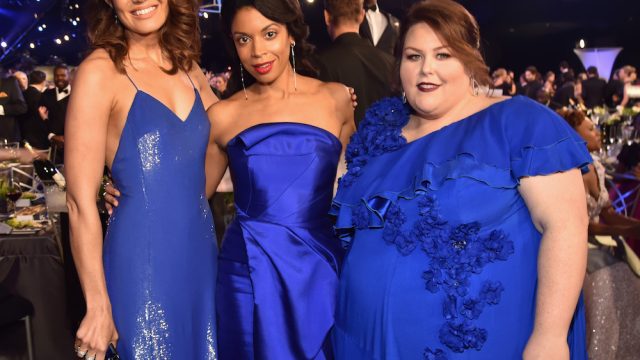 We can't get enough of the cast of This Is Us, and loved seeing them together at the 2018 SAG Awards while they celebrated their win. In a funny coincidence, all the women of This Is Us showed up in royal blue dresses, making it the most serendipitous dress trend of the evening. Mandy Moore, Chrissy Metz, and Susan Kelechi Watson appeared in stunning blue gowns — and while they all wore completely different styles, they equally looked like Disney princesses.
Mandy Moore wore a sleek sequined gown with an ethereal mermaid quality that looked beautiful paired with her soft, old-fashioned waves and neutral makeup. Susan Kelechi Watson's structured, satin strapless gown could not have been more elegant. The folds and details add dimension and take it up a notch. Chrissy Metz's romantic blue gown had ruffled edges and beautiful tiny flower details along the bodice and shoulder that made her look like she just stepped out of an enchanted forest. The billowy fabric was truly otherworldly — we're obsessed.
We're still swooning over the happy coincidence of the This Is Us women showing up to the SAG Awards in the same shade of blue.
https://www.instagram.com/p/BeQy5dMHKT9
It's too beautiful for words.
So how is it that three women in one of the most popular shows on television wound up in the exact same color at a major awards show? We're not quite sure, but it looks so enchanting that we think more casts should start to coordinate.
These women are all clearly on the same amazing wavelength.