This is the last bit Jimmy Kimmel was SUPPOSED to make at the Oscars
Jimmy Kimmel may have been the prankster of this year's 89th Academy Awards, but that doesn't mean he got to tell all his jokes. Although his beef with Matt Damon was one of the funnier parts of the night, Jimmy Kimmel missed a vital opportunity to joke with him after the award for Best Picture went awry.
Speaking on The Bill Simmons podcast, Jimmy reveals that if Manchester by the Sea lost, he was supposed to end the night sitting next to Matt (the producer of Manchester by the Sea) and say:
"Wow, unbelievable, Casey [Affleck] won and Kenneth [Lonergan]won and really only one person didn't win tonight, and it's you for this movie."
The joke was supposed to be a play on what happened at the Emmys, when Jimmy lost in his category, and Matt casually walked on stage, eating an apple, asking who had won the last category since he missed it. But with the mixup that happened during Best Picture, Jimmy wasn't able to get his revenge. Instead, he was left just as confused and stunned as the rest of us.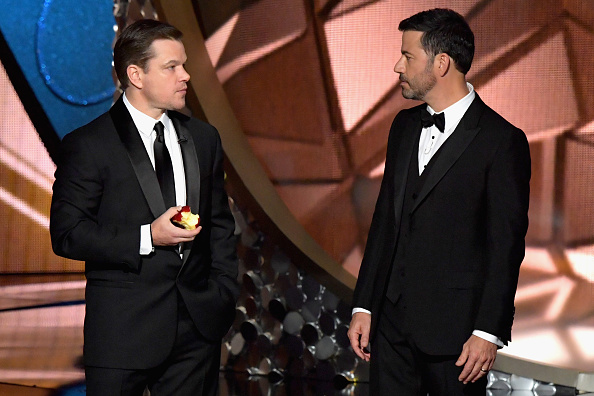 Although some of Jimmy's jokes were tasteless, hello Lion King reference and making fun of people of color's names, we do like his ongoing rivalry with Matt. And although Matt didn't seem too thrilled by the jokes, we know they're all in good fun.