We've officially found it: Here's the one empowering book you need on your summer reading list ASAP
At first glance, Who Thought This Was a Good Idea? probably looks like just *another* memoir written by a former Obama White House Staffer. President Obama is even on the cover, alongside author Alyssa Mastromonaco, who served as the former President's Deputy Chief of Staff for Operations. While the book technically *is* another memoir from a former Obama staffer, it's also so, so much more.
I bought Who Thought This Was a Good Idea? as a birthday gift for my sister. As ardent followers of politics, we'd both been dying to read it. Immediately after my sister read (and *loved*) the book, I stole it so I could read hilarious anecdotes about the super cool Obama White House. I laughed, I cried, but most of all, I was in awe.
Upon finishing it at 2 a.m., I promptly bought my own copy because this book was essentially the mentor I'd been looking for.
Mastromonaco's memoir may tell the story of how an expert grocery bagger from upstate New York became one of the most important advisors to President Obama, but it's filled with advice and stories that every women could use or relate to.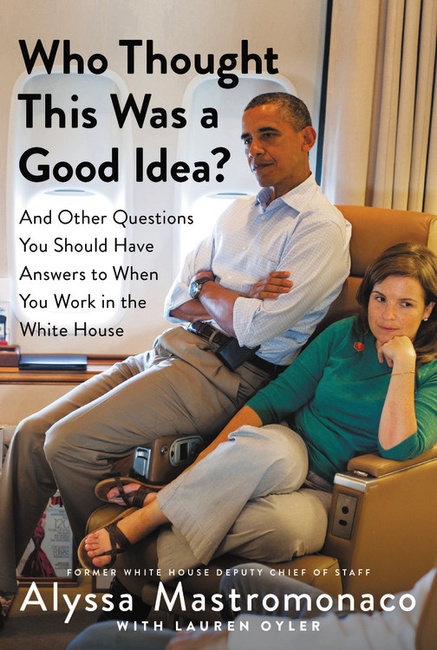 While most readers will have never have a top level security clearance or make David Beckham laugh while humiliating ourselves in front of Colin Firth, we're all women looking to make something of ourselves. While Mastromonaco's goal for the book is to serve as an aide for women getting into politics, it has important advice for women in all industries.
Embedded in various stories and vignettes, Mastromonaco writes about the importance of taking ownership of your ideas, not being afraid to look weak by asking for help (when the time calls for it!), and the importance of being humble. She's also honest about loving your job, but also feeling drained by it and how difficult it can be to change careers after spending more than a decade doing life-changing work.
There were so many moments in Who Thought This Was a Good Idea? that made me laugh out loud. The book tackles situations in various aspects of Mastromonaco's personal and professional life, from sharing hilarious cautionary tales — like the unfortunate fact that Irritable Bowel Syndrome doesn't just disappear because you're about to meet the Pope — to the painfully relatable experience working in an office with a *lot* of men and no tampon dispensers (if you ever get a tampon from the West Wing dispenser, thank Mastromonaco).
Sure, I may never be able to relate to the stress of being promoted to Deputy Chief of Staff or scheduling an entire campaign but who knows? Maybe another one of Mastromonaco's readers will have the exact same experience in 15 years.
On a personal level, this book really spoke to me. Having spent the last year mostly disappointed in my lack of immediate career success, reading that even President Obama's most senior advisors had to start somewhere provided a healthy perspective for me. Mastromonaco, who was one of the youngest Deputy Chief of Staffs in the history of the White House, even wrote that if she had set that goal for herself, she never would have achieved it.
I could ramble on and on about how much I love this book and am inspired by Alyssa Mastromonaco but I'll stop and encourage you to buy it. Whether you're a relatively recent grad or are looking for a change in your life, Who Thought This Was a Good Idea? is the perfect guide or companion to turn to when you need a little advice.