This is the advice that Jada Pinkett Smith and Queen Latifah wish they could give their 15-year-old selves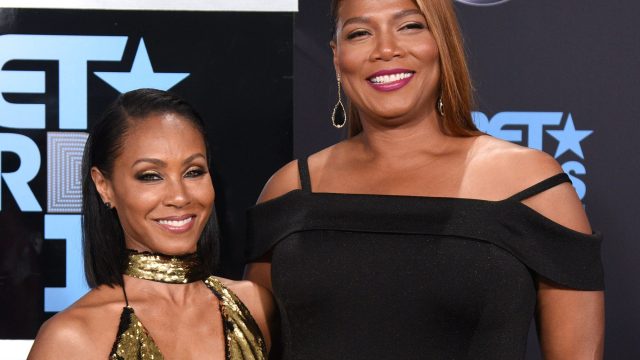 We adore both Queen Latifah and Jada Pinkett Smith. So you can imagine how excited we are to see their upcoming movie Girls Trip. It's poised to be one of the most hilarious female-led comedies of the summer that we all need. Lucky for us, it's going to be released soon. Until then, the actresses treated us to some great advice during a recent interview.
Queen Latifah and Jada Pinkett Smith are on press duty for Girls Trip and they're dropping actual pearls of wisdom along the way.
The dynamic duo recently made an appearance at the 2017 Essence Festival to talk about the film. They had some thoughts to share on what they'd tell themselves at age fifteen. It's actually a really good question! It makes you think about what you've learned and how you'd communicate it to who you were at such a tender age.
Queen Latifah had some simple, profound advice for her younger self.
"Love yourself because people will love you for who you are in the future," she said.
That speaks to how difficult it is for all of us to love ourselves as teens. It's such a complicated, difficult time, and loving yourself through it isn't always our first instinct.
Jada Pinkett Smith got to the heart of that issue in her advice to her teen self.
"At 15 years old it was rough, and I brought a lot of pain out of my childhood into my adulthood that I'm just now dissolving," she said. "That pain held me back and I wish I had known then that pain is just a part of your journey and it's not because you've done something wrong or because you're cursed or you're a bad person, we're all going through it."
It's seriously the truest, hardest thing to hear. It makes you wish that you could teleport back through time and give that advice to yourself right when you needed it. Jada closed her thoughts with some encouraging words.
"We all have pain, we all have a story. And, so, all we need to do is support each other through it and I wish I had known that, 'Jada, it's just a part of it, baby. It's going to be okay.'"
Honestly, their advice applies to people of all ages. Well said, ladies!