This is how you can copy the fierce style seen in last night's "Scream Queens" episode, "Handidates"
Welcome to your official Scream Queens Season 2 fashion recap. Here we will discuss the various lewks in each episode, complete with more affordable shopping recs so you too can mimic the grandiose style of Chanel Oberlin and Co. Warning: spoilers within!
Scream Queens didn't air last week, but its absence was more than made up for during last night's episode. There was so much going on — SNL's Cheri Oteri played a woman who can't stop having orgasms, there's a reveal about Dr. Cascade's apparent undead status, more clues about the killer from creepy Hester, a wedding, and finally, the death of one of our favorite characters (I KNOW).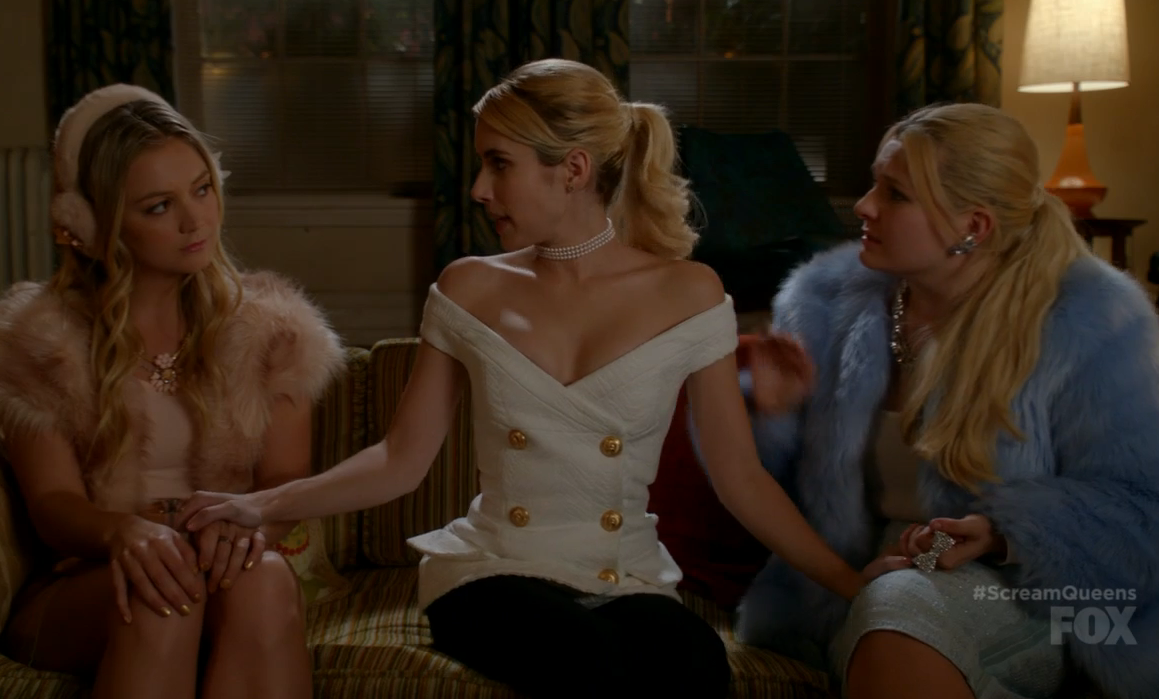 Chanel #5 is still reeling from the Green Meanie murder of her boo, Colton, yet still manages to have the best EARRING GAME of all the Scream Queens.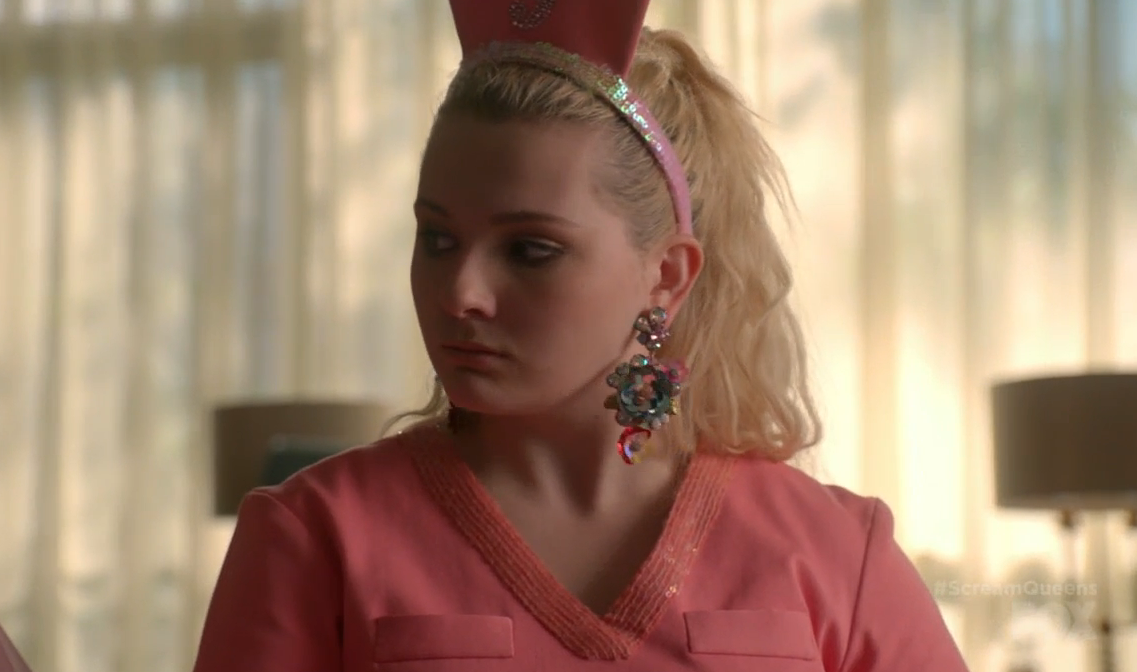 Of course, we can't blame #3 due to her always having her ears covered, but she always makes it up with her intensely glamorous earmuffs. Can you say SEQUIN CHERRY?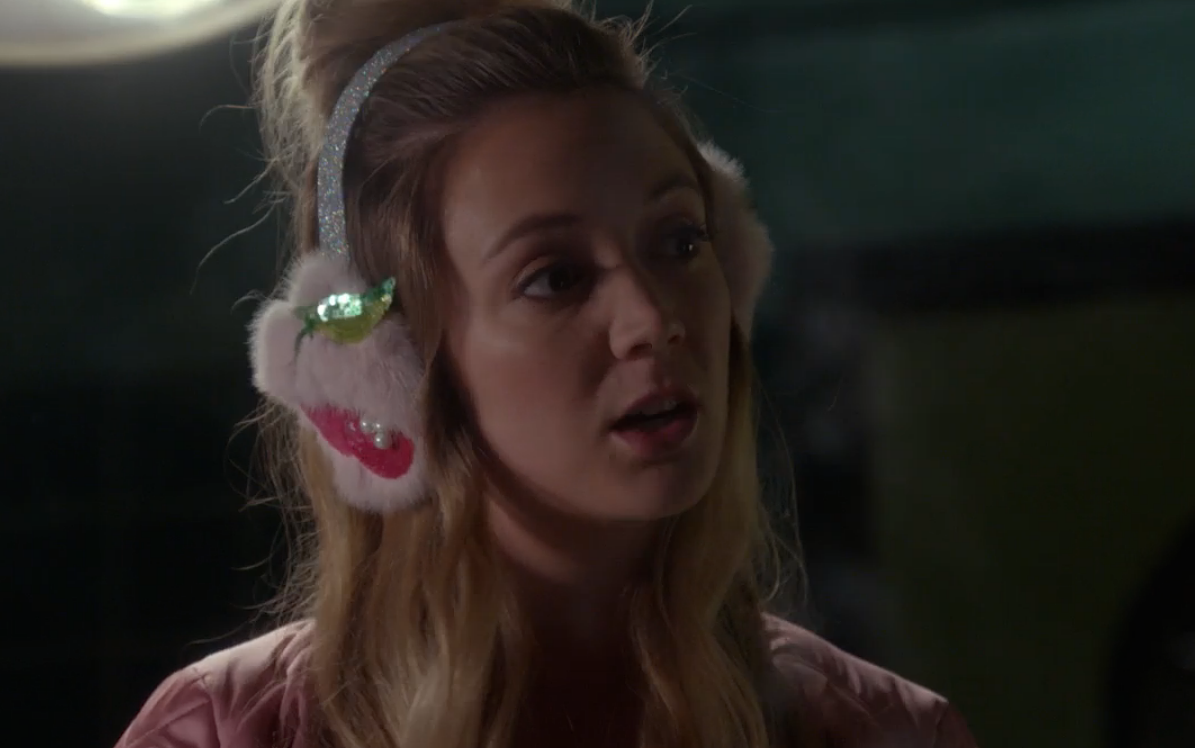 After the murders of Colton and Chad's friend who couldn't stop screaming, Munsch and the Chanels visit Hester again for her suspicious knowledge of the killings. Unfortunately for Hester, Munsch did not supply her with her requested rare skincare products and only brought a VHS tape referring to the murderess' wish for a room with a view.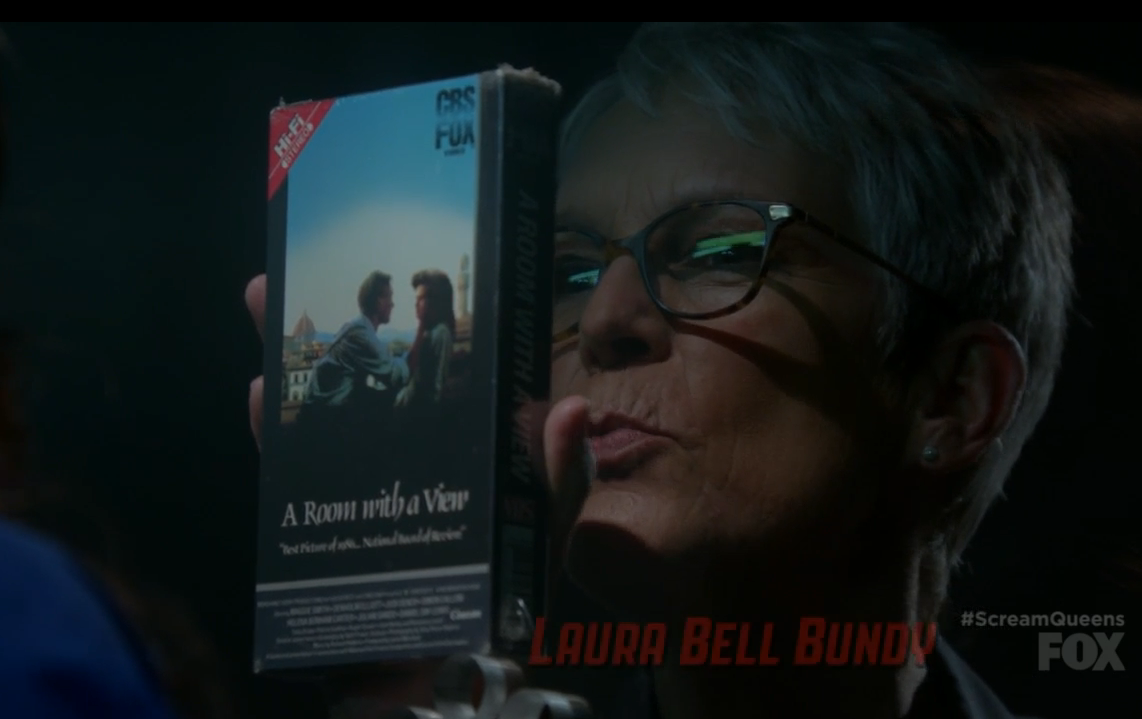 SAVAGE.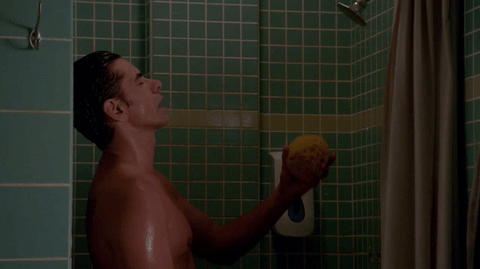 After the third Stamos shower scene of the season (thank you Ryan Murphy), Dr. Holt and Chad continue their rivalry for the affection of Chanel.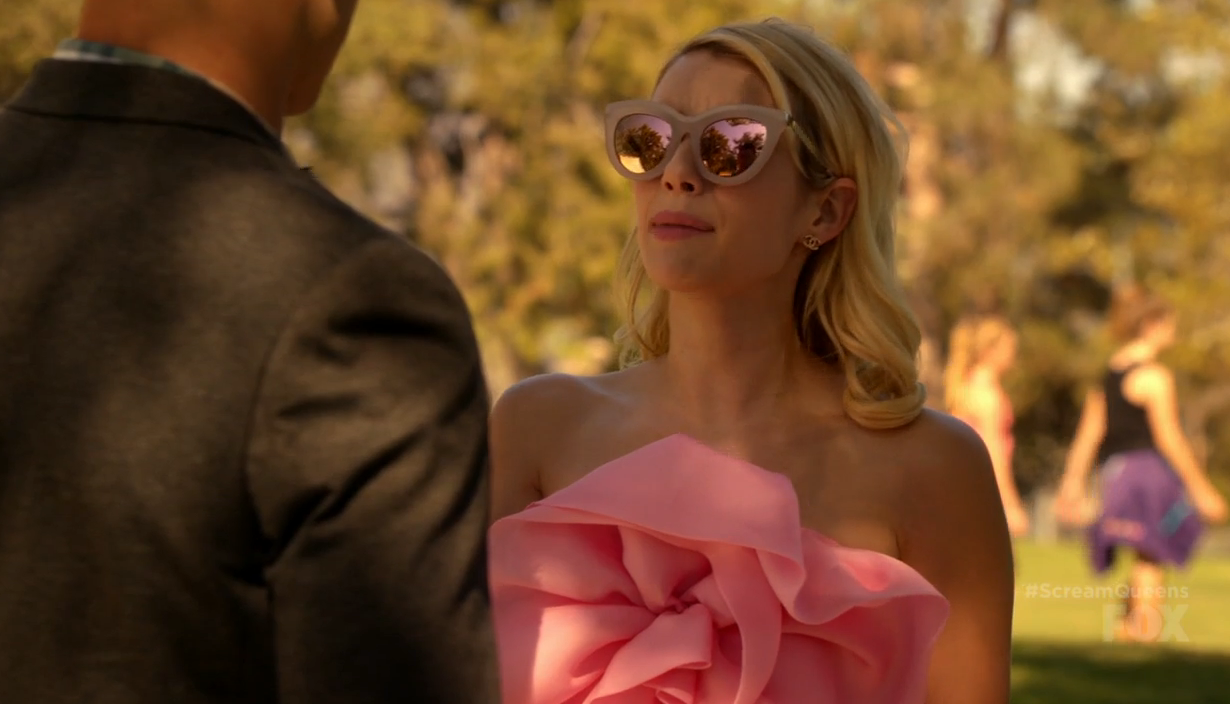 This motivates Chad to propose to her with a mariachi band, a stacked prenuptial agreement, and a 29-carat diamond in the extremely rare "whore cut," which also includes its very own WiFi hotspot. RIDICU-LOL-OUS!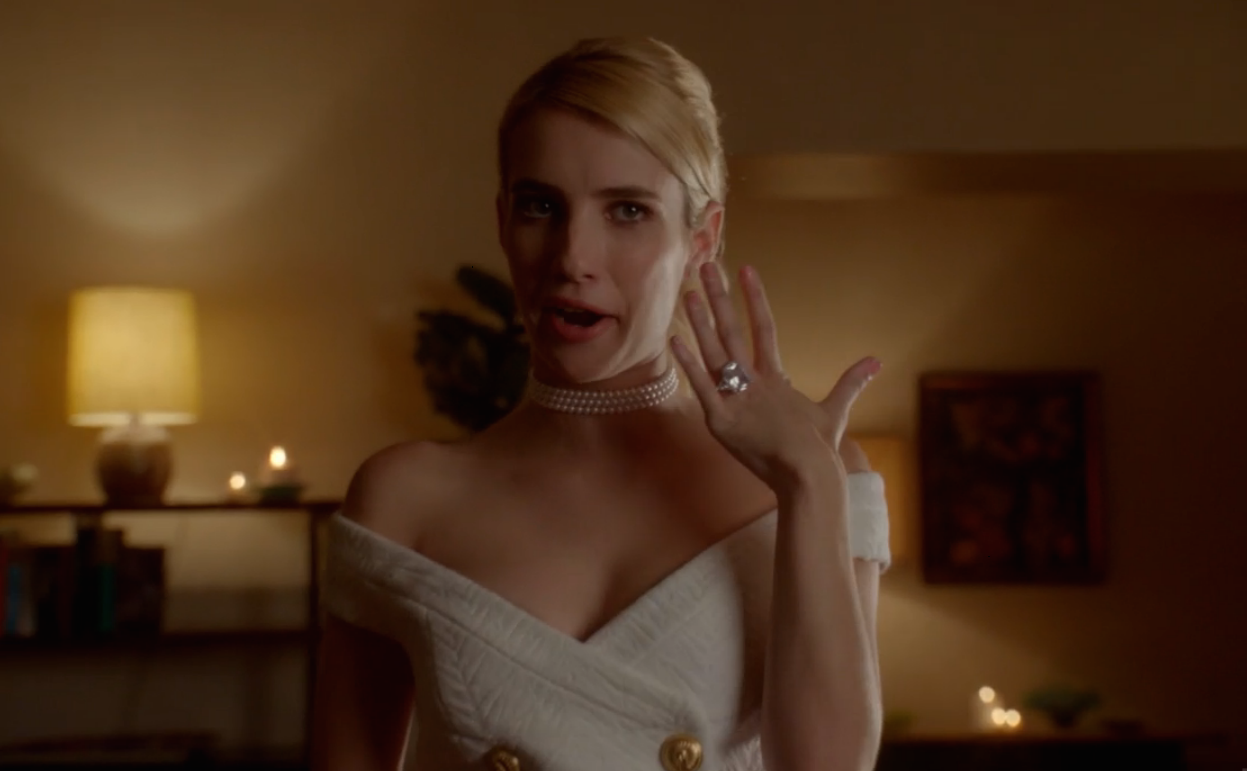 Now, the wedding decor has to be celebrated for its over-the-top, pink garishness, yet it's still pretty tame for Chanel, don't you think? Where are the exotic animals, the celeb-studded guest list? Where is Mariah Carey serenading from a levitating swing? I suppose there wasn't enough time to plan all of that. SIGH.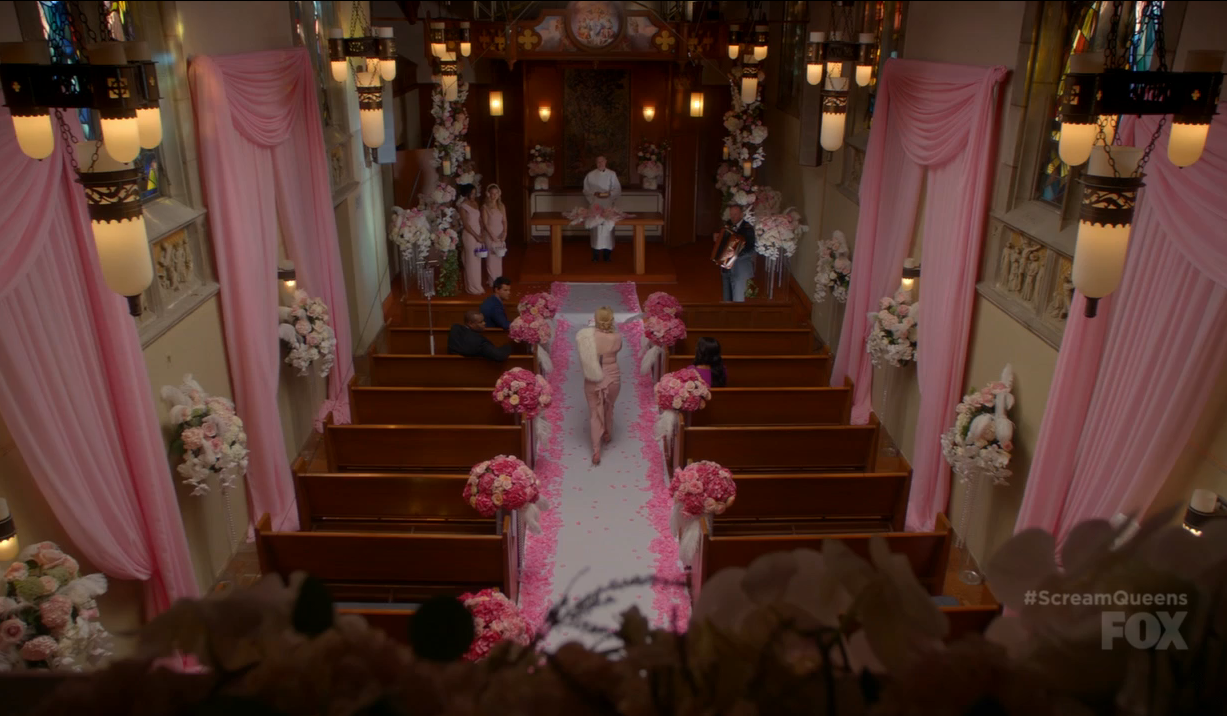 Still, look at this lace train.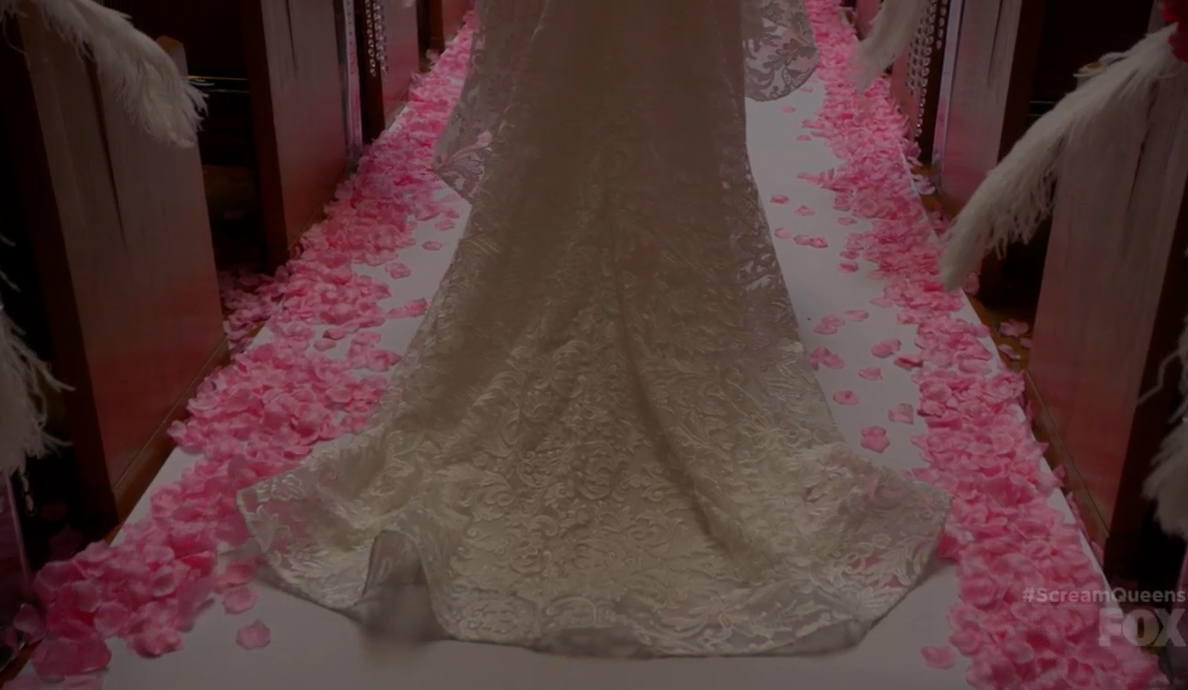 By now you should be all fashion fired-up and ready to get these looks for yourself! Shall we?
We're drooling over #3's delicious ice cream necklace.
I love when a character repeats a wear, and #3 actually wore this H&M ice cream necklace last season. As expected, it's sold out, but this $26 option from Etsy is equally adorable.
Shout out to Chanel's pussy bow blouse.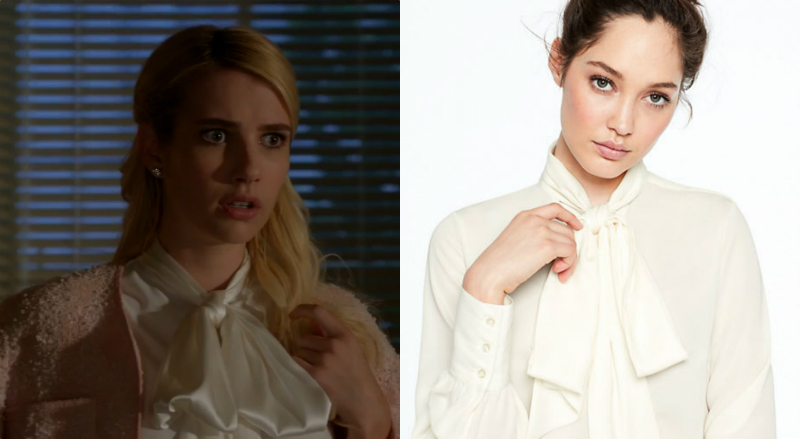 Pussy bow tops have been in the news as of late, but we all know who wears them the best. Grab this similar one from Lands' End for $89.
Totally loving Zayday's penchant for statement necklaces over printed tops.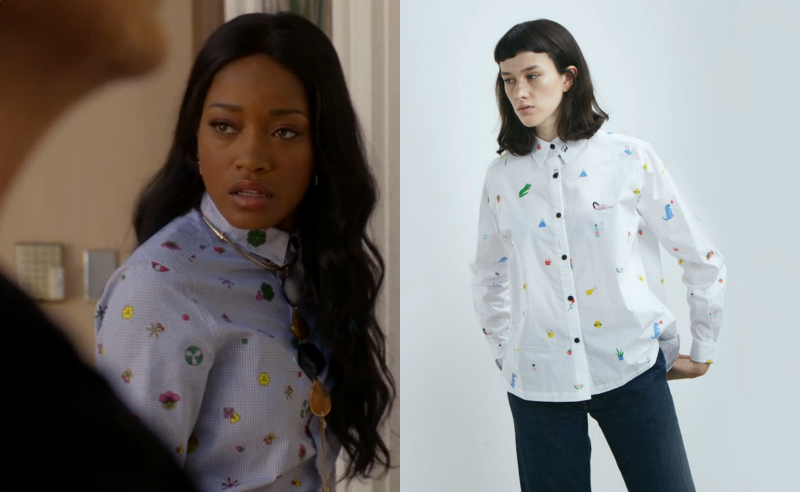 Some might say a bold accessory over a novelty print button-up shirt is overkill. I say it's GENIUS. Her Kenzo shirt might be too steep at $305, but this Lazy Oaf substitute is just as quirky for roughly $73 USD.
I told you her earring game was KILLER.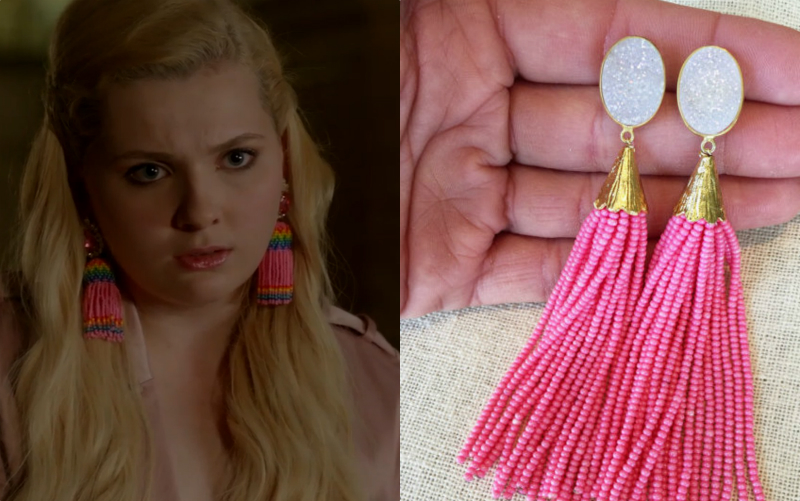 I'm drooling over those bubblegum pink SHOWSTOPPERS hanging from #5's lobes, but I'll take this Etsy version for $62.
This pineapple dress is the perf studying outfit.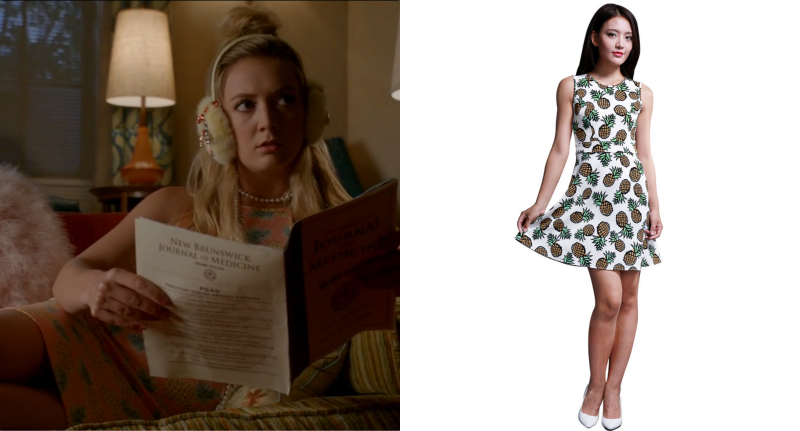 Too bad #3's exact dress is sold out at Forever 21, but you can get this cute option from Walmart for $13 to $16.
Until next time, bitches!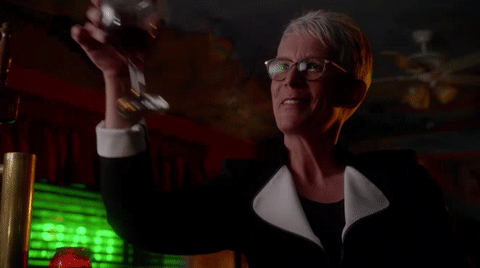 Check out our previous Scream Queens style coverage here!