This is how to do a full face of makeup with Benefit's adorable Girl O'Clock Rock advent calendar
When we heard about all the spectacular holiday gift sets that Benefit was releasing this year, we couldn't believe our eyes! They're all filled to the brim with gorgeous products at insane prices, and the Girl O'Clock Rock Advent Calendar is no exception! You can actually use the the kit itself to put on an entire face of makeup! How perfect is that for your travels? No need for superfluous products taking up space in your bags or causing problems with TSA. To say nothing of the fact that it's absolutely adorable and picture perfect! This limited-edition set has 12 mini versions of their best sellers to fulfill all our makeup needs!
The kit is already sold out on their website but luckily, it's available for $45 at Macy's, HSN, and Birchbox! You better follow those links and get one for yourself before they really run out!
The set includes the POREfessional mini, They're Real! Mascara mini, Benetint mini, Posietint mini, They're Real! Remover mini, It's Potent! Eye Cream mini, Lollitint mini, Hoola mini, Dandelion mini, BADgal Lash mini, High Beam mini, and an Ultra Plush Lip Gloss in Lollibop mini.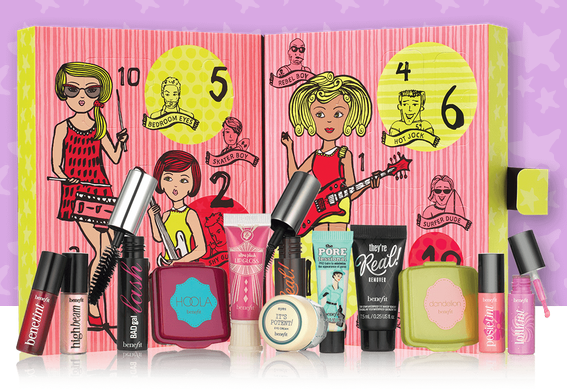 That is a seriously awesome assortment of swag!
If you're wondering how on earth to give yourself a holiday face with these products, you're in luck! Because Benefit makeup master Jose Rivera has generously shared some of his favorite tips with us!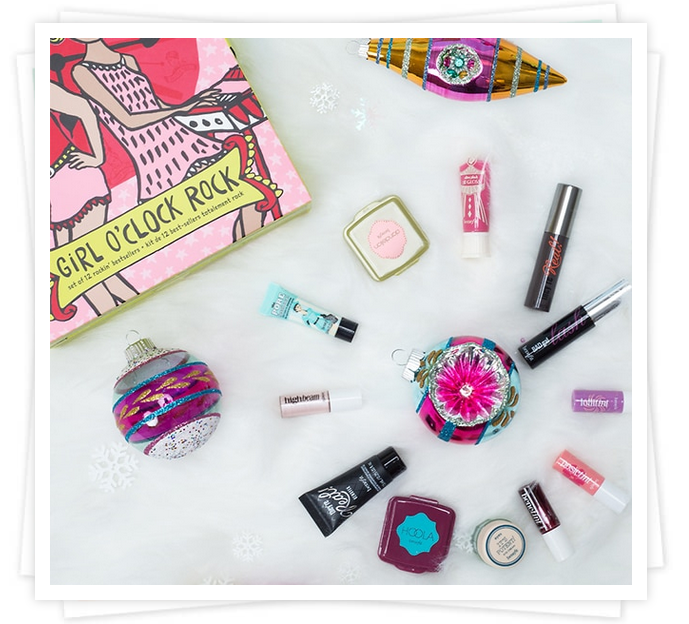 Some ideas:
"Mix Benetint + High Beam for what we call the 'jelly donut.' Place a pea size amount of high beam on the back of your hand and then add a drop of Benetint to the middle. Swirl them around and apply to the apples of your cheek for the most flattering flush."
Nothing more important than a gorgeous glow, wouldn't you agree? And yes, we do want to look exactly like a glazed donut, #thankyouverymuch!
He also tells us,
"Layer Lollitint or Posietint onto the lip to achieve a perfect pout that doesn't fade before you do. Finish off with a mix of the Ultra Plush Lip Gloss + High Beam for a show-stopping lip."
You'll look like a pouty angel sent from the heavens with this trick!
Next, he says:
"Top-coat your lashes by applying BADGal Mascara over the top of the lashes to load up the volume, then brush the lashes to separate with They're Real! Mascara to achieve beyond belief length."
There is no beauty problem that can't be solved with a truly ridiculous amount of mascara, you feel me?
Finally:
"Swirl a blush brush into Dandelion + Hoola powders and then sweep across your face. The combination of both all over face powders evens out the complexion while adding warmth and brightness to your overall look."
And voila! Couldn't be simpler. And we love that thanks to all these stunning products, you won't lose the glam factor either. A little goes a long way with these excellent makeup choices. Also, just because they're mini doesn't mean they won't last you a good amount of time. They're worth every penny, especially since they're such a great deal!