This is how Pulse nightclub honored the victims of last year's attack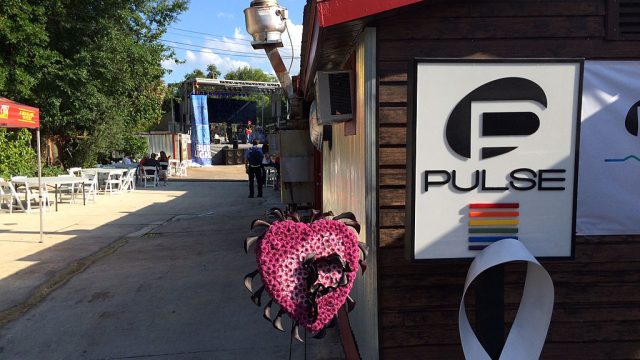 Monday was the first anniversary of the shooting at Pulse nightclub in Orlando. To honor the victims, Orange County, Florida declared June 12th "Orlando United Day" and asked everyone to commemorate the 49 victims of the shooting with "acts of love and kindness." But Pulse nightclub honored the victims of last year's attack with even more than that.
Members of the Orlando community gathered at Pulse overnight for a vigil marking the exact time of the nightclub attack one year ago. Though the 1:45 a.m. event was open only to family and friends of the victims, hundreds more gathered outside the nightclub's fence to pay their respects, the Orlando Sentinel reported.
Forty-nine supporters dressed as angels arrived at the vigil to surround the private ceremony, reprising their role from last year, when they attended funerals and memorial services for the victims, protecting the attendees from any violence or protestors.
People gathered overnight to memorialize the victims of the Orlando Pulse nightclub shooting.
There were other memorials in Orlando to honor the Pulse victims, too.
The event was obviously fueled with good vibes. CNN reported that attendees wore "We will not let hate win" shirts and people lined up to donate blood. In the wake of the attack last year, Orlando natives came out in droves to help in any way they could, even if it was just to donate blood. There were reportedly some protestors chanting homophobic slurs until the crowd drowned them out with "love conquers hate" chants, and police escorted them away. News agencies reported that one protestor was arrested after resisting an officer's attempt to remove him, but HelloGiggles' request for comment from the Orlando police department was not immediately returned.
It was a sad day, of course. But the memorial's turnout definitely shows that love does conquer hate.