This insanely cool brush cleaner just might change the way we wash our makeup tools
One of the less glamorous parts of the world of makeup is figuring out effective ways to keep your brushes clean. If you don't stay vigilant, you'll soon find yourself surrounded by dusty brushes and nobody's skin is trying to live that life. However, this new, innovative makeup brush cleaner provides a one-stop shop for thoroughly washing AND drying makeup brushes so you don't have to worry about painting colonies of invisible bacteria onto your lovely skin.
The newest cure for dirty makeup brushes is called the StylPro Makeup Brush Cleaner & Dryer, and it looks more like an "As Seen On TV" food preparation tool than a makeup accessory.
As you can see in this demo video, the StylPro comes with several different sized tube inserts that your brush latches onto.
Once your brushes are in place, you click it into the bowl and let your brush spin its way to cleanliness and godliness. Buzzfeed shared a video that shows exactly what this magical cleaner can do!
Not only does it include rubber tubes for all of your different makeup brushes, but the spinning function works just as well for drying your beauty tools.
https://www.youtube.com/watch?v=3IQS-Cq8lqo?feature=oembed
Pretty damn sexy and useful.
This includes the bowl, the spindle, and StylPro device, all eight rubber tubes for different brushes, and the makeup brush cleaner formula!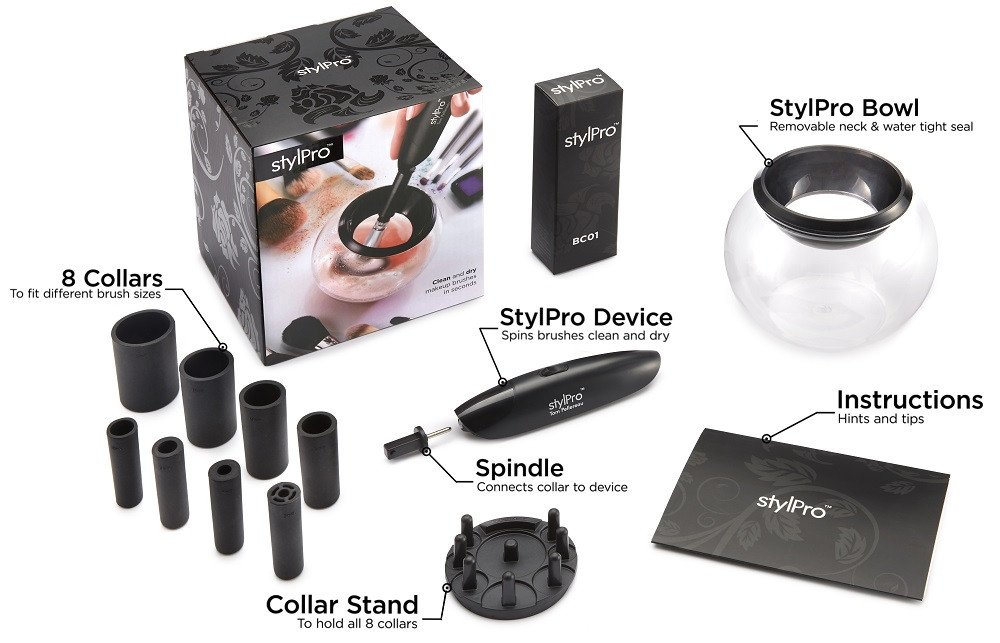 Now we're left with no excuses for dusty brushes, which is a good problem to have.