This girl stood up for a stigmatizing anti-choice abortion presentation at her school, launching an investigation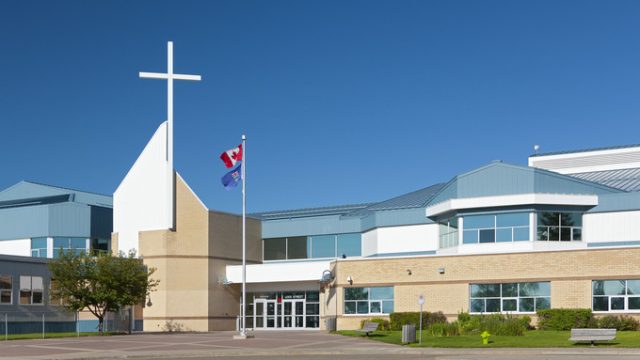 There's a saying that goes, "if you see something, say something." Which is exactly what this super amazing teen did when she saw a stigmatizing anti-choice presentation at her school. The Red Deer, Alberta student took out her phone and filmed the whole thing and then sent it to the sexual health organization AIM (Accessing Information, Not Myths) in Canada. She's remained anonymous so that her school doesn't know her identity, since AIM is now calling for some major overhauls of what kind of information is presented to students in school concerning abortion.
The school, École Secondaire Notre Dame, invited Red Deer and Area Pro Life to speak to a religion class about abortion. Presenters showed this video comparing abortion to the Holocaust and presenting inaccurate information, like that abortion causes mental and physical health problems later in life. École Secondaire Notre Dame did not immediately return HelloGiggles' request for comment.
Abortion has been legal in all Canadian provinces since the 1980s. Although the school is a Catholic school (and the Vatican does not condone abortion), groups like Area Pro-Life are allegedly often invited to speak in schools throughout Canada and exaggerate the impact of abortion on women and society.
Cristina Stasia, founder of AIM, told BuzzFeed that the third party's information was "problematic and inaccurate."
"One of the things that was the most troubling was the discussion about abortion in the case of sexual assault and putting adults in a room that would give that kind of information to students."
Stasia told Global News that these kinds of presentations happen all over the country and that other students at this particular school have complained in past years about the same kinds of anti-abortion rhetoric. So it won't be enough to lobby the school district to rethink its sexual health curriculum.
"We know [these presentations are] happening in our schools. We know that groups are coming in, they are politically motivated groups, they are not experts in their field. They are being allowed to disseminate all this inaccurate information to students. It is clear that we need provincial oversight and provincial intervention here.
At least the students are standing up for their rights. In the recording of the presentation, you can hear students asking the presenter about her misinformation and whether abortion should ever be legal, like in the case of sexual assault.
It's a good sign that this brave teenager had the courage to record and then know to send the video to AIM. But in the meantime, there are tons of students out there being forced to sit through these factually incorrect and exaggerated presentations like the one at this Alberta high school. Kind of a scary thought.