This fruity dress makes me feel like a mix between Carmen Miranda and Frenchy from "Grease"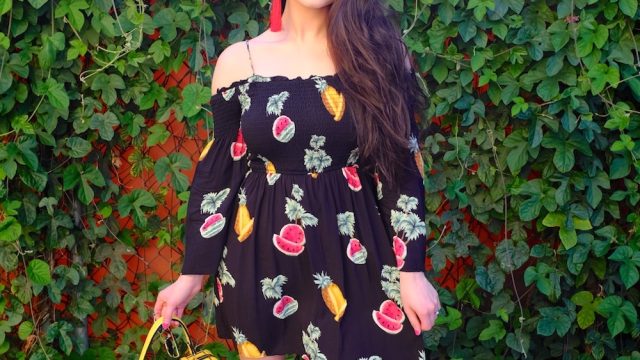 My mom always told me that when you look good, you feel good. I'm a huge believer that an outfit, a pair of shoes, or the right kind of mascara can brighten your mood. When I get dolled up, it's not because society tells me I need to "act like a lady." I do it because it actually makes me feel great. When I look frumpy, chances are I'm going to *feel* frumpy. My style might be all over the place, but it's truly magical what a little bit of makeup, cute shoes, and a flowy dress can make.
I'm not one to wear crazy prints or shoulder cutouts. So it was surprising when I found an affordable dress (keyword: affordable) that combined both styles. Long story short, I fell in love.
Here's the thing: I normally stick to black ensembles — most of my closet is filled with dark tees, dresses, jeans, and blouses that can easily be dressed up or down, depending on my mood. In January, I became aware of this "problem" and started buying clothes with little pops of color. New year, new closet, amiright? Case in point: the Forever 21 dress I'm currently obsessed with.
Here's my full ensemble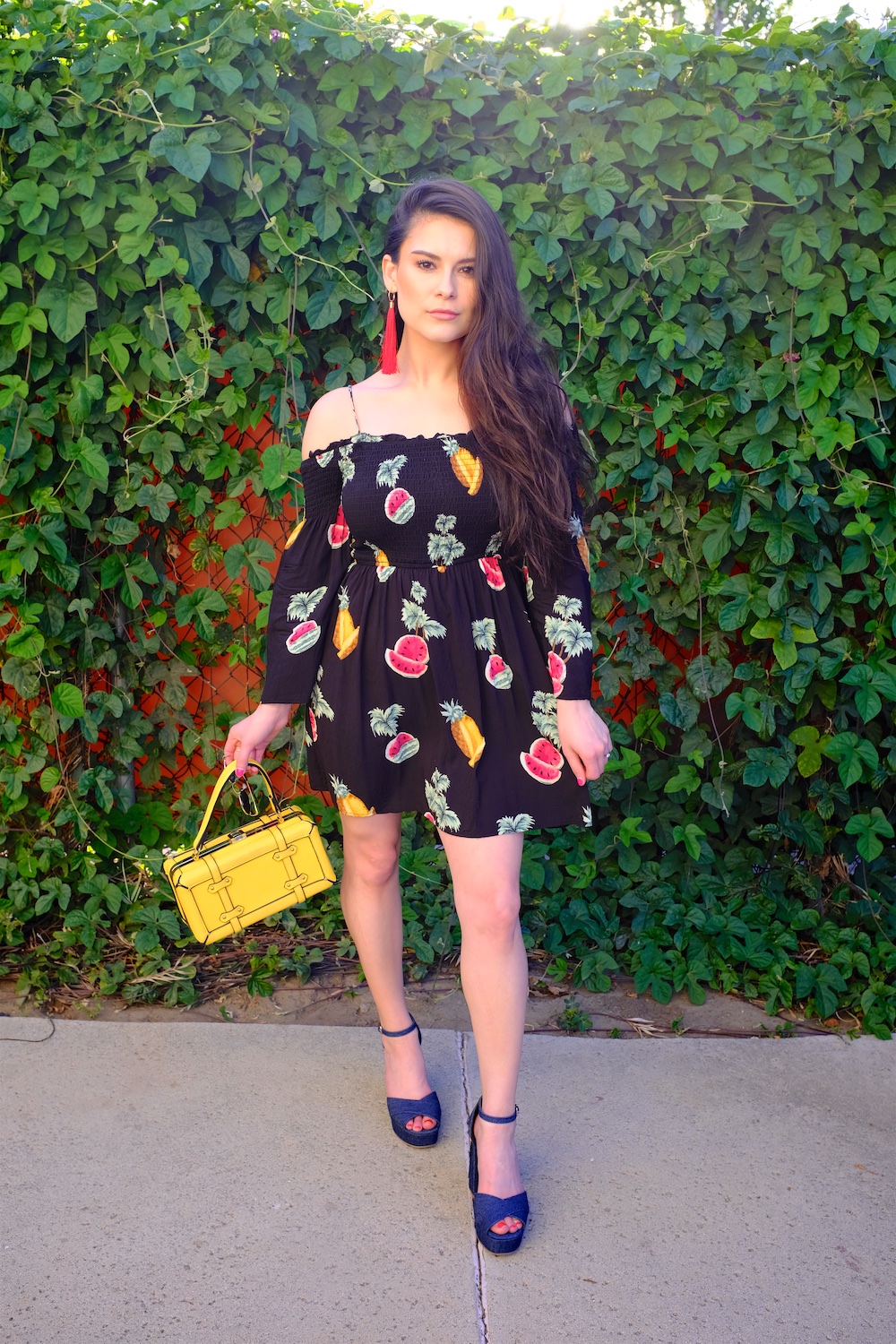 When I took this photo, I was thinking, "How would Selena Gomez pose?" I'm seriously still stuck in the mentality that I need to emulate her and her poses (ever since I did a post about recreating her Instagram photos).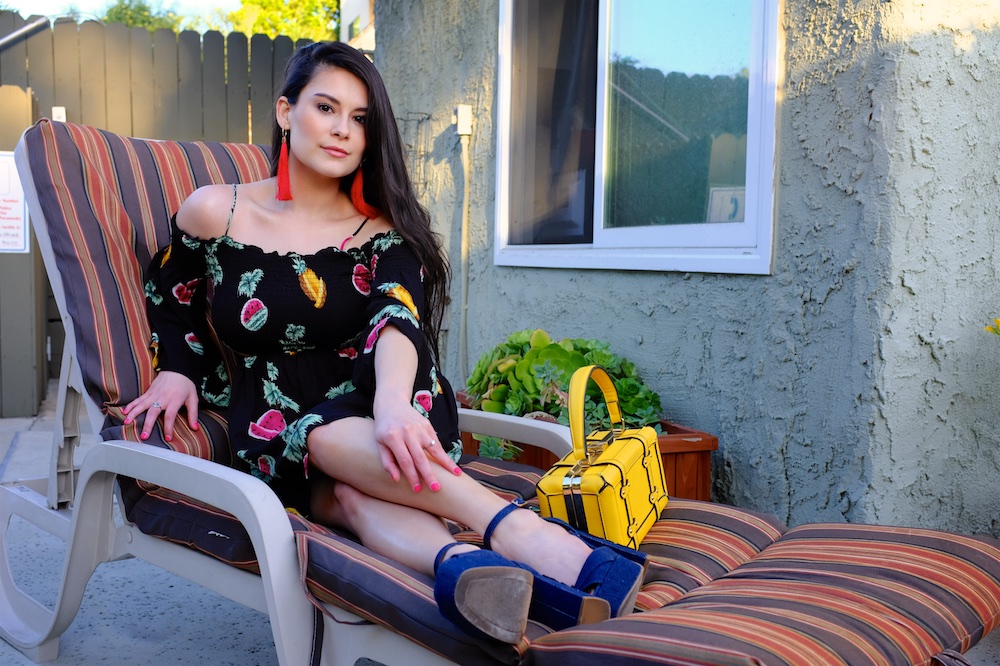 This fruit-adorned dress puts a pep in my step because it's just so darn cute. It makes me feel like two things: Carmen Miranda (aka The Lady in the Tutti Frutti hat), because the watermelons, pineapples, and peek-a-boo shoulders make me feel like I'm channeling the famous Latina starlet who made a fruit headwrap chic. Second, this dress reminds me of Frenchy from Grease in the prom scene where she's all dolled up and she asks Doody how she looks, and like a typical man, he responds, "like a beautiful, blonde pineapple."
To complete this outfit, I wore tassel earrings, denim platform heels, sunnies, and a bright yellow purse.
Here's a closeup of my shoes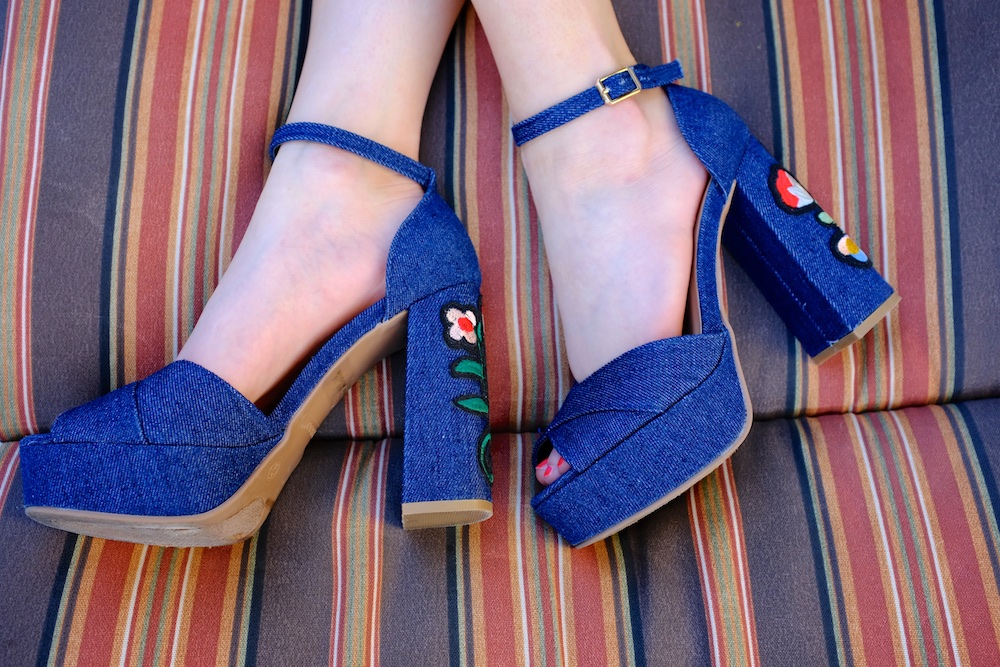 These platform heels are surprisingly comfortable. I love the little flower details in the back of the heel; it adds a little bit of oomph. Since this outfit is cute and playful already, I decided to be more daring with my shoe choices. Instead of wearing simple black heels or sandals, I wanted to try my hand at mixing patterns. These denim heels keep the dress relaxed, and the embroidered flower designs make it fun and flirty.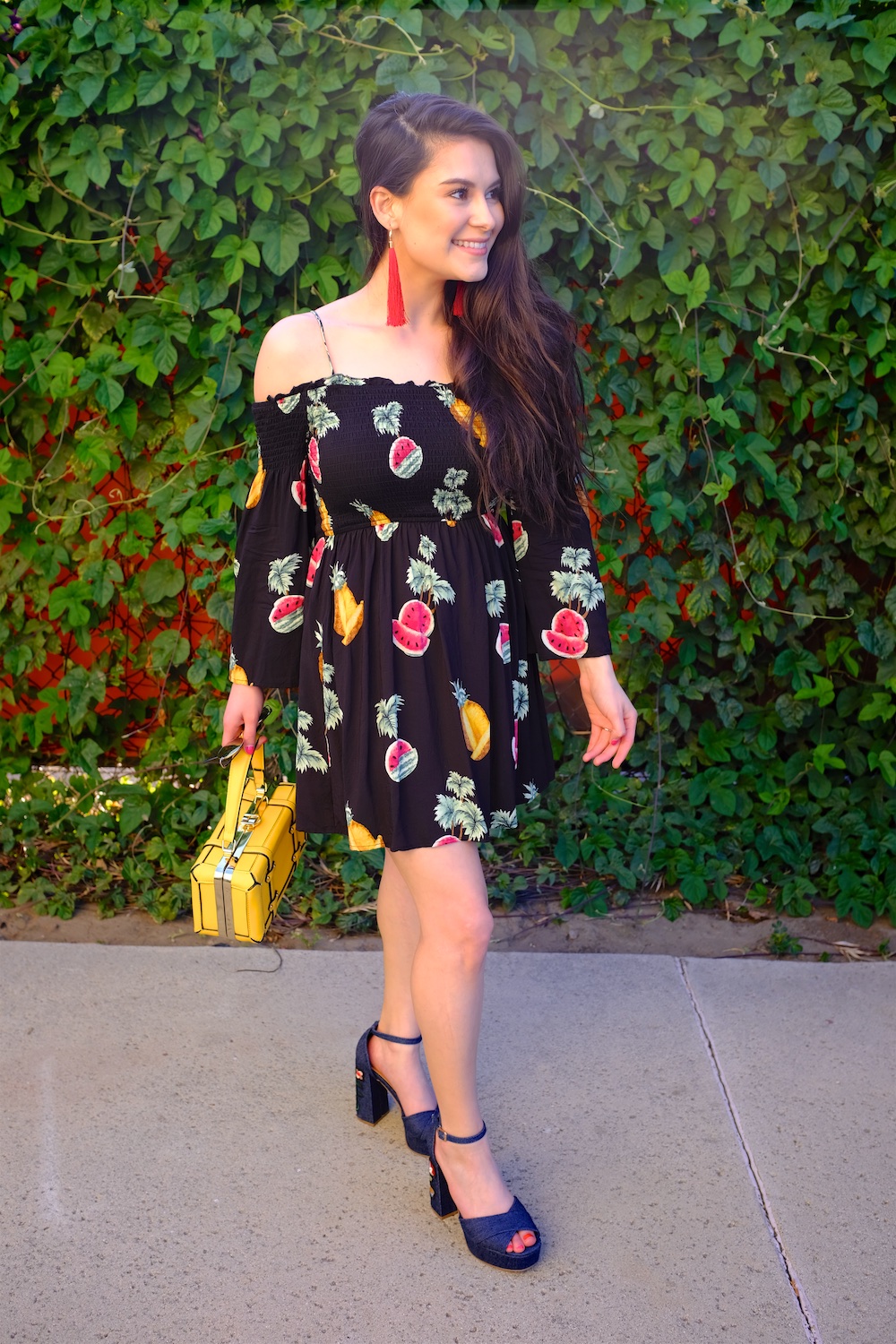 To add a pop of color, I threw on my tassel earrings. They make my heart sing! I instantly feel like a sophisticated blogger, who is up-to-date with the trends.
A closeup of my earrings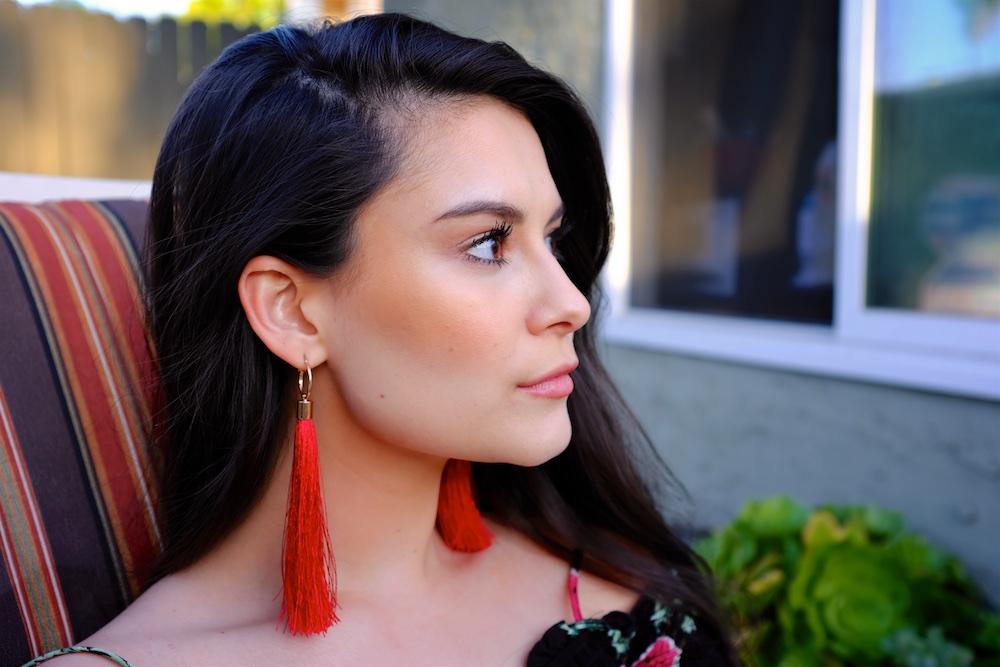 But in all seriousness, when I spotted these affordable earrings at Forever 21, I knew I needed them in my life.
A pineapple yellow purse to go with my pineapple dress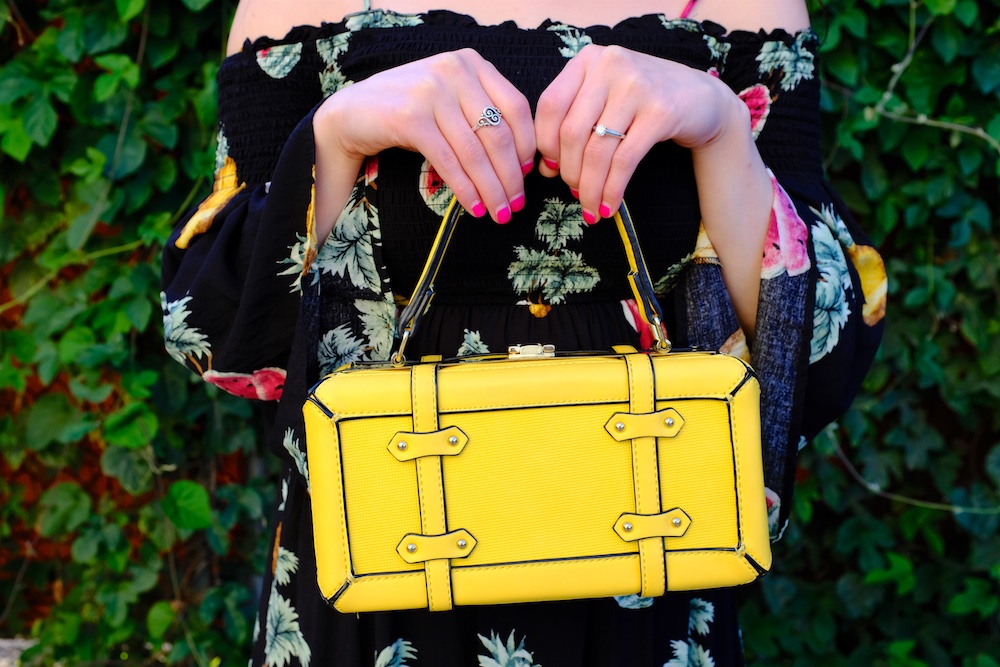 I've been obsessed with yellow lately. It's so bright, loud, and it radiates sunshine, which makes me instantly happy. I scooped this bag at a small boutique when my mom was in town, and it's been the best 30 bucks I've ever spent. Doesn't it look like a mini suitcase?
This is me goofing around trying to release my inner Stevie Nicks, but in all honesty, I just really wanted to show you guys how flowy the sleeves are.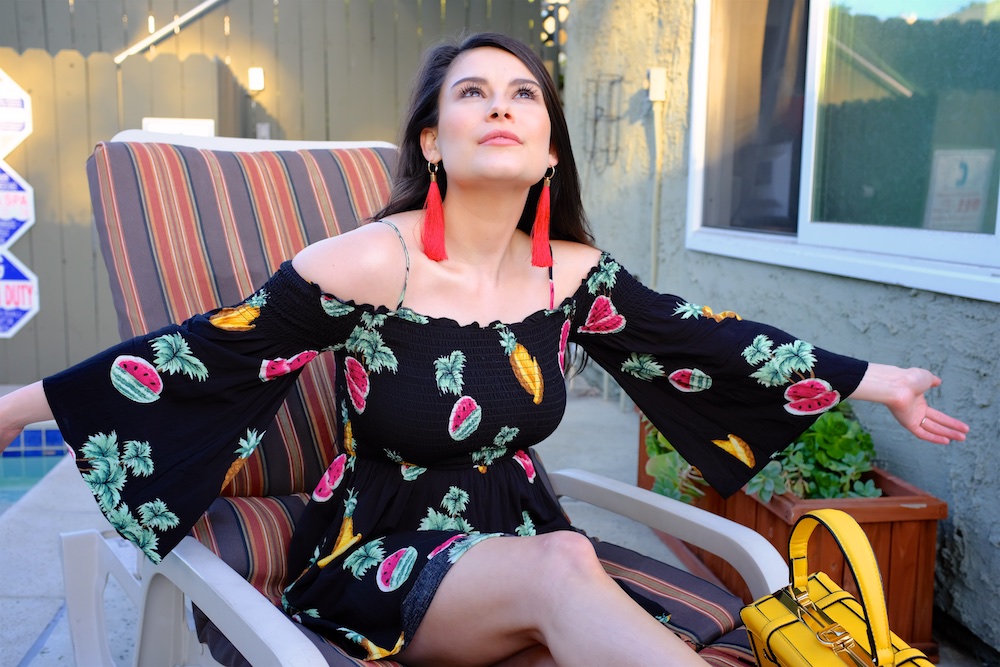 To complete this ensemble, I threw on my rounded sunglasses to give it a retro touch. (Selena G. would approve!)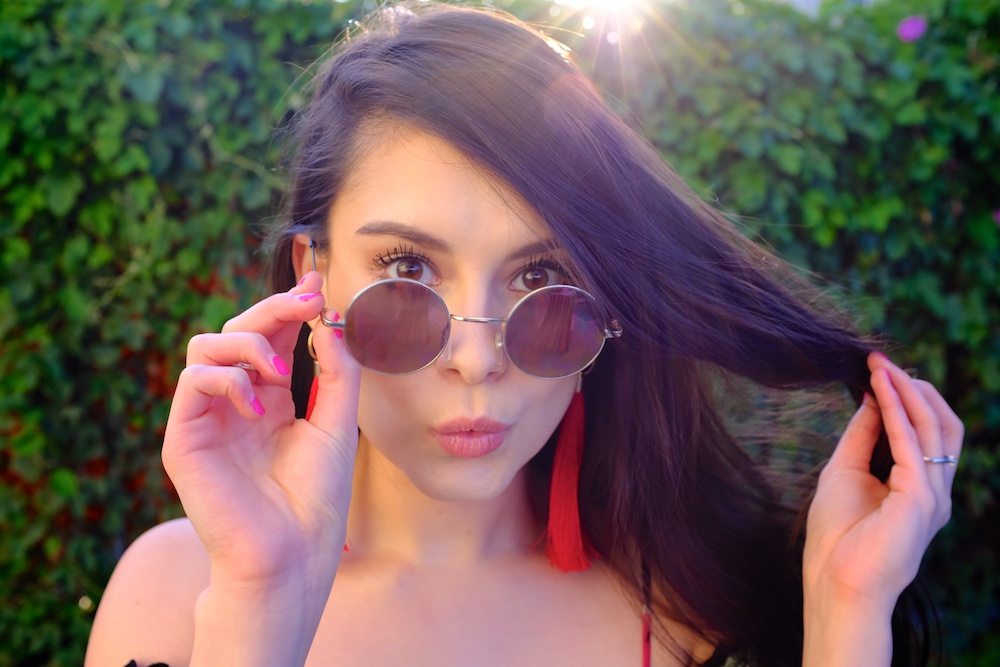 Whether you're feeling down, or feel like trying something completely new, just remember the right kind of outfit can lift your spirits!
Buy it all here:
Printed Smock Mini Dress from Forever 21, $19.90.
Silk Tassel Earrings from Gilt, $25 (sadly, I purchased my earrings from Forever 21 a month ago, and they are no longer available. I guess it really is fast fashion).
Retro Round Circle Sunglasses from Amazon, $7.48
Bamboo Denim Platform Heels from Urban OG, $32.80 (I originally purchased my denim shoes from TJ Maxx but they are currently sold out. However, the brown version is still in stock).
Yellow box purse from a small boutique, about $30 (similar option, here).