This fitness Instagrammer took two selfies that remind us no body is perfect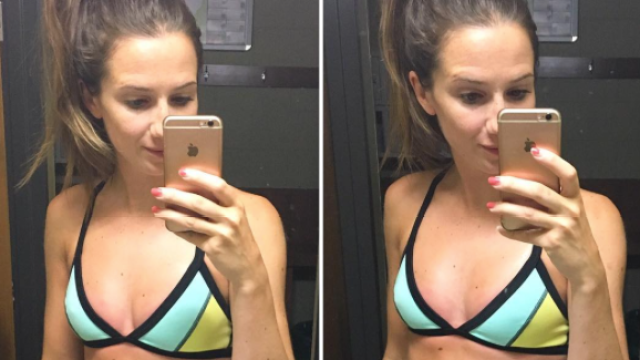 We are LOVING the openness we're seeing from the world of ~fitness Instagram~ this year regarding body image and body positivity. While Instagram can quickly become a deep, dark hole of negative "fitspiration" that makes you feel like crap about yourself, there are also parts of Instagram that actually do seek to motivate and encourage, and fitness Instagrammer Lucy Baker opened up about how she uses Instagram — and why you shouldn't compare your body to hers, or anyone else's.
Baker explained,
"I think it's easy sometimes to get lost in the world of social media. On Instagram you will always see the best angles, taken at the right time of day, the 1000000th photo taken, flexed to make abs 'pop' etc. The people you follow on IG are just normal people - everyone gets bloated and has bad days, you just don't usually see these photos posted."
To help bust the myth that everyone leading the pack in the world of Instagram fitness has a "perfect" bod 24/7, she posted her own comparison photos, and we're so grateful for this amazing lady right now.
"These photos were taken seconds apart, one completely relaxed and a little full from too many carbs yesterday 🙄 and one flexed 💪🏻"
At the end of the day, Baker says, you can't let yourself get tricked by everything you see on social media.
"Following fitness accounts can be a great thing if you're aware of these factors. The people I follow for inspiration on IG usually post professional photos which are absolutely perfect, but I use them for motivation to workout rather than comparing myself to how they look. It's SO important to use social media for the right reasons 💛"
So there you have it, fitness lovers! While we all get a little sucked into the world of of Insta fitness, it's *so* important to remember that, in the same way we take dozens of selfies before finding the perfect ones, these guys are experts in finding the right lighting (and the right filter!) to make their bodies look bangin'. After all, for fitness Instagrammers, this is a major part of their job, and, too, those who compete literally take classes training them on how to pose.
Don't compare yourself to the experts! Love your body just the way it is.