This dog has the most unusual chill spot ever, and the internet cannot handle it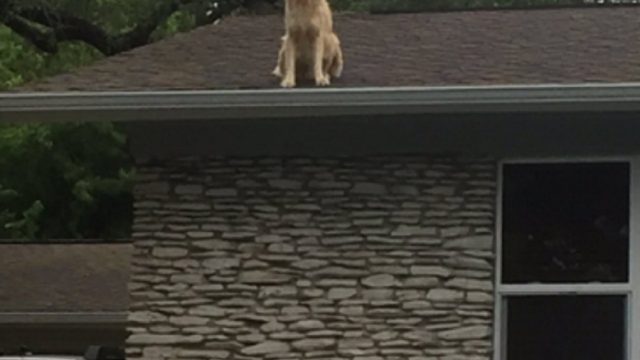 Only a non-human creature could get away with this type of behavior: Here's a dog that loves hanging out on the roof so much that his humans had to post an explanatory sign to address concerned neighbors. According to The Berry, the 5-year-old Golden Retriever has earned the nickname of Huckleberry the Roof Dog (aka Huck) due to his most unusual chill spot.
People say, "It gets lonely at the top," but that's definitely not the case for Huck. He's more than happy to get in some down time all by his lonesome, because dogs know chillin' on the roof has some major benefits that we humans just haven't honed in on yet. false
Maybe it allows him to be the nosy neighborhood watch dog with ease, or perhaps Huck *really* wanted to be the next major social media star. If the latter is true, he got his wish because the internet is completely obsessed with him.
The sign reads,
"Huckleberry is living up to his name and learned how to jump onto our roof from the backyard. We never leave him in the backyard without someone being at home. He will not jump off unless you entice him with food or a ball! We appreciate your concern but please do not knock on our door… we know he's up there! But please feel free to take pictures of him and share with the world! #hucktheroofdog."
Huck's owners Allie Burnitt and Justin Lindenmuth explained to ABC News precisely how Huck gains access to his rooftop haven.
"There is about a 2-and-a-half to 3-foot clearance between a hill in our backyard and the roof over our house," Burnitt said. "We wondered when he would figure it out. It took him about six months to figure out the roof was an extension of his backyard. He now goes up every single time we let him outside."
Here's a video of Huck jumping on the roof that will make your hearts leap with joy.
https://www.youtube.com/watch?v=xVpQcnvuzUU?feature=oembed
It seems like people love seeing Huck on the roof as much as he enjoys being up there.
false
All of the other would be roof-dwelling dogs out there should take note: If you want to have your very own private spot and become an internet star in the process, this is how it's done.