This couple got married in a Costco food court, and yes, there are pictures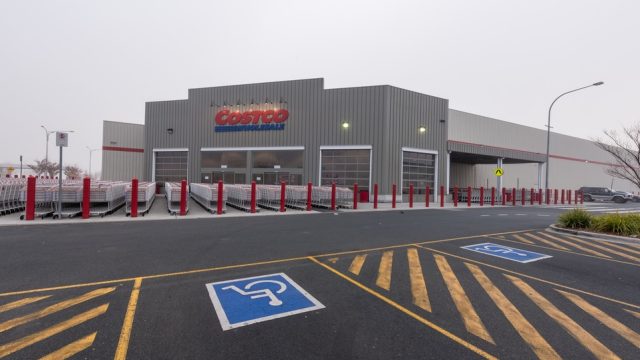 Some people love Costco so much that they make plans to go every week. Others love Costco so much that they choose to get married there. Oh yes — you read that correctly. A couple in Australia got married at Costco, and quite honestly, we didn't even know that was an option. We can imagine that the appetizer stations were probably wonderful during cocktail hour.
The couple, Sue Berkeley and Eli Bob, invited 90 of their closest family and friends. We're guessing they might have waived membership cards in order to enter that day. In an interview with A Current Affair, Berkeley explained why the warehouse club was a perfect choice.
"I get to spend another day at Costco, that I love," Berkeley said."Where else can I get married to the one I love, in a place that I love, surrounded by the people I love."
Berkeley and Bob invited the show to the rehearsal, which looked pretty incredible.
Guests, who reportedly watched the couple take their vows right by the food court, enjoyed a menu of  18-inch pizzas, hot dogs, and meat pies. Yum.
While they're the first couple to get married in a Costco in Australia, they're — surprisingly — not the first couple to get married in a Costco. Back in 2014, Robert and Meredith Bonilla from California actually said "I Do" in the frozen aisle. It sounds weirdly specific, but adorably enough, that's where they met.
As the Australian wedding happened this weekend, pictures are already making their way online.
So, it looks like they might not have closed up shop for the big event. We're sure the shoppers loved the change of decor.
We hope that Berkeley and Bob have many incredible years together, and continue shopping in harmony.