A nail artist seriously ~sleighed~ this colorful Christmas lights nail art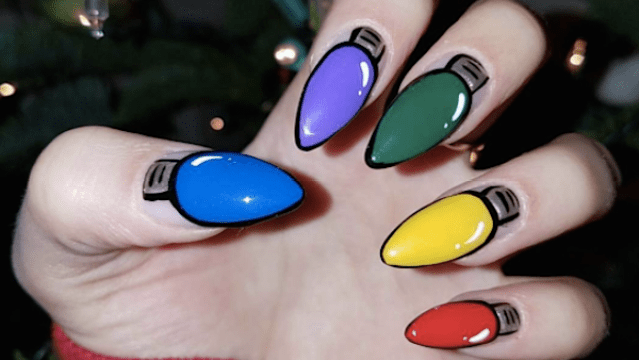 We can all just go home when it comes to the holiday-themed nail art game, because artist Daniella Carpenter just KILLED it with these crazy Christmas light nails. Like, seriously mind-blowing. The rounded stiletto tips Daniella (aka @MissCarpy) created are the perfect shape for the bulb-inspired art. Negative space at the cuticle creates a cool optical illusion that the silvery base of the light is emerging from the finger. These are definitely lights that will never go out! (Well, at least until it's time for a new set of claws.)
If green furry Grinch nails aren't your vibe, these are a great look for the Christmas-obsessed. Stop what you're doing and take these in for a minute — 10 meticulously-detailed Christmas light bulbs adorn this lucky client's fingers.
https://www.instagram.com/p/BOJaF78AVik
The Seattle-based manicurist is feeling herself, and rightly so! These tips are beyond lit.
"How was work today? Oh fine...didn't do much....just slayed the nail industry...no big deal," she says in the caption.
The little details of the reflection in the bulbs are perfection. In another photo, the nail artist says:
Literally looks like I glued light bulbs to her nails! Eeeeppp ! I can't imagine what our future holds for us in the nail game.
https://www.instagram.com/p/BOREX8ZAs1m
So totally jealous of the lucky gal who gets to rock these rainbow digits. We'll likely see some DIY versions this holiday season, but probably not nearly as precise or perfect. (But it's still fun to be inspired and try!)
She also did these intricate reindeer nails!
https://www.instagram.com/p/BOJadGDAhr_
Bravo, Daniella, keep slaying the game — or should we say "sleighing"?
Who needs to trim a tree when you've got all this festiveness at your fingertips?