This award-winning designer was inspired by feminist activist Angela Davis, and the clothes are awesome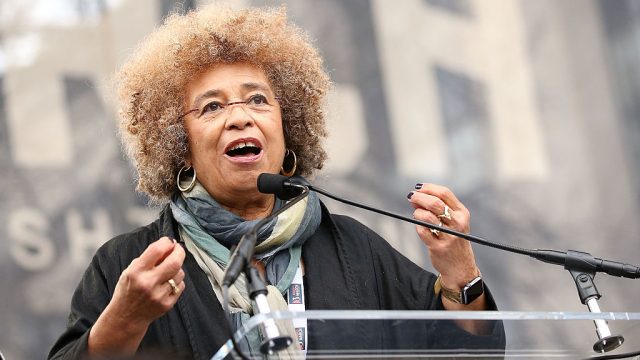 Fashion designer Gabriela Hearst is bringing feminist activist Angela Davis' signature fierceness to her fall 2017 collection — and we can't help but raise our fists!
Davis cuts a powerful figure as a civil rights activist, educator, and feminist revolutionary. As an African American woman and radical during the Civil Rights Movement of the 1960s and the Women's Movement of the 1970s, Davis was often targeted by United States government forces for her association with black nationalist groups like the Black Panthers and the communist-leaning Che-Lumumba Club.
In fact, her wokeness so threatened the status quo that in 1969, then-governor of California Ronald Reagan attempted to bar her from teaching at any university in the state.
Those achievements inspired Hearst, who was in the midst of preparing her collection last year when she attended a New York Film Festival screening of filmmaker Ava DuVernay's scathing indictment of the American justice system, 13th.
"Angela Davis is one of the people featured in the documentary," recalled Hearst in an interview with Coveteur, "and [in that moment] I was like, 'Oh, her — she's the muse.'"
Inspired by Davis' strength, passion, and fighting spirit, and distraught over the U.S. presidential election results, Hearst added Davis — and women political leaders like Tammy Duckworth, Catherine Cortez Masto, and Kamala Harris — to her collection's mood board.
"It was very clear," said Hearst. "Once you start thinking about Angela Davis, you start asking yourself the question 'Will Angela Davis wear this?' I can design accordingly.
https://www.instagram.com/p/BUQRIPEBhM3
And what a statement Hearst's collection makes!
From plaid power suits…
https://www.instagram.com/p/BQoTdZ1geGK
…to classic trench coats…
https://www.instagram.com/p/BQltIARhM6I
…to this in-your-face gold jumpsuit…
https://www.instagram.com/p/BQqYdQ4h-Cj
…Hearst's collection challenges our ideas of femininity and power through fashion. And designing for formidable women is kind of her thing.
"I'd love to dress the CEO of Planned Parenthood [Cecile Richards] — she's amazing, I've heard her speak a few times now," said Hearst, who won the 2016/17 International Woolmark Prize. "Angela Davis I'd like to dress, and Robin Wright. I love people who use their attention and focus to enlighten or serve others. Robin Wright won't go to an event unless it's for a charity or a cause that she feels strongly about. I love people who have those types of values."