This artist creates spoons with faces, and they're SO CUTE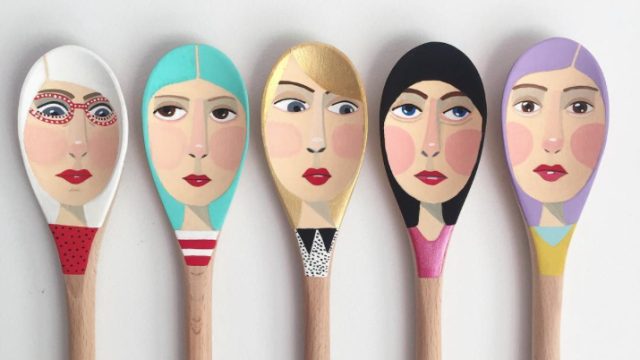 We are so, so in awe of artists. Like, actually how do you even art?! But in all seriousness, we wish our entire lives could be covered in art, and we're always so happy to learn about new indie artists. It's so ah-mazing that some people turn their art into a major part of their lives, like, swoon. So we were THRILLED to learn about this incredible artist who makes portraits out of, wait for it: spoons. And they're actually cute AF! Emma Lisette Palmer, an Australia-based artist, creates absolutely killer spoons with faces.
Like, excuse me?! How cute are these?
From this:
To this!
SO. CUTE.
We can't get over these spoons.
And this WIP and final product.
The beginning…
And the end!
Major, major heart eyes.
PLUS, Emma now does custom spoons! 
SQUEALING.
Emma explained,
"I'm really excited to announce that I am now be able to offer my wooden spoons as commissioned pieces. So if you have asked in the past thank you for your patience! Please follow the link in my profile to order your own special spoon portrait. There are options for 2 or 3 spoons also, have the whole family done."
So if you want your entire family (or, ya know, your squad) in spoons, that dream can now become a reality.