This anti-Trump song will change the way you think about the election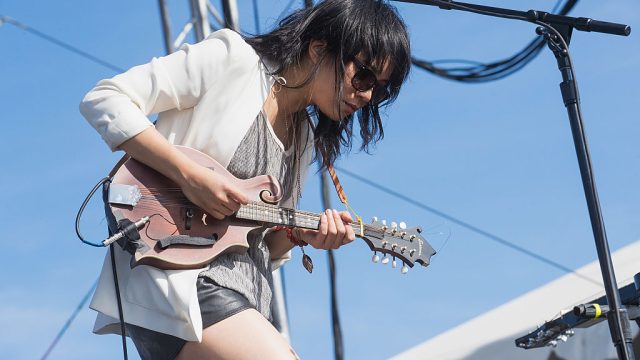 This election has been an absolute mess, to say the least, and many celebs have come forward to endorse candidates and remind us that we have, have, have to vote. But some are really using their talent to make their voices heard, literally. According to Paste, frustration and fear regarding the thought of a Trump presidency pushed fave Thao Nguyen (known, of course, from Thao & The Get Down Stay Down) to write a new song about Trump. And it's ridiculously awesome.
Thao Nguyen's "Before You Vote" is seriously so, so incredible, and it really changed how we think about the election.
We 100% recommend giving it a listen.
https://www.youtube.com/watch?v=Uxr2M8r5-Sw?feature=oembed
Like come on, guys. How amazing is that? Thao Nguyen is actually so ridiculously talented, and it's clearly a project loaded with passion. Thao explained the force behind the anti-Trump song to Paste, and what she had to say is *so* incredible.
She explained the anti-Trump song, saying,
"I did have my reservations because it was such a vitriolic landscape to throw your hat in [to].['Before You Vote'] is a run down of some of the greatest hits of [Trump's] failures in character. Because I was put off by how divisive everything has been, I was trying to focus on him and not necessarily his supporters."
In short, the artist said,
"It's a bit of a tongue-in-cheek appeal to people who are considering voting for him."
Thao elaborated, saying,
"I don't believe that there's a grey area for a lot of people on the fence about him. But I do believe that there are people who are voting for him who ignore and do not support his more misogynistic, racist, xenophobic leanings. I think they feel pushed into a corner."
We can definitely hear that in the song. Regardless of how you feel about the election, you have to give Thao major props for this incredible political track. We dig it!