This animal rescue is writing hilariously detailed Tinder profiles for its dogs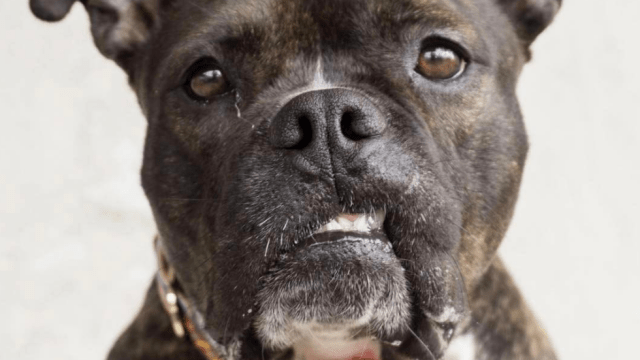 Whether it's your first time on the animal adoption scene or you've been around the block more than once, opening your heart to the possibility of a lasting friendship with a rescue pet can be a little scary. Lucky for you, this Los Angeles-based animal rescue is taking the bite out of dog adoption and penning the most paw-dorable Tinder profiles for pets who are single and ready to mingle.
In the market for a social doggie who digs kids and cats? Or an introverted pup hungry for the quiet life? A Purposeful Rescue can help you find your match!
Founded in 2012 by Hillary Rosen, A Purposeful Rescue saves dogs from high-kill shelters in L.A., many of whom are abandoned because of age or disability, like this precious pup, Bradley:
We're a puddle of love RN.
A Purposeful Rescue has dubbed their doggies "Magical Unicorns" because of their quirky appearances, one-of-a-kind personalities, and special needs, like Emmy Lou:
We can't even…
But if you're looking for a casual fling, you're barking up the wrong tree.
These pooches want to be a part of a family, so if you're not ready to settle down, to the left, to the left.
That face!
If you've been burned before, we feel you. There's nothing wrong with taking it slow. At A Purposeful Rescue, you can help prepare a pet for adoption by becoming a foster parent. By taking a dog into your home, you can help smooth the transition from shelter to a forever home for pups in need. Bonus? By fostering, you're also opening up space in crowded shelters for another dog, so you're actually helping two puppers!
Heart. Bursting.
So what are you waiting for? Swipe right!