This amethyst crystal soap DIY is mesmerizing and perfect for holiday gift-giving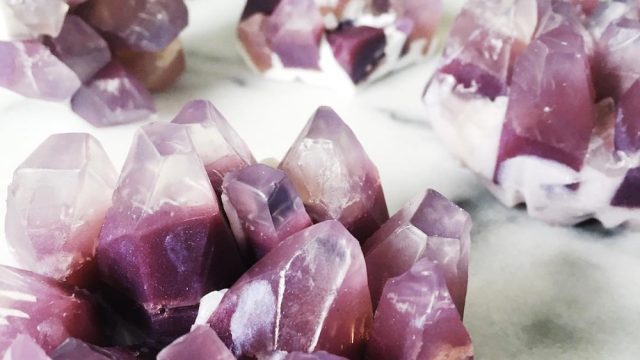 If you think about it, soap is a totally underestimated product. It gets us clean, sure, but if you have the right soap, it can leave you feeling refreshed! If you find a bar of soap that smells great it can give you that extra boost of aromatherapy. This DIY amethyst crystal soap will take that idea to the next level. Not only does it do the trick of getting you clean, but it's legit gorgeous and we can't take our eyes off of it. The crazy thing is it looks like real amethyst crystals! The best part about this magical soap? It's really simple to make, which means it's the easiest DIY project ever. Not to mention, you can send good vibes to your friends and family with this perfect holiday gift.
via giphyAccording to Allure, this soap is straight out of your lavender dreams, and you can easily make it at home! It's the perfect gift to give your friends this holiday.
These soaps have been a big hit with everyone I have gifted them to, said blogger Mary Helen Leonard, who shared the magical recipe on her blog Mary Makes Good. "Making them in six-bar batches makes them supereasy to stock up on.
All you need is a microwave, some soap molds, a few ingredients like essential oils, and these body wash gems can be yours.
https://www.instagram.com/p/BBn-6hRnAi4
You can whip up your own amethyst soap in no time, and your friends and family will thank you this holiday season. For the full recipe, head on over to Mary's blog.