This 31-year-old made best friends with his 89-year-old neighbor lady, proving age ain't nothing but a number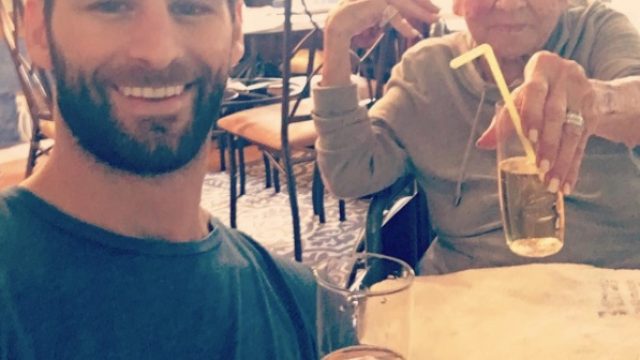 Sometimes the very best friendships happen in unlikely circumstances, and you really can't anticipate when you're going to make an emotional connection with another human.
Yup, 31-year-old Chris Salvatore met Norma Cook when she lived across the hall from him in a West Hollywood apartment building, and they've been totally inseparable since she asked him inside for a glass of champagne. "We became best friends immediately," Chris told People magazine, noting how they bonded over their love for fashion and food.
"She had a lot of gay friends growing up that unfortunately passed away during the AIDS epidemic and, being gay, that bonded us right away — we talk about fashion and food mostly," he said.
Because Norma has leukemia and was advised to go into 24-hour care, Chris decided to move her into his apartment instead of a nursing facility. He set up a crowdfunding page for her medical costs, became her primary caregiver. Um, tissues, please.
Plus, the duo make videos together. About pizza.
https://www.youtube.com/watch?v=PPpAZnv_tJs?feature=oembed
And despite her physical difficulties, Chris describes her as someone who doesn't let anything get in the way of her just being…herself.
"She is sassy and she tells it like it is. Norma's sharp, quick-witted. She'll comment on my clothes if she doesn't like them. That's who she is, that's just her personality and it's unique and amazing and infectious."
Even though Chris knows that their time together is limited, he's just grateful to be able to be there for his friend. "I'm so lucky to have her. She's changed my life. she's made me a kinder more compassionate person. I feel honored to spend her last moments with her," he said. And we just got teary.
Go and hug your friends, whoever they are!
H/T: Cosmopolitan