10 Things You Can Do Today to Look Glowing All Week, Beauty Experts Say
Glow your way into the work-week with these expert-approved tips and tricks.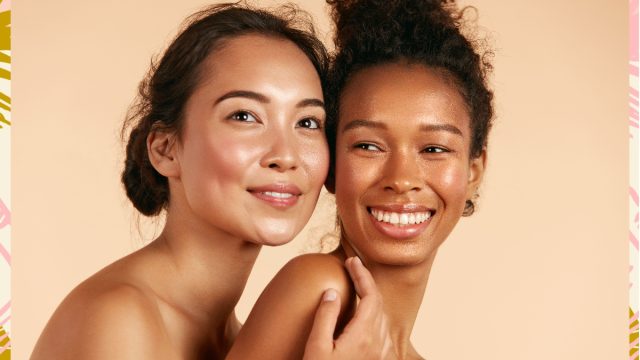 The product recommendations in this post are recommendations by the writer and/or expert(s) interviewed and do not contain affiliate links. Meaning: If you use these links to buy something, we will not earn a commission.
The start of another work week is a mere hours away and the remnants of a short reprieve are quickly disintegrating. You may or may not have made a to-do list to start tackling the next day.
Or, perhaps you're using the last hours of your weekend to turn off the devices and enjoy some offline time. You could also be doing the complete opposite, firing on all cylinders in your group chats, watching the newest episodes from your favorite shows, and queuing up the podcast drops you downloaded days before. In a way, this time can feel like a sad countdown to a time preserved strictly for work and getting important things done.
RELATED: The 5 Best Celeb Hairstyles That You Should Copy Right Now
Sometimes the day before a new work week begins is also reserved for self-care, also known as those things we do to preserve and prioritize our wellbeing. Truthfully, self-care is a journey as much as it is a destination; an action as much as it is a concept. Self-care, however you define or embody it to address your individual needs, shouldn't be relegated to one day of the week, but be a part of your daily life.
Look at this way: defining and prioritizing self-care is a "job" that's just as important as the one that pays your bills, so best not to neglect it.
Still, though self-care isn't just about doing things at a particular time and place, having rituals can be helpful in keeping self-care at top of mind. For example, a skincare routine is both a way to spoil your physical vessel and a great time to engage in mental reflection. Plus, who doesn't want to walk into a new week looking and feeling glowier than ever?
The everyday stressors of life can manifest so easily on our faces, and thankfully, there are plenty of small but impactful ways to combat them and enjoy the results for days on end too. Ahead, some pro tips for ensuring you glow all week long.
1. Commit to head-to-toe care.
Again, for the people in the back: routines are helpful in creating consistency and remembering your priorities, especially when it comes to your wellbeing – skin included.
"Regular exercise, healthy eating, lots of water, plenty of sleep, ample dedicated 'me time', and a positive overall attitude/outlook are the bedrock upon which lasting luminance is built. The vital fundamentals that nurture our inner glow most definitely translate outward," says Clare Bertucio, M.D., a radiation oncologist and CEO of Medicine Mama's Apothecary. 
And when it comes to skincare, Bertucio subscribes to the 'my body, my temple' philosophy, and believes that our skincare self-care rituals should extend to our entire body, including our most intimate areas.
"The more fully and mindfully we treat our entire being (body and soul), the more truly radiant we become," she says. In other words, if you enjoy splurging for your face, there's no shame in doing the same for your private areas too. 
2. Drain your face.
But back to your face. Puffiness is a common result of environmental stressors, lack of sleep, and the like. According to Beverly Hills plastic surgeon and Solvasa co-founder, Ritu Chopra, M.D., "performing a gua sha lymphatic massage can provide an immediate lift in skin's appearance by reducing puffiness and imparting a healthy-looking glow."
The purpose of a lymphatic massage, whether on your face or body, is to increase blood circulation in the face and drain fluid buildup from the lymph nodes, those small clusters of tissue that contain infection-fighting cells and filter out harmful fluids in the body. By massaging the face, not only are you supporting your lymphatic system, you're also targeting visible inflammation and enhancing the contours of your face.
A gua sha tool makes this a lot easier, and the general rule of thumb is to guide it up and out across your face. Applying a serum or oil beforehand helps smooth out the gliding action too. Solvasa makes a tool to do this, and Dr. Chopra says it takes just about three minutes a day.
3. Hydrate and protect your skin.
Don't forget the most basic of all skincare advice: moisturize! While you're at it, make sure your morning routine is prepped to include sunscreen as well.
"Moisturizing daily is an excellent way to reduce the visible appearance of wrinkles and prevent the dulling effects of dry skin. Skin barrier damage can be repaired and water loss halted with regular moisturizing," says board-certified dermatologist Hope Mitchell, M.D., FAAD.
If you're especially prone to dryness, consider products with hyaluronic acid that attract and retain water in your skin for hydration. For example, NEOSTRATA's Hyaluronic Luminous Lift is a gel cream moisturizer that has three different sizes of hyaluronic acid molecules, all but ensuring your glow can feel as luscious as it looks.
And while a high-performing moisturizer can diminish damage, sunscreen is most effective at preventing it.
"Applying a broad-spectrum sunscreen with an SPF of at least 30 every day is the most important thing you can do to promote radiant, glowing and healthy skin. Add sunscreen to your daily routine to prevent premature aging, sun damage, skin discoloration and skin cancer. Now is the time to begin if you haven't already," states Dr. Mitchell.
4. Boost skin's radiance.
Still, moisturizing doesn't have to feel like a chore, and some products do double-duty to moisturize and illuminate skin. Angela Lamb, M.D., a board-certified dermatologist and Jergens Glow Collective member, says "products that contain both illuminators and moisturizing ingredients are really key." Jergens Melanin Glow Illuminating Moisturizer is a great example of this, as it contains bronze luminizers that will accentuate the full spectrum of tones in your complexion.
Want to boost your radiance even more? Mind your application too.
"When applied to the skin while damp, these products can help to reflect light," adds Dr. Lamb. "Use a spray bottle of water and spritz on the skin prior to applying moisturizer. This helps it absorb emollients better," she adds.
5. Embrace exfoliation
According to board-certified dermatologist Lindsey Zubritsky, M.D., FAAD, regular facial exfoliation is another way to ensure your most luminous glow.
"The best way to glow all week is to cleanse your skin every night (avoid sleeping with makeup on!) and incorporate a gentle, exfoliating product throughout the week," Dr. Zubritsky advises.
How often and how you exfoliate will depend on your individual needs. For example, some enjoy the feel of a physical exfoliant, like a body scrub or facial cleansing tool. There are also chemical exfoliants that go beyond the surface and boost cell turnover so your skin can recover faster from common skincare struggles, like breakouts and dullness, or prevent them altogether.
"I personally am loving Exuviance's Gentle Daily Exfoliating Pads because it contains a blend of Polyhydroxy Acids (PHAs) and antioxidants. This helps to exfoliate the skin without stripping the skin barrier, resulting in the glowiest skin," says Dr. Zubrtisky. But be careful not to overdo it. "It's best to start out only using this exfoliant several times a week at first to see how your skin tolerates it, and increase frequency as needed," she adds.
6. Humidify before you highlight.
If you're an everyday makeup wearer, another small but effective way to prep your skin and boost glow is by humidifying it before applying any skincare products or cosmetics.
Cindy Kang, co-founder of humidifier brand Hey Dewy, says "adding moisture to the air during the day with a  humidifier is an easy way to keep your skin hydrated and glowing. It's also great to mist during your skincare routine, because when your skin acts like a damp sponge, the ingredients you apply absorb even better," says Kang.
A humidifier can also run overnight while your sleep and your skin is in recovery mode to fight against the dry heater air, and keep your skin fresh and dewy when you awake.
7. Feed your skin, not just your body.
If you're less of a products person and want to take a more holistic approach, feed your skin from the inside instead. According to Preeti Luthra, skincare expert and founder of Pure & Cimple, the best way to do this is by eating foods that have lots of antioxidants, especially before the start of a new week.
"For example, berries of all kinds and veggies like broccoli, kale, bell peppers, and oranges and tomatoes help blood circulation in our body to send nutrients and oxygen to the skin for efficient cell regeneration and removal of toxins for healthy skin. Antioxidants like vitamin C in these foods fight free radicals caused by UV exposure and play a vital role in elastin and collagen production hereby creating a smooth supple skin," says Luthra.
8. Switch up your breakfast.
Besides snacking on antioxidants, a certain kind of breakfast can also deliver glowy results. According to Jessie Inchauspé, biochemist and bestselling author of Glucose Revolution and the upcoming Glucose Goddess Method, those prone to dull skin who also want to get some energy back should start their day with a savory breakfast instead of a sweet one.
"This will reduce inflammation, which will in turn help your skin, and will keep you energized and avoid afternoon fatigue. Build your breakfast around protein, and some fat, and starches only for taste. Avoid anything sweet except whole fruits," she says.
"Keep those sweet foods for dessert after your lunch or dinner – that is the best time to eat them with minimal impact on your wellness. This tip will reduce your glucose (blood sugar) spikes, which will improve all areas of your health, sleep, skin, energy, mood, hormones, gut, and more."
For those who consider themselves addicted to sugar and doubt they can hop on the savory train, Inchauspé recommends this hack: "drink a tablespoon of vinegar in a tall glass of water, with a straw, 10 minutes before the next sweet food you eat. You'll still enjoy the taste of the sweet food, but will curb your blood sugar spike at the same time and avoid starting a rollercoaster of cravings for the rest of the week."9. Upgrade your caffeine.
Speaking of starting your day, if you're planning to start it with a cup of coffee – and a savory breakfast, of course, – you might as well get more bang for your buck and complexion with a multitasking brew.
Danielle Ryan Broida, a registered herbalist (AHG), holistic nutritionist, and associate brand manager of innovation at Four Sigmatic, recommends an unusual ingredient to add to your cup of Joe. Mushroom coffee, like this delicious dark roast, or really, any food or beverage with quality functional mushrooms in it.
"Not only does adding functional mushrooms, like Lion's Mane and Chaga, to your coffee support focus, cognitive function, and stress-reduction, but they are also full of anti-inflammatory and antioxidant properties that can help maintain a healthy, youthful glow,"  she says.
10. Don't forget to practice gratitude.
The benefits of skincare hacks are all the more satisfying when paired with a mindfulness routine. According to Nina Vasan, M.D., MBA, chief medical officer at Real, the science behind mindfulness has been shown to decrease anxiety and depression, two things that can directly impact our skin. For this reason and more, it is one of the most important and effective ways to boost your glow, inside and out. 
"Mindfulness can look like many things, including meditation, deep breathing, silent walking, or prayer," Dr. A San says. "A simple way to start is by committing to just a few minutes a day of a guided meditation. Test out various types of mindfulness and times of day to practice it and find what works for you. Just like exercise, it will be different for each person." 
If you're looking for inspiration, check out Real Moments in the Real app for convenient mindfulness and grounding techniques. These on-demand, short exercises include breathing exercises, visualizations, and self-compassion breaks to support your daily mental wellness.
Alternatively, starting the day with gratitude is just as effective. Practically speaking, this can look like writing in a journal. Dr. Vasan adds that the more specific you can be in writing or expressing what you're grateful for, the better. And remember, happy translates to glowing, no matter how you look at it!