8 things to know about Danielle Herrington, the 2018 "Sports Illustrated" Swimsuit cover model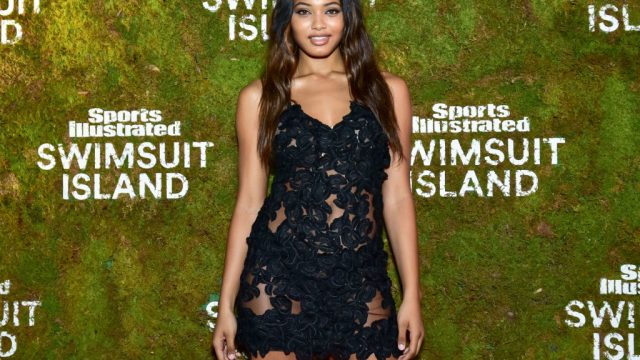 It's a big day for model Danielle Herrington. Not only is this her second year to appear in the Sports Illustrated Swimsuit Issue — she also landed the cover! Danielle Herrington looks fierce posing in a hot pink string bikini at Harbour Island in the Bahamas, her curves and natural beauty on display. And she's beyond elated about the Sports Illustrated honor.
"I am so excited to be part of this iconic brand that has long given identity and voice to women of all shapes, colors and beliefs," Herrington told People of her Sports Illustrated cover. "I hope that young girls who look at this cover are inspired to dream as big as I did and work hard to attain all their goals."
Danielle Herrington is only the third Black woman to appear on the cover of the Sports Illustrated Swimsuit Issue. And she cites the two women who came before her — Tyra Banks (1997) and Beyoncé (2007) — as her biggest influences and role models. "The fact that I get to join this incredible group of women as I become the third black model on the cover of SI Swimsuit is a dream come true," she continued.
Get ready, because you're about to see Danielle Herrington's name everywhere. Here are seven things to know about the beautiful cover model.
1Danielle Herrington is 24 years old.
2She's from Compton, California and is a HUGE Lakers fan.
3She's 5'10", if you were wondering about her height.
4You've probably seen her in a Victoria's Secret campaign before.
5Definitely follow Danielle Herrington on Instagram.
Her warmth, heart, and humor will instantly brighten up your feed.
6And Facebook.
7She's not dating anybody right now.
In her own words, she's "single and ready to mingle."
8She's always wanted to be on the cover of the Sports Illustrated Swimsuit Issue.
"I just remember Tyra Banks being on the cover and that's where it all started for me," she told Fox News in 2017. "That's what really made me pursue modeling. SI was a goal from that point, from seeing Tyra on the cover. It was love at first sight… everything happened naturally."
Congratulations on your Sports Illustrated Swimsuit Issue cover, Danielle. We can't wait to see what you do next.