10 great pieces of career advice I learned from three female bosses
Getting real-talk career advice isn't easy. Which is why I went to a panel at the University of Southern California, where Katherine Power and Hillary Kerr, the co-founders of Clique Media Group, had a funny, honest, heartfelt, and informative conversation with their gal pal Sophia Rossi, the co-founder of HelloGiggles. They offered some amazing tips and tricks related to launching a career. I'm super excited to learn more about their wisdom in their third book, The Career Code, out mid-May — but in the meantime here are some key takeaways.
1. Pull out all the stops to make it happen, even if it means working out of your apartment. 
When pursuing your dreams and starting your own company, it's normal (albeit uncomfortable at times) to work out of your own home. According to Katherine, however, who worked out of her house in the early days of Who What Wear, structure and routine are key to keeping balance. Despite having to walk literally just down the hall to her office, she would shower every morning, get ready for work, and take on the day as if she were going to any other office job.
2. Get started early, and get all the experience you can, friends!
Katherine got her first job when she was only about 10 years old in her grandmother's store. She said that the initial retail experience in customer service and sales was invaluable, and informed so much of her early career. She recommends that all of her interns get a job in retail, for a little while at least, and promises that experience will pay off!
3. The internet moves quickly, and to be a girl boss, you have to move quickly, as well.
As creatures of the digital age, we sometimes forget that the ol' interweb yields immediate exposure to like, the whole world. Hillary put it perfectly: You can start something today, and have it out there today. Starting a company, even if it's just starting an Instagram account initially, can get your brand moving so quickly!
4. Consistency is key, so tone it up!
According to both Hillary and Katherine, what they appreciate and look for in bloggers or really any "lifestylists" these days is consistency in tone, voice, aesthetic — all the things! Their advice is to identify what you have to offer, get specific, and really curate that voice to build your brand. If it's all over the place, it's not as visually stimulating, and a clear, cohesive vision speaks volumes.
5. Be prepared to end up wearing a lot of hats.
When asked what they look for in employees, both Katherine and Hillary agreed that finding candidates who show a genuine willingness to wear multiple hats is key. No job is too big or small, and learning to get even the lunch order right is crucial, according to HK. Getting those finer details down will show you're ready for the more serious projects.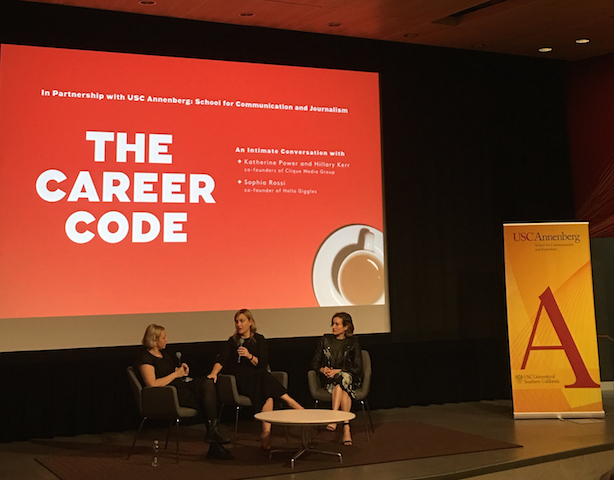 6. To achieve your #goals, put pen to paper.
Katherine suggests writing out a list of goals at the start of every year. With her own list, she checks in once a week to see how she's tracking. According to her, apparently there's something more intimate and impactful about handwriting these goals to yourself; but what do we, children of the digital age, know about that! But on the real, I think creating a roadmap for yourself, short and long term, is when you start to see the most traction from your efforts.
7. Some dos, and some don'ts.
Make yourself invaluable. Find a niche that inspires you, find a need within the company, and run with it… but, per Katherine, don't take over someone else's work; 'cause stepping on toes ain't cool. Go beyond your job description, but be careful to not get in anyone's way when doing so. Find your place within the department, within the company, and learn to manage the balance between go get 'em and annoying over-achiever.
8. Be wild and experimental, but do it on your own time.
That is a direct quote from Hillary, I might add! KP and HK both stressed that even though Clique Media Group is a style-centric company to its core, dressing appropriately at work (or in meetings, interviews, etc.) is unquestionably more important than getting across whatever zany style agenda you're hoping to push. Have fun with fashion? Yes, of course. But there's a fine line. According to Hillary, erring on the side of caution is usually the best bet. So no more Havaianas to work, people.
9. Keep it professional for all interviews.
From the shoes on your feet to the stars in your eyes, keep it professional, and keep yourself contained. I would think it wise to not get overly chatty and familiar, because that's probably annoying, but also a touch presumptuous for a first meet and greet. Hillary said a little formality goes a long way and even relates it back to manners, which are obviously a good foundation for any little eager beaver to build from. The wardrobe bit should speak for itself at this point, right? Go in with a go-to outfit – a tailored blazer works for KP every time.
10. Try to find the right balance between your work life and your social life.
When asked how they manage both a personal/social schedule, and a professional/work life, they very earnestly gave us all a look like, "Welp, it's tough, not gonna lie!" But sincerely, Hillary suggested getting on board with scheduling in a real way, despite how "lame" it sounds sometimes (her words, not mine, I'm intense about scheduling in a very #notsorry kind of way). She mentioned that keeping a social schedule reminds you to check in with the things that matter outside the office. She also says that it's important to set up standing appointments with loved ones and have fun things to look forward to. Her personal fave: private Beyoncé dance classes with a group of her friends – sign me up!