13 things to do with those canned biscuits that are likely in the back of your fridge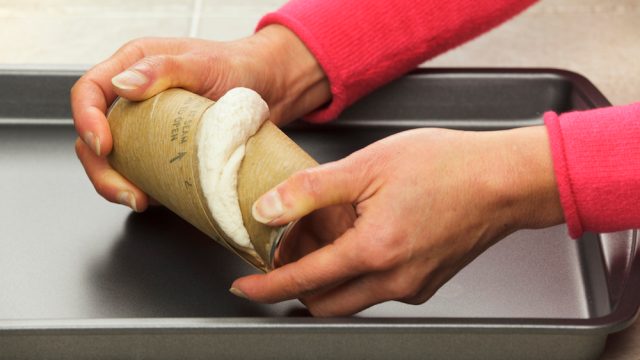 When you're simply short on time and Thanksgiving is coming up, shortcuts like biscuits in a can are your greatest heroes. They're ubercheap and you can find them at basically any grocery store. You actually may already have a can lying in the bottom of your fridge somewhere. If you've never worked with canned biscuits before, you might be narrowing your eyes in skepticism and wondering if there isn't a classier thing to serve at Thanksgiving. Well, take our word for it, it doesn't get much better than warm, nourishing biscuits, and every person sitting at your dining table (plus their taste buds) will appreciate your creativity.
The holidays are a wildly busy time. If you've got a million and one things on your plate, you don't have to go above and beyond when it comes to Thanksgiving grub. The canned biscuit recipes below take but a few ingredients and a small chunk of time. That leaves you with plenty of extra energy to get everything else ready for turkey day. Besides, have you ever had biscuits in a can? They taste amazing. Gourmet, even. You just can't get enough. So what makes you think they won't taste divine when mixed with cinnamon, sugar, and butter? Yeah, now you see what we mean.
1. Pull Apart Pizza Bread
https://www.youtube.com/watch?v=6Jd25ftsS5o
Thanks to Buzzfeed, cheesy, comforting pizza bread is only minutes away if you've got some canned biscuits lying around. All you need is some pepperoni, cheese, and marinara sauce. It takes no skills whatsoever.
2. Breakfast Calzones
We dare say these would be the ultimate lazy Christmas morning breakfast. Pull together some refrigerated biscuits, eggs, sausage, cheese, and milk, and you've got a yummy meal that can feed the whole house.
3. Flaky Biscuit Waffles
https://www.instagram.com/p/zXuwieD_37
It's such a simple idea you can't help but shake your head and kick yourself for not thinking about it before. There's no real recipe for this one. All you need is a waffle maker, so if that's not on your Christmas wish list, you may want to rectify that. Because this brekkie idea doubles as a brilliant lazy midnight snack.
4. Pumpkin Pull-Apart Muffins
Hello, Thanksgiving morning. Sugar Dish says these delightful pumpkin muffins are like individual versions of monkey bread, so you really can't go wrong.
5. Bloomin' Garlic Cheese Biscuits
They only take 25 minutes to create and they make enough for 10 people to enjoy, making these cheesy biscuits the perfect last-minute side dish to bring to Thanksgiving dinner. The Gunny Sack recommends using marble jack cheese, but you can really use whatever you'd like alongside those biscuits in a can.
6. Barbecue Biscuit Cups
It only takes four ingredients to get a classically American barbecue dish out of some canned biscuits. The Country Cook recommends making these in a cupcake tin, so they come out ready to immediately serve as appetizers. No divvying up required.
7. Nutella Pull-Apart Rolls
These Nutella treats from Good Morning Cali take less than half an hour to make, and there's even a homemade glaze that goes on top. Other than the refrigerated biscuits and Nutella, all you need to pick up are sugar, milk, butter, and chocolate chips.
8. Easy Apple Pie Doughnuts
Apple is a necessary flavor to have around the Thanksgiving table, and this canned biscuit apple pie doughnut combination might be the perfect thing that takes a minimal amount of time. If there are any leftover, save them for breakfast.
9. Bacon Bombs
You need two cans of refrigerated biscuits and 10 minutes to spare to make 20 of these bombshell breakfast pockets from Love Bakes Good Cakes. Our guess is they'd go just as well as a Thanksgiving side dish as they would as the main event at breakfast.
10. Enchilada Bubble Bake
Yep, that can come from 2 cans of biscuits. Take a cue from Betty Crocker and make this Mexican-inspired dish come to life in your kitchen in just 15 minutes.
11. Easy 15-Minute Maple Bars
The winter holidays would cease to exist as we know it without maple syrup, so you simply must make these maple bars from Butter With A Side of Bread if you want to kill two birds with one stone: save time and stick to tradition.
12. Easy Gorilla Bread
It's gooey, it's sweet, it's cinnamony — it's the most ideal dessert you can make on Thanksgiving from those biscuits in a can. Gorilla bread will please even the pickiest of eaters as well, so you don't have to worry about your annoying cousin complaining about the "texture" of the pumpkin pie.
13. Cast-Iron Skillet Chicken Pot Pie
We know that turkey is generally the star of Thanksgiving, but that doesn't mean chicken needs to be ignored altogether. You'd be crazy to deprive your friends and family of this decadent chicken pot pie recipe that can be created from just 4 ingredients. What a lovely last-minute dish to put on the table.