They've just re-opened the venue where the Paris shootings took place, and the opening performance was truly perfect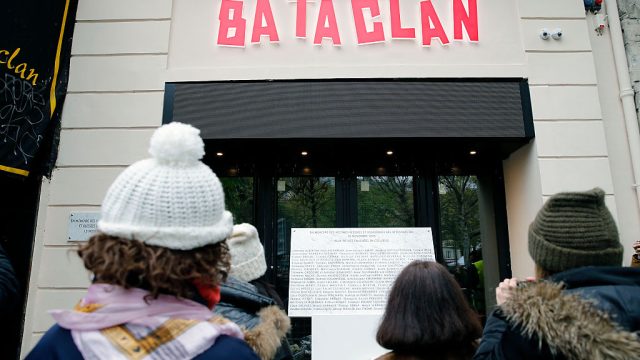 It was a big night for the Bataclan. The famous and well- loved Paris venue, which housed 2015's deadly shootings, finally re-opened and truly showed the world that nothing will get in its way.
Last year, almost 90 attendees at a Eagles of Death Metal concert were unfortunately killed during terror attacks. In total, 130 people outside of the perpetrators lost their lives throughout the ISIS-claimed violence, and many more suffered from injuries. It was a devastating moment for everyone, and brought yet another sense of panic over the world.
After all, while gun violence is both upsetting and awful, nobody ever expects to lose a life while innocently enjoying music in one of the world's most popular cities.
To celebrate the incredible re-opening on Saturday, around 1,000 music fans showed up to enjoy one of the most popular artists of our time — Sting.
"In re-opening the Bataclan, we have two important tasks to reconcile. First, to remember and honour those who lost their lives in the attack a year ago, and second to celebrate the life and the music that this historic theatre represents," Sting's Instagram caption reads.
Sting performed songs from his brand new album, 57th and 9th. All proceeds from the show are set to be split between two charities that help benefit the families of the victims — Life For Paris, and the 13 Novembre Fraternité Verité.
The website for the latter defines their organization's mission to include outreach to "the victims, their relatives, the first responders (police, caregivers, etc.) and other associations that can be created parallel to ours."
During his performance, Sting took a moment to speak in French and state that the concert was all about honoring the lives lost, and the power of music.
He also lead the audience in a moment of silence, which sounds pretty moving.
People talked to a few concert-goers, who were so proud of both Paris and Saturday's event.
"I'm happy to be here,  said Xavier Jugele, a Paris policeman, while being interviewed by the magazine. "Glad the Bataclan is reopening. It's symbolic. We're here tonight as witnesses. Here to defend our civic values. This concert's to celebrate life. To say no to terrorists."
Our hearts are filled with so much love right now. And, suddenly, we're inspired to rock out to Sting songs throughout the rest of the day.