These teens invented a straw that detects date rape drugs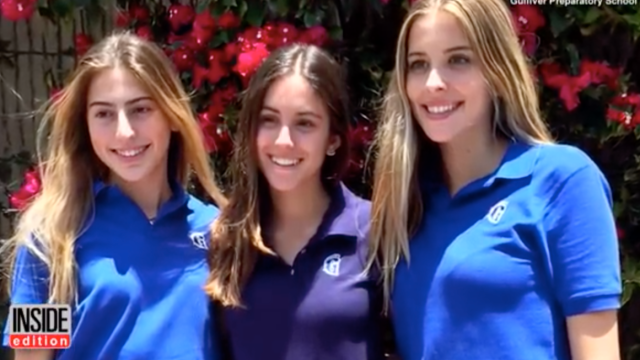 According to statistics from the Centers for Disease Control, one in five women will experience sexual assault in her lifetime, and the Department of Justice has previously reported that 4.2% of victims receive date rape drugs. To help lower the ridiculously high percentage of sexual assaults, three high school students have invented drug-detecting straws.
The teenage girls, Susana Cappello, Carolina Baigorri and Victoria Roca of Gulliver Preparatory High School, came up with this brilliant idea after Cappello heard about students being drugged at her sister's college. They wanted to create a way to test drinks on site without being too obvious and risk alerting the potential rapist.
So, they designed a straw — but not just any straw — a date rape drug-detecting Smart Straw!
The straw includes two chemical test strips that turn blue if they come into contact with substances frequently used during drug-facilitated sexual assaults like rohypnol, gamma-hydroxybutyrate (GHB), or ketamine.
"My friends and I knew we needed to come up with a simple solution to test for drugs," Cappello told A Plus. "I remember my dad always says, 'The best ideas are the ideas that help people,' so we just thought of a simple, easy, inexpensive solution — Smart Straws."
https://www.youtube.com/watch?v=2I4QpKEEFDc?feature=oembed
The teen masterminds won the Miami Herald's Business Plan Challenge with their invention. They now have a patent pending for their design, and hope to market the straws to college students, as well as supply them at bars, clubs, and restaurants.
"We know it's not a solution because it can't end rape, but we were hoping to lower the amount of rape and dangerous situations you might be in through drugs," Baigorri said.
"Our impact is just to help people feel safe in their surroundings and be aware of what's going on and just to make sure that where they are, and what they are drinking, is safe," Cappello added.
We've seen a similar concept in the form of nail polish that changes color when dipped in a drink containing date rape drugs. And while both ideas are remarkable and could possibly go a long way to help prevent date rape, we know the responsibility to prevent rape is on those who set out to commit the act — not their potential victims.
There's definitely work to be done, but we're grateful for the innovative minds who are working to create change and give women a little more control over their safety.