I wear these $52 Nordstrom earrings nearly every day—here's why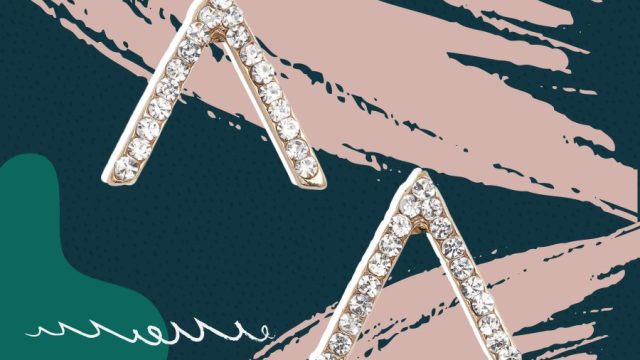 Although I love jewelry, I tend to wear the same pieces over and over, rarely changing out my go-to items for others. As such, I always have to stop myself from buying new jewelry, because while I adore adding to my collection, I know that realistically, that cool new ring or necklace is probably going to sit in the back of my organizer and never see the light of day. But when I got a pair of gorgeous stud earrings as a holiday gift last year, I knew that I needed to add them into my rotation ASAP—and that's exactly what I did.
With tons of tiny silver crystals placed on a 14-karat gold, caret-shaped plate, these earrings are subtle but still totally glam. They're my ideal size for studs, too: Small enough to blend in with my everyday look and not distract me (I'm guilty of constantly fidgeting with my jewelry), but large enough to be noticeable and attract attention from others. Most importantly, though, at least for someone like me who usually sports the same few items every day? The earrings' low-key vibe means that I can wear them with pretty much any outfit and at any occasion, whether I'm in jeans and boots hanging out with friends, in a jumpsuit and loafers at work, or in a cocktail dress and heels at an upscale event.
You can get these earrings for yourself at Nordstrom, where they sell for $52. If they're sold out when you look, don't worry—the site is restocking pretty often, so they should be made available again before long. And if you do buy them, prepare to wear them pretty much all the time; I have mine in more days than not, as they've quickly replaced my previous go-to studs and hoops (sorry, guys). As I've said, when I find a piece of jewelry that I love and goes with everything, I make it a regular part of my look, and these earrings absolutely fit that bill.