These moms-to-be dressed up as Disney princesses for a maternity shoot, and the photos are breathtaking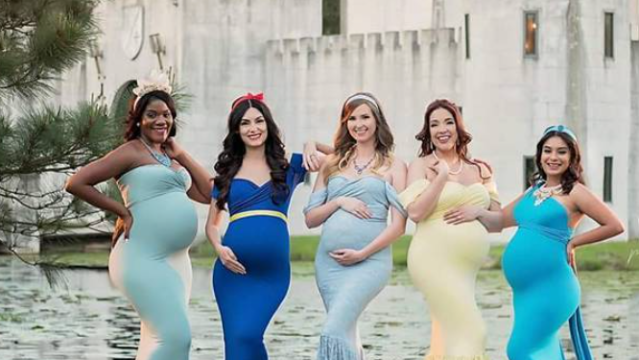 Disney princesses likely played a big part in most young girls' childhoods, and (problematics of "princess culture" aside) being pregnant can be a time of celebrating magical feminine beauty, which Tiana, Cinderella, Belle, Snow White, and Jasmine represented back in the day. That's why this magical Disney princess maternity photo shoot, directed by Texas-based photographers Victor and Marie Luna, is so brilliant.
According to an article in HuffPost, the idea was inspired by the recent popularity of the live-action Beauty and the Beast, and what started as a Belle-inspired shoot turned into a Disney princess extravaganza! Let's face it, we want to see the Disney princesses represented in everything from hot dogs to real dogs, so this photo shoot is a delight to bear witness to.
Check out the beautiful pregnant princesses:
https://www.instagram.com/p/BSog_WmgBtl
Each dress was handmade by Sew Trendy Accessories, which specializes in maternity gowns like the ones featured in the shoot. The model-moms are dressed in simplified representations of the iconic princess outfits, and it's a lovely representation of the princesses IRL.
Snow White had her signature colors.
And an apple, of course. Though hopefully it was organic (and poison-free) for the expectant mother.
Princess Jasmine was dripping in jewels!
This might be cuter than when Kim K and North dressed up as Jasmine, but shhh don't tell Kim we said that.
According to the photographers, the photo shoot was just as hectic as you'd expect. As Victor and Marietold HuffPost,  
"Between the wardrobe changes, the makeup retouches, the pee breaks, and one mommy close to giving birth, we managed to make it come together beautifully."
Luckily, the whole turned out positively magical!
"It made us feel so happy that they were feeling like actual princesses," the photographers said.
Everything looked perfect, down to the glass slipper.
It helps that they were at an actual castle for the shoot, too, one called Newman's Castle in Texas.
We love that these expectant mothers were able to feel like Disney royalty — every mom deserves that.