These ~makeup only~ Halloween costumes are seriously gorgeous
There are two types of people in the world: those that start to get ready for Halloween at the end of August, coming up with their idea, grabbing everything they need to execute and totally killing the costume game.
And then there are the other people who literally try to come up with the whole plan the night before in a mix of panic and worry.
Well, for those of you in the second half, there's no need to worry anymore because makeup only costumes are KILLING it.
You do still have to use a lot of creativity in order to pull off a Halloween look that doesn't rely on costumes, but thankfully there is a lot of inspiration to pull from.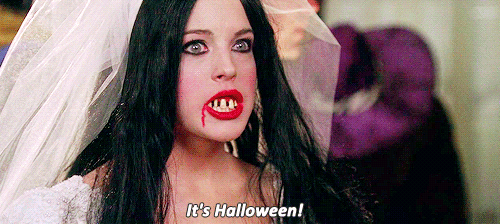 If you're needing a makeup look only, these are all over Pinterest this month as the top searched and pinned looks and they're seriously gorgeous.
Turn yourself into a fox
Snapchat filter in real life
Pull off the DIY doll face
 Pop comic lady in distress
 Leave it in the lips
 Go in black and white
 Pokemon
All eyes on the butterfly
 Channel the Lion King
Put Finding Nemo on the eyes
Baby deer, personified
Spider webs using eyeliner
Go for the classic skull
Don't let your procrastination keep you from going out and having fun because all you need is a tiny bit of creativity and the help of Pinterest of course.