These dogs reunited after spending months apart, and their reaction will totally make you cry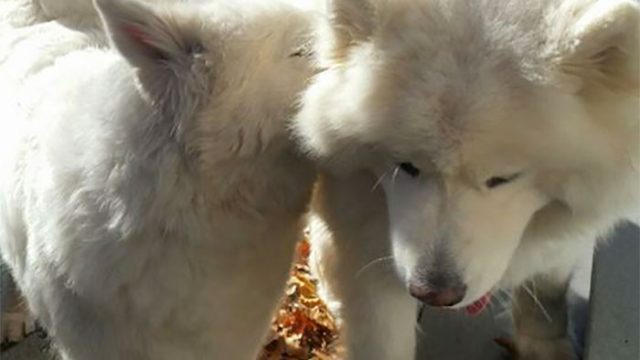 Well, here's one doozy of a doggie story. Recently, two dogs named Kenji and Sophia were reunited after a months-long separation and their reaction to being brought together again has us feeling extremely emotional.
According to Bored Panda, Kenji and Sophia met on a meat farm in South Korea but after being rescued by a group named Jindo Love and brought to the US, the pup BFFs were separated. After Lindsay Goldstein adopted Kenji from Sweet Paws Rescue shelter in Massachusetts, she proved herself to be one of the sweetest dog owners ever by arranging a meeting between her newly adopted shelter dog and his long-lost partner Sophia.
So remember that video of dogs are experts at teaching us how to hug? Kenji and Sophia basically recreated that tutorial in real life.
Of Kenji and Sophia's reunion, Goldstein told The Dodo, "When he saw Sophia, it was obvious they remembered and loved each other." She added, "He had more energy than ever that day and loved running around the yard with her."
Here they are, making up for lost play time.
Ugh, so who else needs a box of tissues to clean up a puddle of tears? We know we probably shouldn't hug our dogs , but this story sure makes us want to find a pooch and give 'em a good ol' Elmyra squeeze.
On second thought, maybe a belly rub.
Anyway, we totally applaud Goldstein for giving Kenji a second shot at a happy life by adopting a shelter dog, but she gets all of the props for going above and beyond to bring Kenji and Sophia back together.