These colorful stacks of paper are actually tiny silhouettes of women
Although paper might not seem like the most innovative material to use to make art nowadays, we can't deny that artists are still getting ~seriously~ creative with the material. Take for example "I am here," a  super colorful installation by Emmanuelle Moureaux.
The Tokyo-based architect (originally from France) created the complex piece for the exhibition "Space in Ginza" in Tokyo. As the press release for the exhibition explains, "I am here" references a specific system of measurement:
For the Exhibition "Space in Ginza" at METoA Ginza in Tokyu Plaza Ginza, Emmanuelle revealed an installation that uses centimeter-level measurement accuracy of the Quasi-Zenith Satellite System (QZSS) as a motif. The interactive installation gives form to the high precision technologies in a beautiful visual form.
The system can "measure your position (on x, y, and z axes) to an accuracy of centimeters" in order to help with technologies like GPS. For this piece, Moureaux brought together 18,000 tiny silhouettes of women created in more than 100 colors. Yup, you read that right.
These little figures represent the huge crowds that you would usually find in Ginza.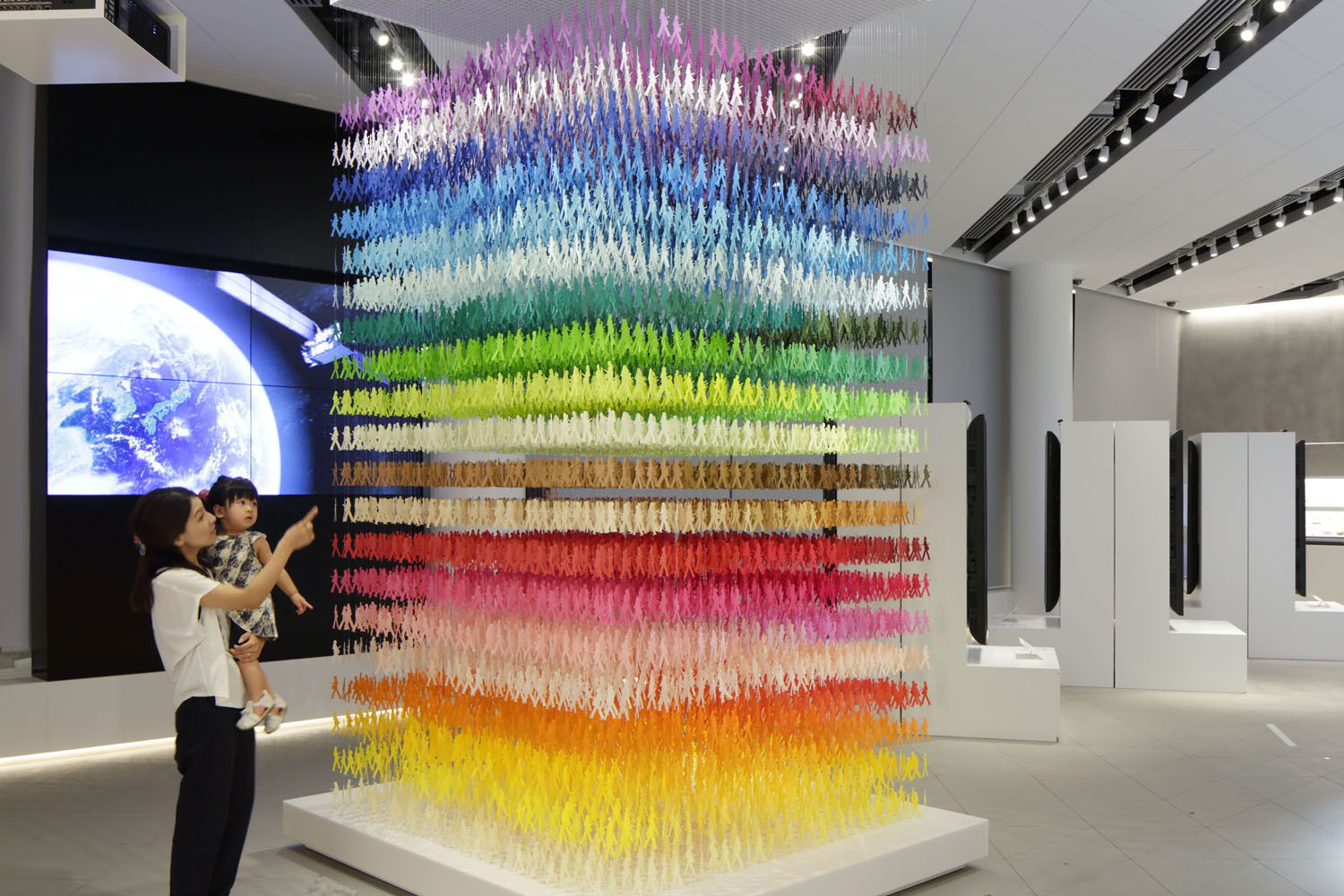 The layers entice the viewer to get closer and take in all the tiny figures. And somewhere in the middle of identically-shaped figures, viewers can find something else: the silhouettes of two girls and cat. Trying to find them is almost like playing Where's Waldo but with a totally colorful twist.
"Just like looking for the "lost" silhouettes in the crowd, the installation is a reminder to rethink where you belong," the press release explains.
This definitely applies to any major city in the world. We often get caught up in the commute to work or even the tasks of every day — but once in a while it's good to think about what really makes us ~individuals~ in our own right.
Even if we didn't end up finding these figures, we would love staring at the piece just because of its gorgeous rainbow  We totally wish we could've seen this awesome installation in person (the exhibition closed just recently). But in the meantime, we're happy getting lost in photos of the piece — and thinking about our place on Earth while we walk to work tomorrow morning.