We're getting closer to the release of Too Faced's Sweet Peach collection, so here is everything we're DYING to get our hands on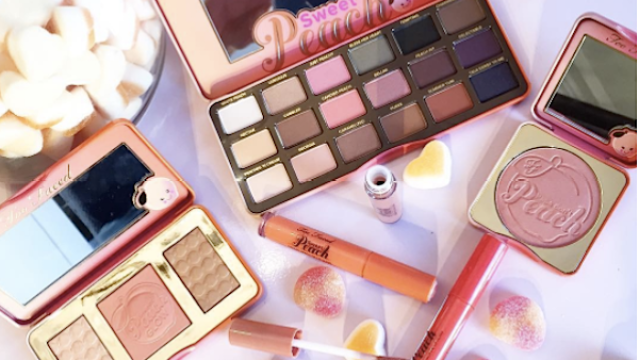 Makeup lovers, brace yourselves. Adding Too Faced's highly anticipated Sweet Peach Collection to your makeup battle station is getting closer and closer to becoming a reality. The beauty brand known for rolling out insanely clever products, like this peanut-butter-jelly-inspired palette and this chocolate bar-themed palette, is about to drop what may be their yummiest collection yet, and we have some early deets to share with you.
For those of you who aren't lurking Too Faced's social media 24/7, the Sweet Peach collection will be composed of — yup, you guessed it — makeup products inspired by the delicious fruit. These items will be so great for spring and summer, but we can't wait to get them in our hot little hands even though it's only December…and we're pretty sure you'll feel the same way once you hear more about them.
Here's what you can expect to find:
Papa Don't Peach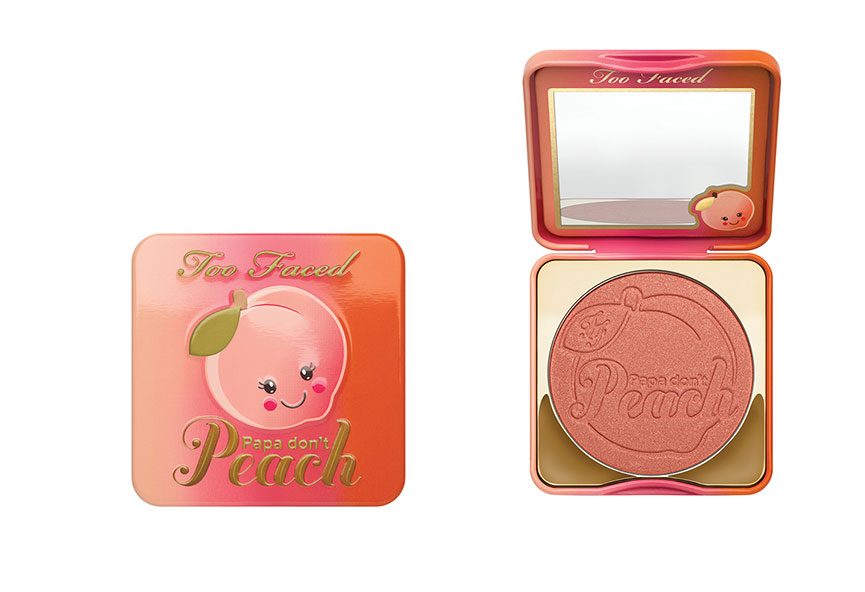 This perfectly flattering blush is infused with actual peach, which means it isn't just packaged adorably, it also smells like fresh peaches and contains skin-loving fruit extracts. The shade is, predictably enough, a soft, universal peach. Too Faced co-founder Jerrod Blandino was inspired to bring this product back during a moment in Paris he had with a peach trifle dessert!
Sweet Peach Creamy Lip Oil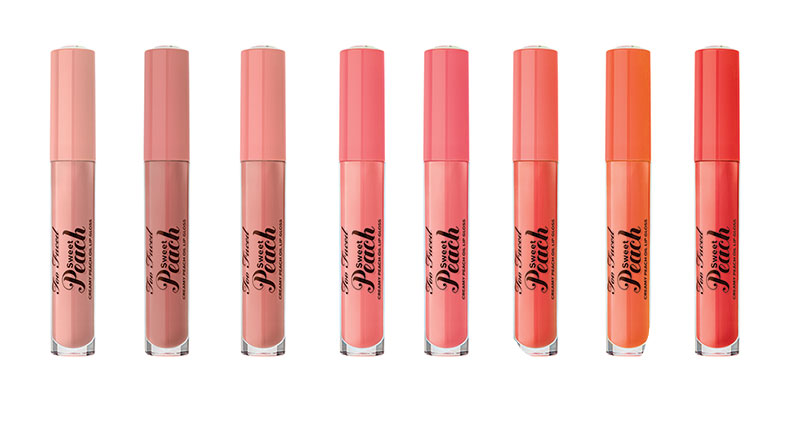 We love a good moisturizing lip product, and this one isn't just nice and nourishing, it's also provides the perfect sheer, shiny wash of color for everyday wear. It comes in several shades, so if you don't have great luck peach-colored makeup, you're in luck!
Sweet Peach Eyeshadow Collection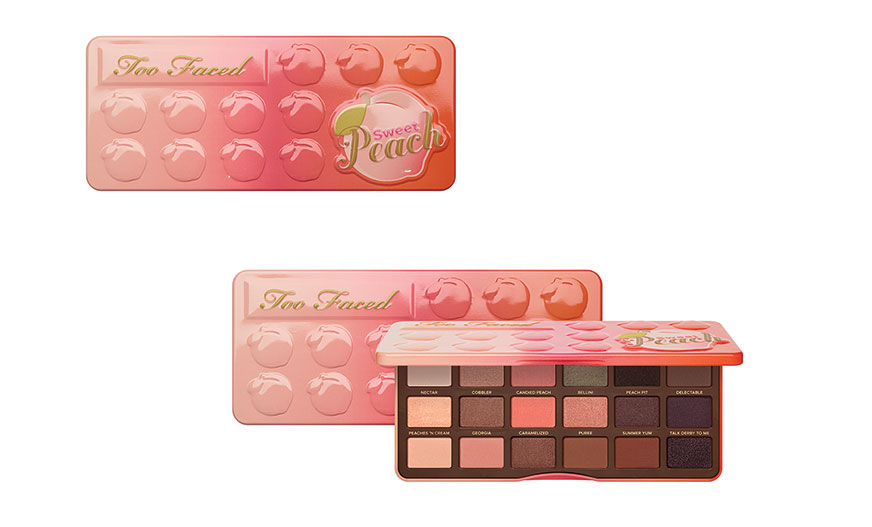 The shadows in this palette aren't all peach-colored, but they all have the collection's signature peach scent. There are tons of peach-y, coral-y colors too, and we bet they'd double beautifully as blush!
Sweet Peach Glow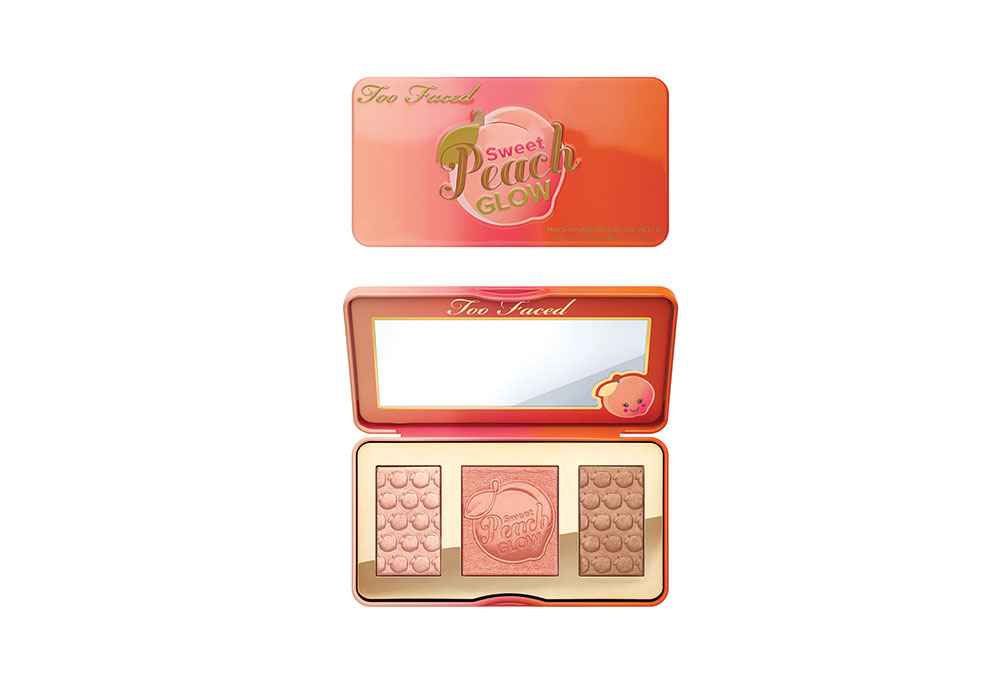 If you want to get your hands on the collection's gorgeous blush shade (see above), a soft, universal highlight AND a universally flattering bronzer, this is your best bet!
Last night at the Sweet Peach release party, Jerrod dropped a very exciting surprise: a limited amount of Sweet Peach palettes were available for purchase on the website at toofaced.com/peach. As expected, everyone and their momma was trying to snag one of these beauties. Unfortunately, when we tried getting on the site ourselves, we were hit with this very bleak news:
A WAIT LINE OF OVER 22K!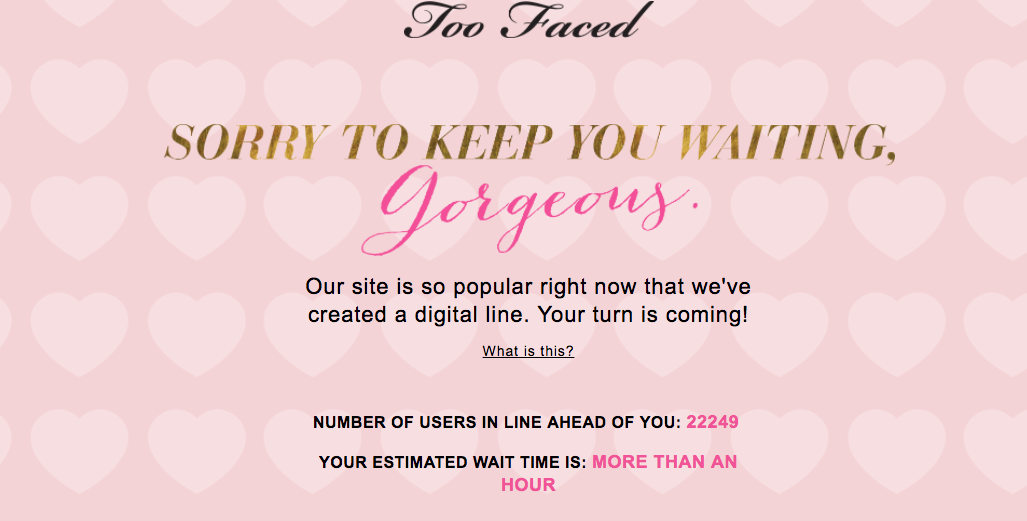 Clearly, the Sweet Peach collection is the belle of the ball!
Luckily, that wasn't the only opportunity to get your greedy lil' paws on the coveted Sweet Peach line. The entire collection will be available at TooFaced.com, Sephora.com, and Ulta.com at midnight on December 15th.
While the Sweet Peach Eyeshadow Palette will be available in stores on December 26th, the rest of the collection will hit stores on January 15th.
Watch a video of the entire collection below:
https://www.youtube.com/watch?v=HSKicDEZDcY?feature=oembed
We can't wait to take a bite out of it!