This is the makeup and skincare diary of HG's Beauty Editor, because you know you're curious
We're starting a new series called The Beauty Files, where HelloGiggles editors and contributors share what exactly they put on their faces, and why. We want to take you on this voyeuristic journey because we believe makeup means something different for every single person — applying makeup is a conscious, intimate decision we make almost every single day, and there's usually a method behind the madness. Join us every week as we spill the beans on beauty products, and feel free to submit your own Beauty File. E-mail us at [email protected]!
As a beauty editor, I feel very fortunate because I get to try out tons of different skincare and makeup products, so my regimen can often change and it NEVER gets boring. Call it "kid in a candy store" syndrome, but I will try anything and everything under the sun when it comes to cosmetics. But that's not the only reason why I think that documenting my daily beauty rituals right now is particularly interesting. Since I've switched up my look by dyeing my hair pink, it has caused me to be extra adventurous with my makeup choices.
What once used to be a daily diet of red lipstick and a ~smoldering~ cat eye has turned into a beauty science experiment involving lipstick and eyeshadow from all ends of the color spectrum. It's gotten crazy in my makeup bag, let me tell you!
Me, usually:
https://www.instagram.com/p/BOTnJtkBzz7
Curious about my daily routine? Read ahead!
Morning: 8 a.m.
I wake up groggy because I had lasagna and wine the night before and passed out like a GD asshole. Falling asleep in a full face of makeup is definitely NOT something a beauty editor (or anyone) should be doing, but whatever was in that lasagna (was it the turkey? Tryptophan???) made me literally pass out in my bed mid-conversation with my boo.
The irony is, the day prior a glam squad did me up all diva-like for another article and I had joked that I was going to retain my bomb-ass makeup by sleeping on my back and not move. I was too tired to even use micellar water, aka what I usually do if I'm too lazy for a full face wash! Big mistake. Big. HUGE. I wipe off my raccoon eyes with Bioderma Micellar Water ($16.90) and wash my face with Mary Quant Magic Rite (about $25 USD). I had wanted to try out Mary Quant's (one of my favorite mod-era fashion designers) beauty products FOREVS, but it's only available in London and Tokyo. When I went to London this past summer, I stocked up and subsequently fell in love with her skincare. What will I do when it runs out?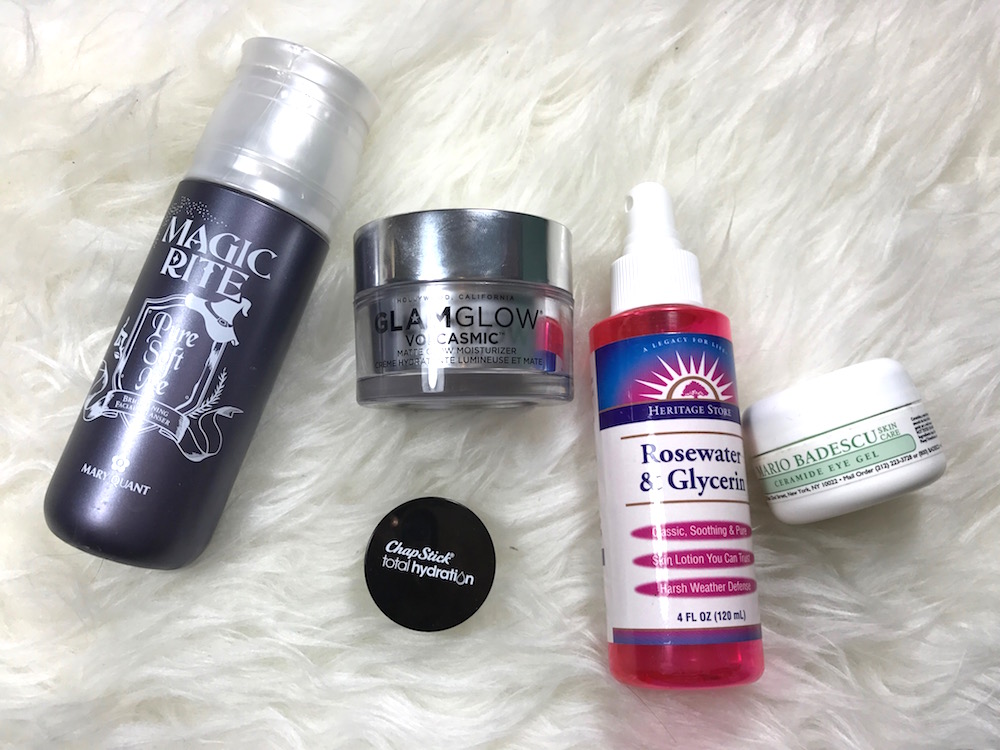 I won't wash my hair until tonight, so I use Batiste dry shampoo ($5.94) to combat oiliness. Then I smooth down frizz with Kenra Silkening Gloss ($17.61) and spray my bangs with some Frizz Ease Hairspray ($5.99), 'cause I hate to see my fringe flying in the wind!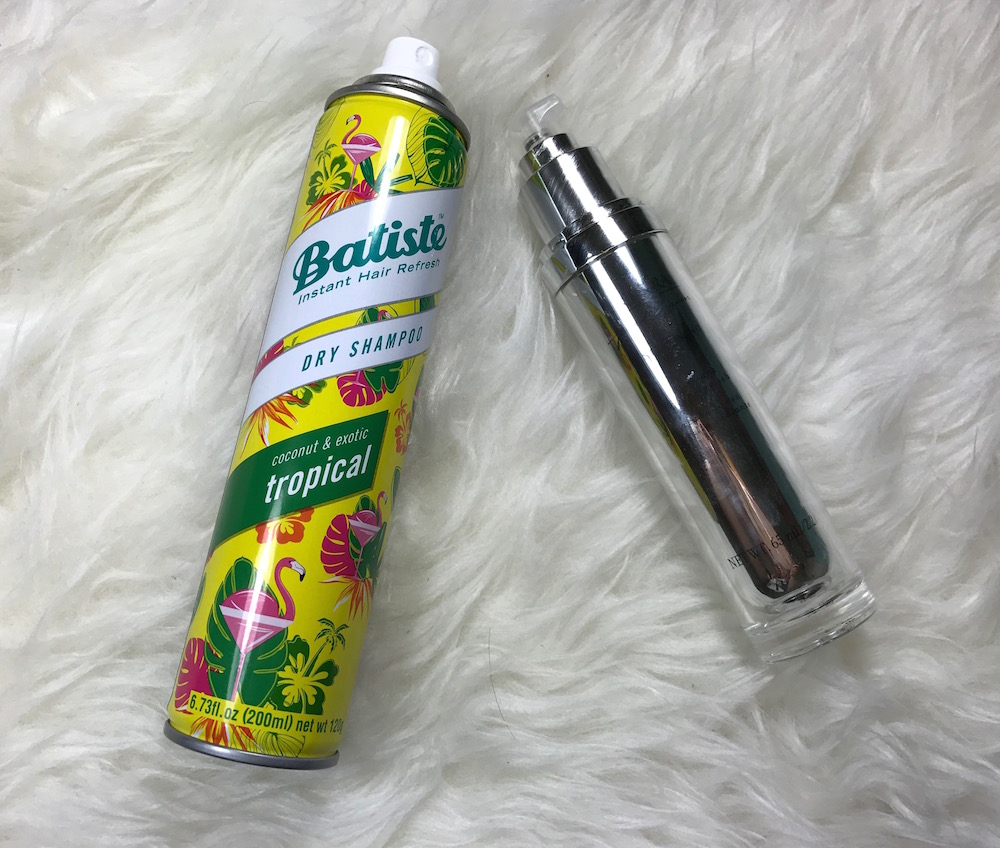 Since I have a bit of matte lipstick residue sticking to my lips, I use Chapstick's Total Hydration Lip Scrub ($4.99) to get it off. Then I spray my face with Heritage Products Rosewater and Glycerin ($7.15), a favorite of the HelloGiggles staff. I also use the brand's regular rose spray to spiritually cleanse my home. Love dem multi-purpose products! Afterwards, I pat a little bit of Mario Badescu's Ceramide Eye Gel ($18) under my eyes to wake them up. Then I put on my current FAVE moisturizer — GlamGlow Volcasmic Matte Moisturizer ($54). This stuff hydrates and preps my skin for makeup, and smells SO GOOD.
To prepare my base, I apply Dr. Brandt's Pores No More ($45). Next is Touche Eclat ($42) to help with my tired eyes, and then Kat Von D Lock-It Tattoo Foundation ($35). Usually I wear Urban Decay's Naked Skin on the daily and save KVD for days when I want full coverage, but I had run out of my UD foundation.
Next comes the LEWK. First, I set my makeup with Bésame's Vanilla Rose Brightening Powder ($22), then grab Too Faced's Shadow Insurance Primer ($20). Like I said earlier, my beauty regimen has been VERY different lately due to my new pink-peachy 'do. For over a decade I've been used to doing a quick, pinup-esque look with my Bettie Page hair — a thick black cat eye, with sometimes a shimmery white shadow, then mascara, and a swipe of red on my lips. Because my hair is currently a peachy tone, or BLORANGE to some, I've been experimenting with my makeup. It's kind of perfect that peach tones have been trending in beauty, because it looks GREAT with my hair.
I do my eye makeup with Too Faced's Sweet Peach Eyeshadow palette ($49) and use Mariah Carey for MAC Sweet Sweet Fantasy Blush ($24) on my cheeks.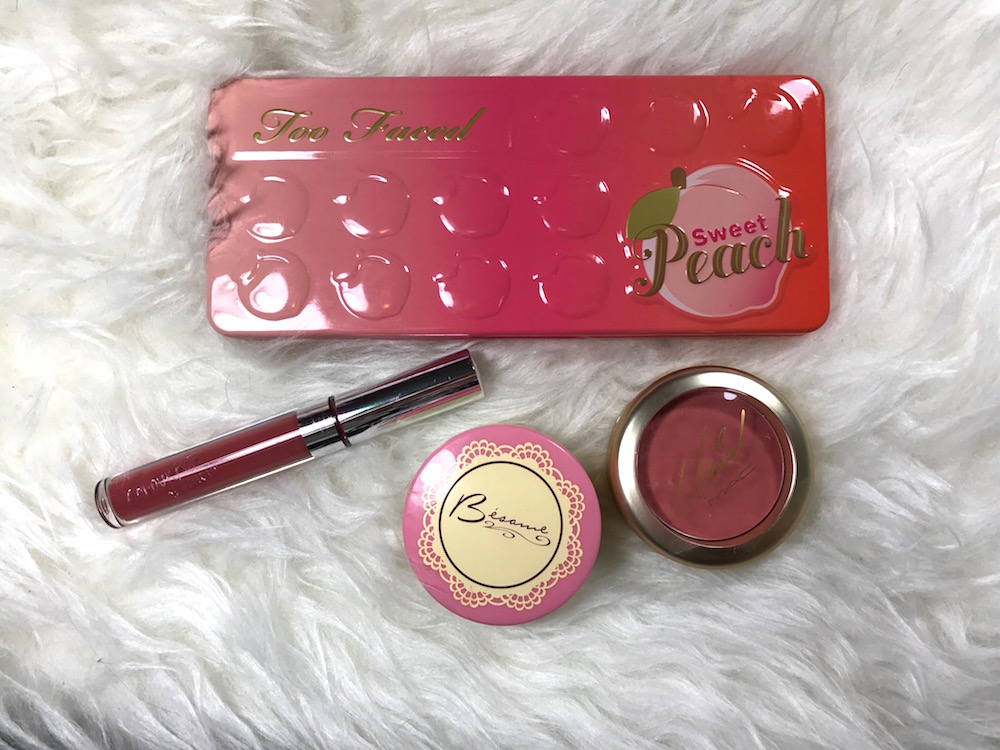 Then I draw a winged eye with Stila Cosmetics Stay All Day Liner ($22), use a bit of Smith & Cult Lash Dance Mascara ($28) after brushing my recently-permed lashes with a spoolie, fill in my brow's with Benefit's Ka-Brow! ($24) and finally, paint my pout with ColourPop's Ultra Matte Lip in Bumble ($6).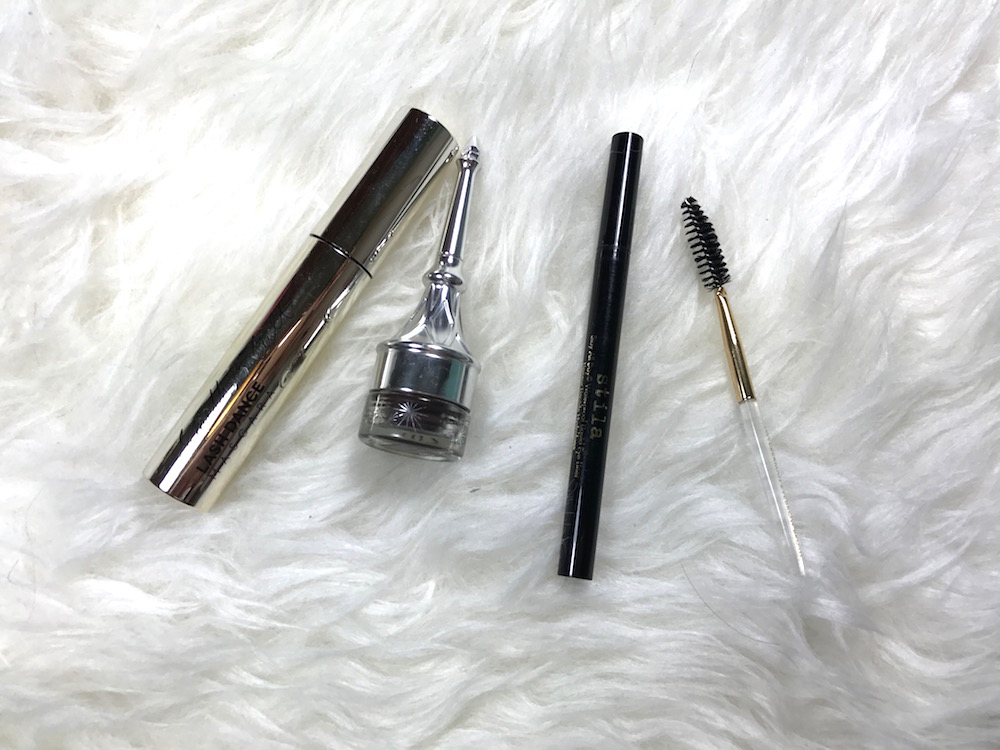 I'm loving this look so much, even though it's such a big departure from my norm. Experimenting is FUN.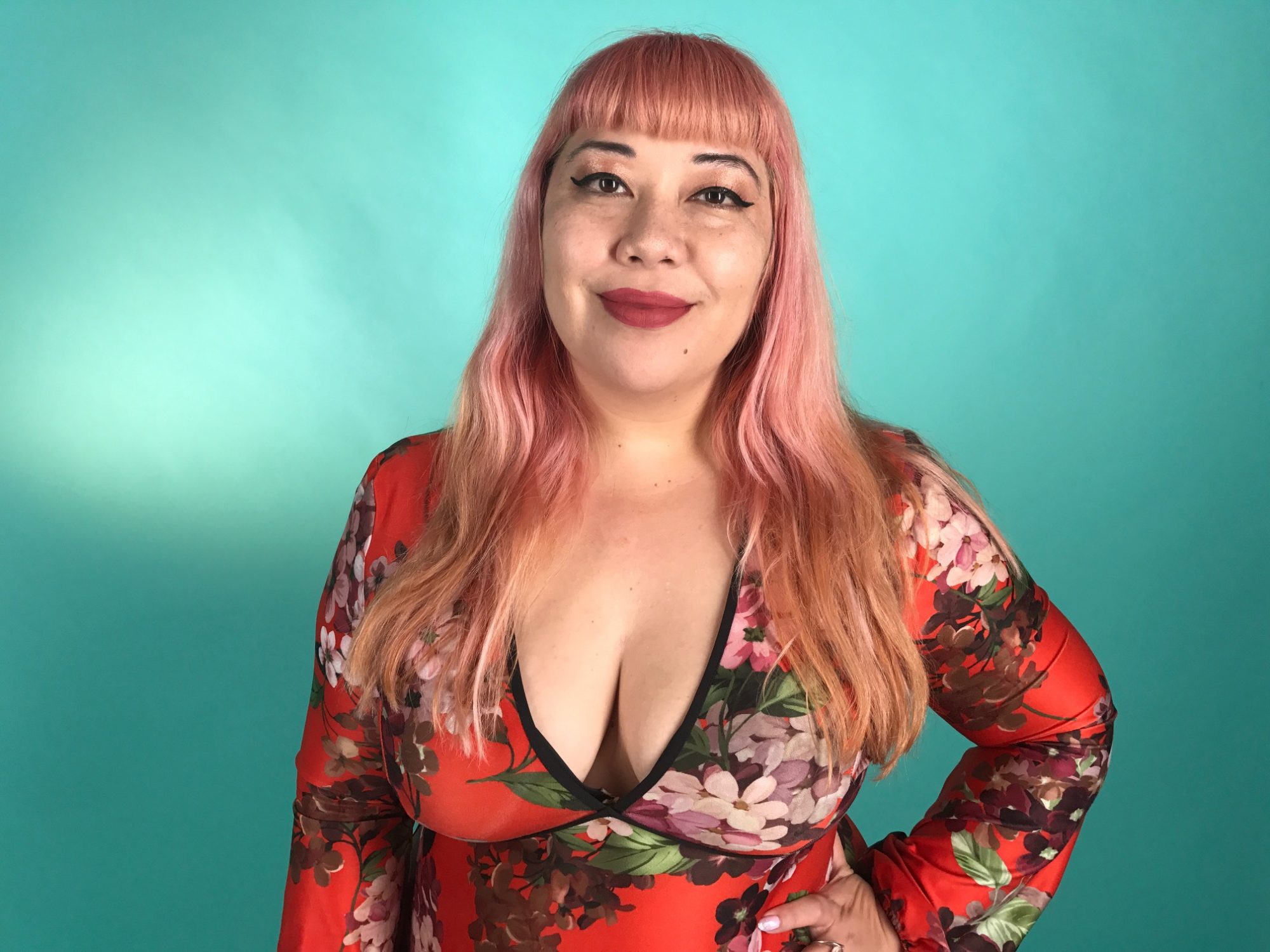 Afternoon 2 p.m.
At work, I test out a lot of different products on the daily. This time, it's lipsticks. I wipe off my ColourPop Bumble with some Korres Greek Yoghurt Makeup Wipes ($15) so I can try on lipstick from the Alexis Ren X ColourPop collection.
https://www.instagram.com/p/BQMKZOKBORA
Early evening: 6 p.m.
I'm working out tonight, so on days like this I try to get most of my makeup off with the Korres wipes, though sometimes I leave on my lipstick. Important note: Too Faced's Melted Mattes usually last all day and throughout my workout. Praise you, Jerrod Blandino.
Post-workout: 9 p.m.
My trainer worked me hard tonight so I'm sweatin' like crazy. I wipe my eyes with the Bioderma micellar water again before jumping in the shower to wash my bod with Soap and Glory's Clean On Me Shower Gel ($10). Then I use Lush's Ocean Salt ($34.95) to exfoliate. I love this part of my shower. Feels SO luxurious. I wash my hair with Kristin Ess' The One Signature Shampoo ($10) from her new collection at Target, and use Pravana's NEVO :60 Deep Treatment mask ($14.99) that has a bit of my hair dye mixed in so I can revive my color.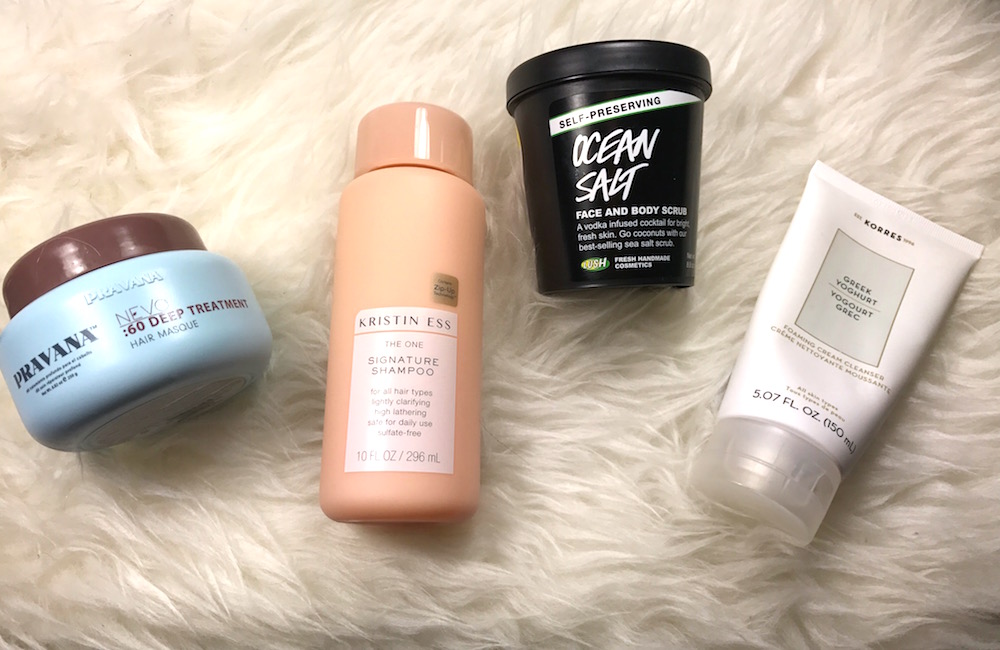 While the hair mask sets in, I cleanse my face with my Clarisonic Mia 2 ($169) and Korres Greek Yoghurt Foam Cream Cleanser ($26). After I get out of the shower, I decide to do some masking with Skyn Iceland's Fresh Start Mask ($39)!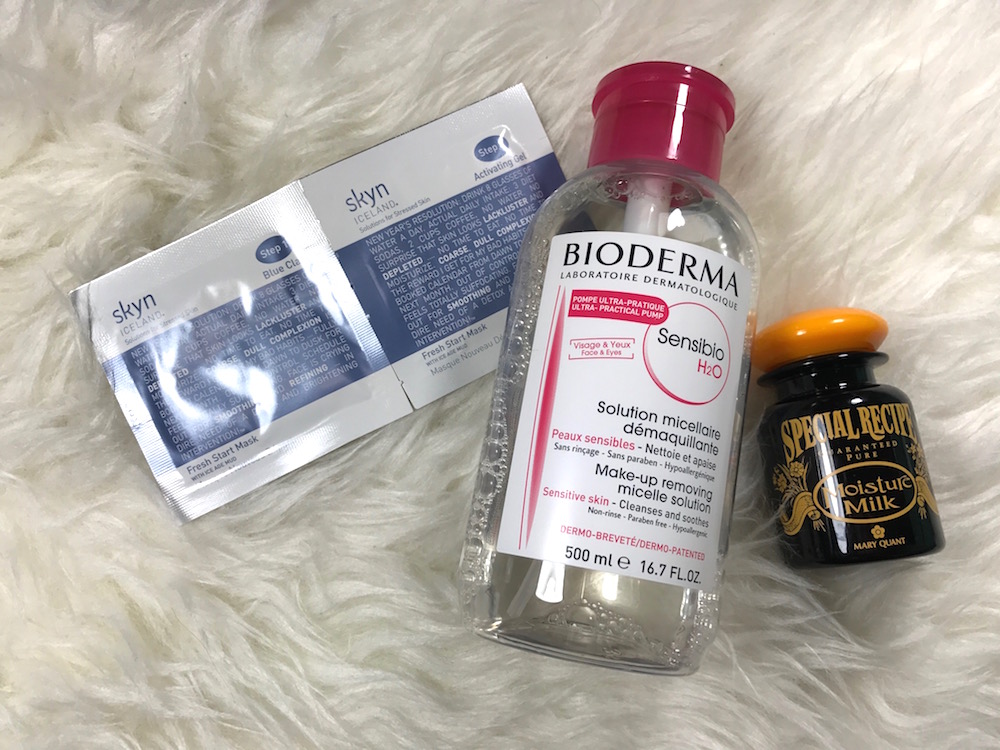 After my mask sesh is done, I spray my face with the rosewater again and moisturize my face, neck and chest with Mary Quant Moisture Milk (about $28USD). Now it's time to watch An American Werewolf in London and pass the F out.
Indulge in beauty-themed voyeurism by reading all of our past Beauty Files here!