There's video footage of Princess Charlotte's first royal curtsy, and OH THE CUTENESS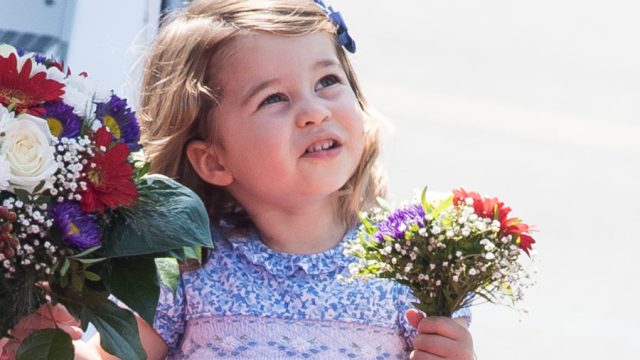 We already knew that this tiny royal was absolutely adorable, but let's take a moment for Princess Charlotte's first royal curtsy. That's right, she's already been taught to display the best royal behavior in front of foreign officials. The blink-and-you-miss-it curtsy took place right before she boarded the plane to Germany with Kate, William, and George, and clearly Charlotte stole the show. Dressed in blue and holding flowers, she is quite possibly the sweetest two year old we've ever seen.
Now let's all take a seat and view the absurdly adorable moment.
FYI it happens quick, so don't blink!
If you were thinking that curtsying was a thing of the past…not so for royals. So freaking cute. In fact, maybe we should practice ours?
And in case you're wondering how to incorporate the move into your everyday life, let's all recall this key Cher moment from Clueless.
Even Cara Delevingne has gotten in on the curtsy action.
But anyway, back to Charlotte.
The curtsy wasn't the only thing to fuss over; she got an opportunity to deliver a diplomatic handshake, too.
We can't wait to see what kind of spirited little girl Charlotte blossoms into, because she's already charming everyone in her path. Of course, let's not leave out Prince George, who is also a darling human.
And the two of them together? A FORCE!
Can't wait to live vicariously through the royal family as they embark on their next worldly adventure. And we're seriously practicing that curtsy.