There's still time to grab this spooky, psychedelic wrap from Lush before Halloween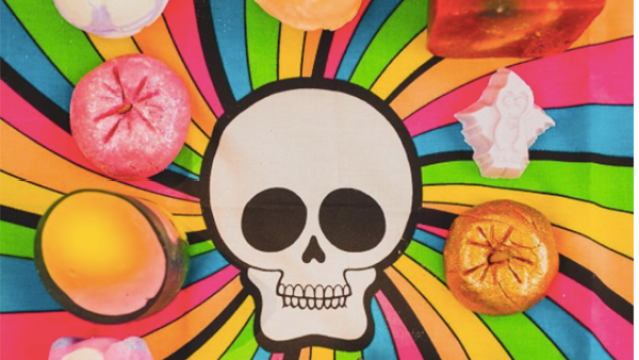 The clock is ticking closer and closer to Halloween, so you better stock up on all the Halloween swag you've been wanting before time runs out. Lush's Halloween-themed Rainbow Skulls Knot-Wrap is one of our favorites of the season, and while they're sold out online you can still get it in-stores in time for the big night.
This knot-wrap is the perfect combination of the macabre with '90s-style brightly colored patterns. So whether you have a goth heart or a shining hippie soul, you're going to love it. We've long been a fan of Lush's knot-wraps, they're perfect as a scarf or headband and looks awesome as wrapping for gifts.
How cute is that?
We got a chance to chat with Oliver Hibert, who designed this particular knot-wrap and he told us all about how his partnership with Lush began. He tells HelloGiggles,
"They contacted me a few years ago about doing a knot-wrap and of course I was very excited to work with them! I've worked with them a good 3-4 times now and it's always been great."
Oliver also mentioned the collaborative process with Lush around designing this particular knot-wrap. They had a pretty clear vision of what they wanted and just needed someone with the skills to execute it. Oliver mentioned, "They wanted a psychedelic Halloween-themed thing…so that's what I did. A skull with an exploding and flowering rainbow-delic background."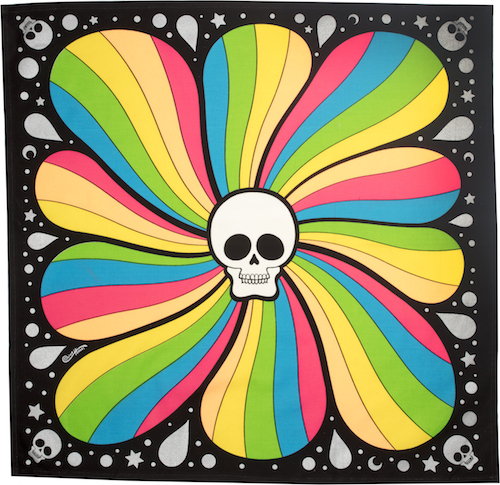 The Lush Rainbow Skulls Knot-Wrap is a lovely embodiment of the season and Lush's whimsical, celebratory aesthetic.
https://www.instagram.com/p/BYnw-B0gSUP
We can only imagine that one of the coolest things about working with Lush is getting to try out all their amazing products. When asked about his favorite, Oliver told us:
"Well I would say I love their bath bombs, I don't have a favorite as I always try a new one every time! They make such cool, magical stuff!"
We definitely agree with him on this one. Head on over to your nearest Lush store and pick one up for yourself!