There's some really good news for everyone who loves IKEA food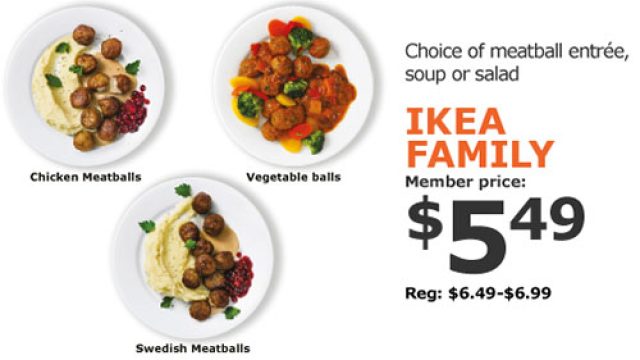 If you're a diehard fan of IKEA's Swedish meatballs and lingonberry sauce, we have some really good news. Soon, you might not have to go to an IKEA to get it — IKEA food might instead be coming to you.
IKEA just announced a new campaign (with it's very own hashtag, because of course!) called #TogetherWeEat, that will have them bringing food trucks to the lucky people of Chicago and New York to "celebrate how food connects people." Similarly to how their other products connect people, no? I mean, how many of us have been to a friend's place and been like, "I have that very same dresser!"? It's a bonding moment, for sure. Aaaanyway.
"We wanted to allow consumers to taste a variety of delicious and healthy food options found at IKEA Restaurants and IKEA Swedish Food Markets," said Peter Ho, head of food-product development at IKEA U.S., in a press release. "But even more than that, we wanted to create an environment that encourages people to gather and enjoy these treats together."
They'll set up communal areas for seating near all the food trucks, outfitted with IKEA furniture and home furnishings, and will also offer games and trivia cards for guests to play with.
The press release states that the food truck will visit Wicker Park Fest in Chicago on July 23 and July 24 and BRIC Celebrate Brooklyn! Festival in Brooklyn, NY on July 30, and will also pop up at various other locations around these two cities. They'll serve the following three foods: the Buffalo Chicken Bite, the Veggie California Stack, and the classic KÖTTBULLAR (Swedish meatball) with Lingonberry sauce.
We'll be following the hashtag for visitor reactions — who knows, maybe if it's a success, they'll make it a full-time thing!