There was a partial "One Tree Hill" reunion over the weekend, and now we're really in need of a full revival, stat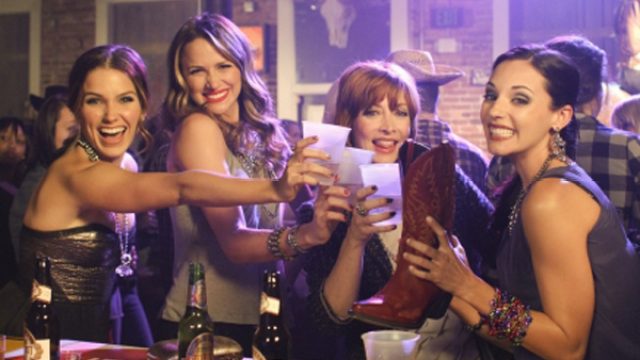 Stop everything you're doing…there was another One Tree Hill reunion! Yes, over the weekend, there was a partial OTH gathering, and we're SO happy about it.
Over the weekend while you were binge-watching OTH for yet another time, the cast — well, most of them — were reuniting in real life. Some of your favorite stars from the hit CW series reconvened in North Carolina — where the series was filmed — for the third annual EyeCon Wilmington convention.
For all the lucky fans who actually attended the convention (which is an entire convention dedicated to the show), we are SO jealous. Luckily, the cast posted a LOT of photos together, so if you missed it, you can live vicariously through these pictures.
"OTH (partial) family reunion," Robert Buckley aka Clay posted on Sunday alongside his cast mates.
The crew included Sophia Bush (Brooke Davis), Antwon Taylor (Skills), Stephen Colletti (Chase), Shantel VanSanten (Quinn), and a few other cast favorites.
"Older. Wiser. But still taking pics on that school photo backdrop! #reunitedanditfeelssogood #sophsandwich #wolfpack #oth #family," VanSanten captioned a cute trio photo with Bush and Buckley.
This reunion makes us so happy, we can barely stand it!
"#rtth3 #oth what u know about that ???????," Taylor wrote on a picture that included Colin Fickes aka Jimmy Edwards.
According to the actors, Tyler Hilton even showed up and, of course, performed for the crowd.
Brooke Davis' teenage housemate, and former Clothes Over Bros thief, Samantha Walker (played by Ashley Rickards) even made the trip this year.
"I LOVE YOU GUYS!!!!! Thank you!!! #OTH!!!," Rickards wrote on her cute selfie with the Chicago P.D. actress.
Amongst all the fan craziness, Bush managed to take a moment to visit the Davis mansion while in town.
OMG, this is bringing back so many memories.
"Girl(s) in front of the red door #StoopKids #Seestrahs," she captioned the photo.
Recognize that red door? We definitely do, and we are now even more jealous that we didn't head to North Carolina for this amazing reunion.
Okay, enough is enough, can we get a real One Tree Hill revival? We really, really need that in our lives right about now!
Save
Save