There was a "Handmaid's Tale"-inspired fashion show in New York, and you just have to see it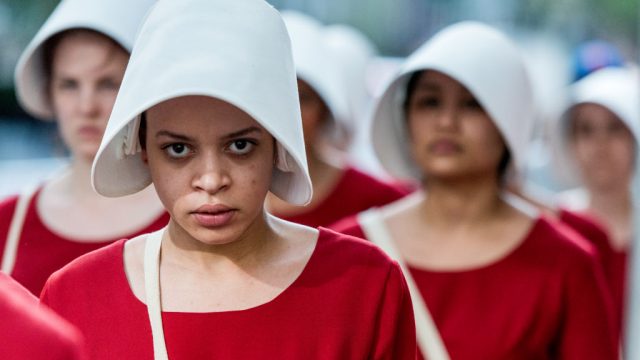 The future depicted in The Handmaid's Tale may be regressive, dystopian, and openly hostile toward women, queer people, and people of color (in the book, at least), but the fashion the Hulu series has inspired couldn't be more forward-thinking.
Case in point: New York indie fashion label Vaquera's newest collection, designed in partnership with the smash hit show. Based on the Margaret Atwood speculative fiction classic, Vaquera's stunning reimagining of the 1985 novel's iconic red robe/white bonnet handmaid uniform debuted Thursday at New York's Angel Orensanz Foundation and featured models of all ages, sizes, genders, and ethnicities draped in head-to-toe handmaid haute couture.
https://www.instagram.com/p/BVIUns2D-4W
Part fashion runway show and part performance art piece, models took to the catwalk in everything from gauzy gowns and oversized coats…
…to deconstructed suits and historical reproductions…
…to casual separates, and even an umbrella!
Vaquera, a fashion powerhouse comprised of young creatives Patric DiCaprio, David Moses, Bryn Taubensee, and Claire Sully, originally conceived the collection as a reflection of the duality of oppression and empowerment, as two separate realities that co-exist in constant conflict.
The designers soon discovered, however, that the line between the two was a bit more blurry.
"We thought we would make looks where she feels sexy and then she doesn't, but that became so difficult because each look could be both," DiCaprio told The New York Times. "Other looks are completely covered up, which can be empowering, too, because she's not allowing people to see her body," added Sully.
What a fashion statement! Praise be!