Anne Hathaway and 'The Witches' Apologized to the Disability Community for Character's Limb Difference
Hathaway agrees with advocates who want children to know that there's nothing scary about limb difference.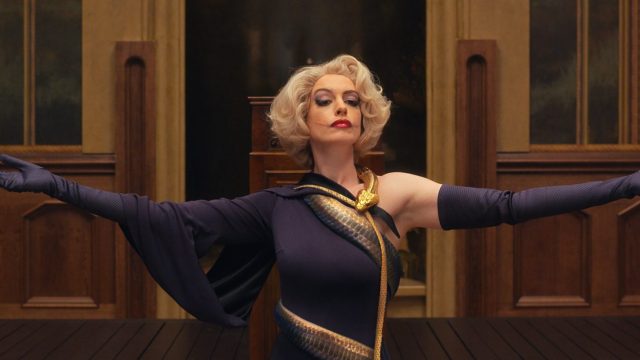 Update, November 6th, 2020: Anne Hathaway has responded to limb difference advocates who were upset by the decision to give Hathaway's character, the Grande High Witch, Ectrodactyly, a limb malformation commonly referred to as "split hand."
"I have recently learned that many people with limb differences, especially children, are in pain because of the portrayal of the Grand High Witch in The Witches," Hathaway wrote in the caption of a November 5th Instagram post. "Let me begin by saying I do my best to be sensitive to the feelings and experiences of others not out of some scrambling PC fear, but because not hurting others seems like a basic level of decency we should all be striving for."
She continued, "As someone who really believes in inclusivity and really, really detests cruelty, I owe you all an apology for the pain caused. I am sorry. I did not connect limb difference with the GHW when the look of the character was brought to me; if I had, I assure you this never would have happened."
Hathaway shared a video from Lucky Fin Project, a nonprofit that raises awareness and celebrates children, individuals, and families affected by limb differences.
"I particularly want to say I'm sorry to kids with limb differences: now that I know better I promise I'll do better," Hathaway wrote. "And I owe a special apology to everyone who loves you as fiercely as I love my own kids: I'm sorry I let your family down."
She asked her followers to check out Lucky Fin as well as the #NotAWitch hashtag "to get a more inclusive and necessary perspective on limb difference."
Original Post, November 5th, 2020: On October 22nd, Warner Bros. dropped their remake of the classic Roald Dahl tale The Witches, starring Anne Hathaway and Octavia Spencer, on HBO Max. Soon after the film went live, disability activists took to Twitter to ask why those behind the movie felt the need to alter Hathaway's hands in a way that makes her character, the Grand High Witch, look like she has Ectrodactyly, a limb malformation that is oftentimes more commonly referred to as "split hand."
In a November 2nd tweet, Paralympian Amy Marren wrote on Twitter, "It's not unusual for surgeons to try and build hands like [those of Hathaway's character] for children/adults with certain limb differences and it's upsetting to something that makes a person different being represented as something scary."
Marren continued, "Yes, I am fully aware that this is a film, and these are Witches. But Witches are essentially monsters. My fear is that children will watch this film, unaware that it massively exaggerates the Roald Dahl original and that limbs differences begin to be feared."
Marren also included an illustration from the original Dahl story titled "How to Recognize a Witch." In the illustration, the Witch's hands have all five digits and she simply wears gloves to obscure claw-like talons.
The hashtag #NotAWitch began circulating in the disability community, with activists sharing that all too often disabilities are given to movie villains to make them appear more "scary." Leah, the paraTriathlete and runner behind the @one_armwonder Instagram account, wrote, "People with a disability are portrayed in two ways. Someone who is suffering or monsters…We are JUST LIKE YOU. We grocery shop. We raise children. We adapt to the world. We teach."
She added, "We have so much work to do. More than just an apology. I hope one day we can normalize people with a disability in all settings."
In a statement issued to Variety, Warner Bros. said the studio is deeply saddened to learn that our depiction of the fictional characters in 'The Witches' could upset people with disabilities.
"In adapting the original story, we worked with designers and artists to come up with a new interpretation of the cat-like claws that are described in the book," the statement goes on. "It was never the intention for viewers to feel that the fantastical, non-human creatures were meant to represent them."
Warner Bros. said, This film is about the power of kindness and friendship. It is our hope that families and children can enjoy the film and embrace this empowering, love-filled theme."
The alteration of the character's hands was an interesting and unnecessary change to the story, which was first made into a movie starring Anjelica Huston in 1990 (Huston's Grand High Witch was more in line with the original source material). And sadly, it appears as though not enough research was done ahead of time to ensure the change was warranted and appropriate.