18 of the wildest and weirdest Instagram beauty trends of 2017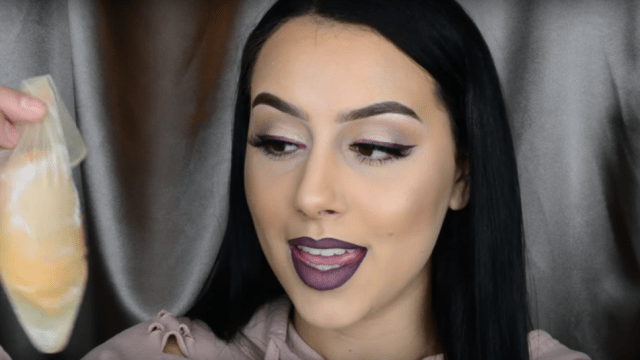 It would be a gross understatement to say that 2017 has been a wild year. Politically, it's been nothing short of a hellstorm sprinkled with rare hopeful moments. But in the world of makeup and skin care, it's been a year full of innovation and truly wild Instagram beauty trends.
You don't have to be an obsessive hashtag queen to catch wind of some of the creative (and sometimes straight-up bizarre) Instagram makeup and hair trends that made the rounds in 2017. While some trends leaned into the artistic aspect of beauty, others leaned into the pain and commitment involved in a demanding beauty routine.
Certainly, not every beauty trend will connect with every person (the world would be quite boring that way), but we must admit this year left a lot of impressions on us. Whether we're gazing upon the growing popularity of DIY beauty hacks, or beholden to the makeup-fueled optical illusions all over Instagram, one thing is for sure: The beauty world is always evolving. And crucial social media platforms like Instagram enable even more people to participate on a wider scale (yet another reason to resist the repeal of net neutrality).
Before we officially say farewell to 2017, we want to go over some of the wildest Instagram beauty trends from this last year.
What originally started as a joke, soon turned into a (short-lived) trend. When the popular Instagram user and makeup artist Stella Sironen posted a funny photo of her brows feathered — half glued up, half glued down, the internet soon took note and started mimicking the look themselves. Why not?!
https://www.instagram.com/p/BVw33NwlrUS
You'll quickly notice a LOT of these trends are eyebrow-related, because there's just so much you can do with your brows. The squiggle eyebrow trend was first started by the Instagram account MeLoveMeALot, and in most cases the brows are drawn on (since it'd be VERY hard to shape them that way). They look like a psychedelic Betty Boop eye.
The Instagram user Gret Chen Chen immediately inspired others when she posted a photo of herself wearing eyelash extensions in her nose. While her account is known for creative and subversive photos (and likely didn't intend to start a trend), other beauty lovers jumped onto the #nosehairextensions train making for a fascinating rabbit hole of a hashtag.
The beauty blogger Ashley Blue DeFrancesco truly broke the tampon-shaped mold when she opted to use a super tampon to apply her concealer in a tutorial. The DIY hack serves as a surprisingly effective technique for any of us who find ourselves short a beauty blender, but armed with menstrual products.
https://www.instagram.com/p/BNrkyAAAQwu
Do you guys remember the time beloved beauty blogger Huda Kattan cut a silicone bra insert in half and used to to apply makeup like a SiliSponge?! Well, we do, and the creative method was surprisingly successful. Much like the SiliSponge, Huda said the bra insert didn't waste the product that sponges do, and it made blending easy. Who knew how many functions our bras could achieve?!
https://www.instagram.com/p/BRKLEGghE4Z
London Fashion Week is always a place for subverting trends, but 2017 pushed it to another level with the "Lollipop Lipstick" aka "Snogged Makeup" look. This look is achieved when a top layer of gloss is lovingly smudged on the outside of your lips, or basically anytime you get drunk and forget to line or reapply your lipstick. Of the wild 2017 beauty trends, this one seems to persist, since most hungover women or people eating popsicles are rocking it.
Achieving symmetrically shaped yet believable eyebrows can be a real struggle. So this year, the internet had a love affair with the eyebrow stamp, which functions like you would imagine. You pick one of three shades and two shapes (arched and boy brow), press the stamp into the powder, press it onto your face and voila. This could be a major time saver for people with steady hands, the rest of us might have to level up.
The young James Charles became the first CoverBoy for a reason, he knows what he's doing when it comes to makeup! In a video that both proved his skill and the versatility of fidget spinners, the beauty blogger pull off a full contour using the fidget spinner as an applicator. And honestly?! The precision was uncanny.
We promise you the words "unicorn fidget spinner nails" aren't pure word salad, but rather a real actual Instagram beauty moment from 2017. When she noticed how trendy both fidget spinners and unicorns had become, the beauty blogger and nail artist Natasha Lee saw an opportunity. Thought pure magic, patience, a solid acrylic sculpting system, Lee was able to create a nail sculpture that combined the two trends.
Oftentimes, the wildest Instagram beauty trends were born out of a joke. This is exactly what happened with "braided brows" a hilarious concept birthed by the makeup artist Eros. The original post was photoshopped and meant to poke fun (lovingly) at how outrageous some of the brow trends were. As with all Instagram trends, others followed suit with the braided brows look (all of them photoshopped).
The reverse winged eyeliner look originated with the makeup artist Dahlia Creates, who felt inspired to wing her eyeliner towards the inside of her eye. The mirror image look is trippy and still really pretty in a disorienting way, so naturally, other Instagram beauty lovers joined in on the look.
If you're not familiar with the haunting aesthetic of Bratz Dolls, you are a blessed queen. The dolls are essentially a more modern answer to barbies, and come with killer platforms (we can appreciate a good shoe) and a resting facial expression that screams of hidden violence. That being said, their signature bright eyeshadow and pouty lips have made such big waves – makeup artists on Instagram have been playing with the look. The results are impressive.
While the concept might sound outlandish upon first hearing, the more we think about, the more eyebrow wigs make sense. They are exactly what you would assume: pre-shaped eyebrows you can glue/weave (depending on type/preference) above your eyeline. Honestly, a pretty brilliant solution for those of us dealing with sparse brows.
Okay, so this one is less of an Instagram beauty trend, and more of a "concept of beauty" trend. The Instagrammer Michelle Liu started an account called chinventures fully dedicated to photos of her traveling and living her life while purposefully flaunting a double chin. For Liu, the whole point was to laugh and not take her social media image too seriously — but it soon turned into an Instagram trend full of women ready to let their chins down.
In 2017 the star-studded accessory and clothing brand Valfré -inspired beauty lovers to rock multi-colored star freckle looks just in time for Halloween. And honestly, this trend is so cute we hope it's here to stay.
https://www.instagram.com/p/BYtYC7Zgwa9
When the beauty blogger Huda Kattan jokingly posted a video of herself rocking "McDonalds Arches Brows" she probably didn't think it would take the internet by such a storm. Or maybe she DID, and that was the point exactly. Either way, the drawn on golden arch brows quickly inspired other beauty bloggers to join in on the look.
We're always here for a committed eyeshadow look. Sooo, when makeup artists started posting on the  #sunseteyeshadow hashtag with some full-up shimmering recreations of the dusk sky, we were all about it.
The makeup artist Ester Gbudje proved that technique is everything when she successfully applied her makeup with a HARD BOILED EGG. What?! By some sorcery, she was able to utilize the egg like a beauty blender and apply not only her foundation, her highlighter as well. We have a feeling this trend won't take the nation by storm, but knowing it's possible is enough for us.
As we reflect back on this year of truly wild and impressive beauty trends, we feel full faith that 2018 will bring us even more.