Fans think The Weeknd's new song calls out Selena Gomez for leaving him for Justin Bieber, and here's why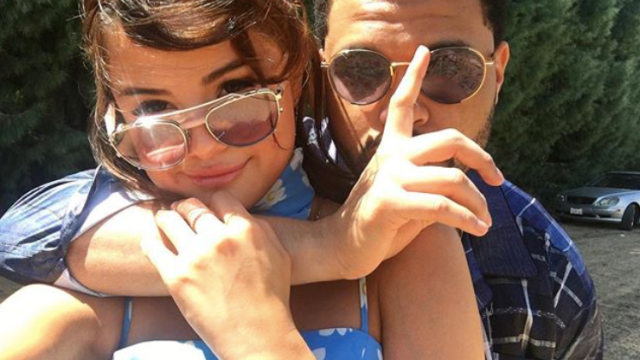 The Weeknd dropped the surprise EP My Dear Melancholy on March 29th, 2018, and the lyrics seem to provide some serious hints about his breakup with Selena Gomez. One song in particular, "Call Out My Name," appears to be all about Gomez. Gomez and The Weeknd dated for nearly ten months, but shortly after their breakup, Gomez was spotted back with Justin Bieber. Does "Call Out My Name" shed some light on the Jelena reunion? It might.
For starters, the lyrics seem to suggest that Gomez ended the relationship and broke The Weeknd's heart. He sings on "Call Out My Name," "I want you to stay, even though you don't want me / Girl, why can't you wait? (Why can't you wait, baby?) / Girl, why can't you wait 'til I fall out of love?" and later: "Guess I was just another pit stop / 'Til you made up your mind / You just wasted my time / You're on top."
This song also appears to shed new light onto the saga that is Jelena. If we're reading this correctly, it sounds like The Weeknd felt Gomez and Bieber were going to be together no matter what and anyone they dated during their break was but a "pit stop" on their road back to each other.
Elsewhere in the song, The Weeknd sings about cutting "a piece of myself for your life," which fans interpreted to mean he almost donated his kidney to Gomez.
https://www.youtube.com/watch?v=rsEne1ZiQrk?feature=oembed
The general consensus on Twitter is that The Weeknd could have written a basic breakup album, but Jelena's involvement in his relationship with Gomez really takes things up a notch.
https://twitter.com/udfredirect/status/979690836928729088
https://twitter.com/udfredirect/status/979575618005323776
Fans have also pointed to another song they think cryptically references Bieber, because it's clear that the woman he sings about has moved on and is with someone new. On "Hurt You," he sings, "When you're with him, you close your eyes and think of me / Just call me up again / I'll make you weak."
Meanwhile, Bieber and Gomez are reportedly on a break. Guess we'll have to wait for Bieber or Gomez's next album to see how the rest of this saga unfolds.