Here are the full lyrics to The Weeknd's "Call Out My Name," the song fans think is about Selena Gomez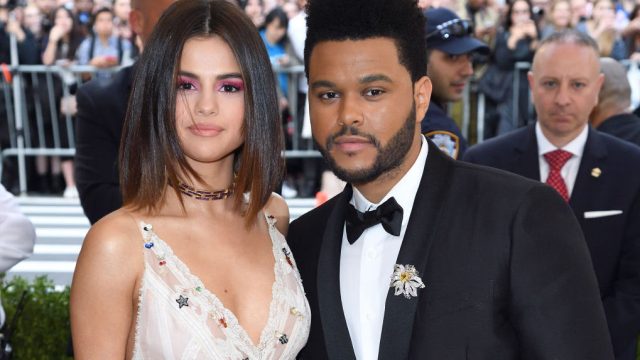 Great news for fans of The Weeknd: The singer is back with new music. The Weeknd dropped his new six-song album, My Dear Melancholy, on Friday, March 30th. And listeners are already finding hidden meanings in the songs. Particularly in the "Call Out My Name" lyrics.
Many fans think the song references The Weeknd's famous ex, Selena Gomez. The lyric "I almost cut a piece of myself for your life" could be a reference to the kidney transplant Gomez received in 2017. Her lifelong BFF Francia Raisa ultimately donated the kidney, but this lyric could be a hint that The Weeknd was willing to be her donor, too.
"In this case, the often metaphorical phrase 'cut a piece of myself' could also be very literal," contributors wrote on Genius, the site that allows users to annotate song lyrics. "Abel was possibly willing to give one of his kidneys in order to save his girlfriend's life."
But if you thought "Call Out My Name" was a sweet song that looks back longingly on a lost relationship, well, the lyrics that come next might change your mind.  "Guess I was just another pit stop / 'Til you made up your mind / You just wasted my time / You're on top." Oh. So it's like that on My Dear Melancholy, then. Got it.
Listen to "Call Out My Name" below.
https://www.youtube.com/watch?v=rsEne1ZiQrk?feature=oembed
And here are the "Call Out My Name" lyrics.
We found each other
I helped you out of a broken place
You gave me comfort
But falling for you was my mistake
I put you on top, I put you on top
I claimed you so proud and openly
And when times were rough, when times were rough
I made sure I held you close to me
So call out my name (call out my name)
Call out my name when I kiss you so gently
I want you to stay (want you to stay)
I want you to stay, even though you don't want me
Girl, why can't you wait? (Why can't you wait, baby?)
Girl, why can't you wait 'til I fall out of love?
Won't you call out my name? (Call out my name)
Girl, call out my name, and I'll be on my way
I'll be on my-
I said I didn't feel nothing, baby, but I lied
I almost cut a piece of myself for your life
Guess I was just another pit stop
'Til you made up your mind
You just wasted my time
You're on top
I put you on top
I claimed you so proud and openly, babe
And when times were rough, when times were rough
I made sure I held you close to me
So call out my name (call out my name, baby)
So call out my name when I kiss you
So gently, I want you to stay (I want you to stay)
I want you to stay even though you don't want me
Girl, why can't you wait? (Girl, why can't you wait 'til I?)
Girl, why can't you wait 'til I fall out of love?
Won't you call out my name? (Say call out my name, baby)
Girl, call out my name, and I'll be on my way
Girl, I'll be on my-
On my way
On my way
On my way
On my way
On my way
On my way
On my way
On my way
On my way
On my way
On my way
On, on