The Internet says that The Weeknd is singing directly to Bella Hadid on "Wasted Times," and let's unpack this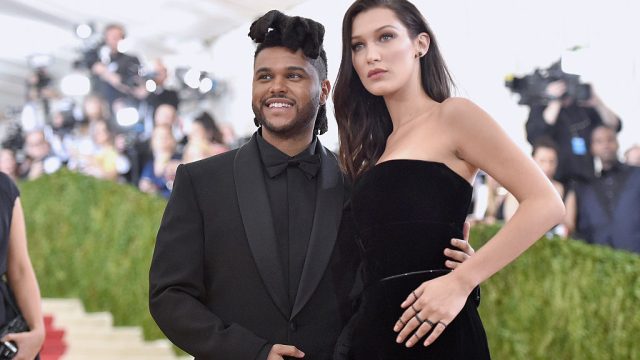 The Weeknd surprised fans by unexpectedly dropping the EP My Dear Melancholy on March 29th, 2018, and as if it were a Taylor Swift song, fans are scrambling to unearth hidden messages about exes in the lyrics. While "Call Out My Name" seems to call out Selena Gomez for leaving him for Justin Bieber, another song, "Wasted Times," appears to express his regret about breaking up with Bella Hadid in the first place.
There is a lot to unpack here, but based on a combination of Twitter theories and the annotated lyrics on Genius.com, it appears as if The Weeknd is singing directly to his ex-girlfriend after his breakup with Gomez.
The song "Wasted Times" starts off with the lyrics, "Wasted times I spent with someone else / She wasn't even half of you / Reminiscin' how you felt / Reminiscin' how you felt / And even though you put my life through hell / I can't seem to forget 'bout you, 'bout you / I want you to myself."
Later in the song, he refers to this particular ex-lover as an "equestrian," which Genius.com points out adds to the case for Hadid, since she rides horses professionally and was even training for the Olympics. If the "you" he sings to on "Wasted Times" is Hadid, then the "wasted times" would refer to his relationship with Gomez. Genius.com writes: "'Wasted Times' sees The Weeknd putting his two high-profile relationships with Bella Hadid and Selena Gomez in perspective."
So is "Wasted Times" just The Weeknd's way of pining for his ex-girlfriend? We'll let Twitter decide.
false
Hadid and The Weeknd started dating in May of 2015, and they reportedly split in November 2016. In January 2017, The Weeknd was spotting kissing Gomez, but they broke up nine months later. A month after their split (November 2017), The Weeknd was spotted leaving Hadid's house just as Gomez was reportedly rekindling things with Bieber. Maybe heartbreak isn't all for naught when it fuels an entire EP.