"The Squad" Talked About Thrifting Their Wardrobes on Twitter, and This Is Why We Love Them
The Squad that thrifts together, saves democracy together.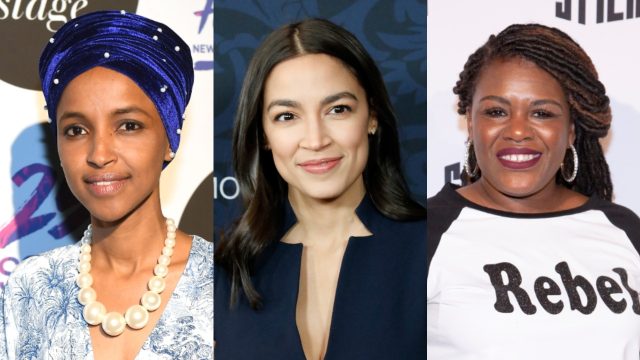 After being voted in as the first Black Congresswoman to represent Missouri on November 3rd, Cori Bush (the newest member of "The Squad") got real about how expensive it is to look the part when working on The Hill. And other Squad members joined in to talk thrift shop and the crowd went went wild.
The reality of being a regular person going to Congress is that it's really expensive to get the business clothes I need for the Hill, Bush tweeted on November 10th. So I'm going thrift shopping tomorrow.
She also asked if her following would like to see a thrifted fashion show, and yes, yes they certainly would.
Michigan Congresswomen Rashida Tlaib responded that she still rocks her maternity shirts under her blazers. "P.S.," she added, "I get the most compliments from the clothes I got from thrift shops."
Minnesota Representative Ilhan Omar agreed that thrifting is the way to go, adding that a thrifted wardrobemakes your look unique.
She then offered to pick up some scarves for Bush to add to her closet. "Somali shops in my district have the best scarves on a budget, will get you some to spice up any wardrobe," Omar wrote. "I specialize in $50 or less outfits."
Representative Alexandria Ocasio-Cortez from New York also quote tweeted Bush and gave her a few words of wisdom: "Thrifting, renting, and patience as you get your closet together sis," adding that a capsule wardrobe "will be your best friend." Plus, a thrifted closet is great for the planet, the co-sponsor of the Green New Deal wrote.
She also called out fellow Massachusetts Representative Ayanna Pressley who AOC says has the accessory game down.
Pressley jumped in and offered up her favorite affordable CVS makeup brands: NYX, Black Opal, and Wet n Wild.
The love in this house is just too much to handle. Can we sign up to join in on this shopping trip? PLEASE?
And you better believe Bush came through with that fashion show she promised us. "Most members of Congress aren't working class," she tweeted. "So when a regular person like me runs, it's hard to handle everything from how much it costs to run, down to the clothes I'll need to wear at work. But we make it work."
And if Bush wants to add a few designer pieces to her collection, designer Christian Siriano is more than happy to oblige.
"The Squad" sisterhood is what we live for, and their women-empowering-women attitude gives us hope for a greater America.