Because we need a light in the darkness, The Rock has actually filed paperwork to run for President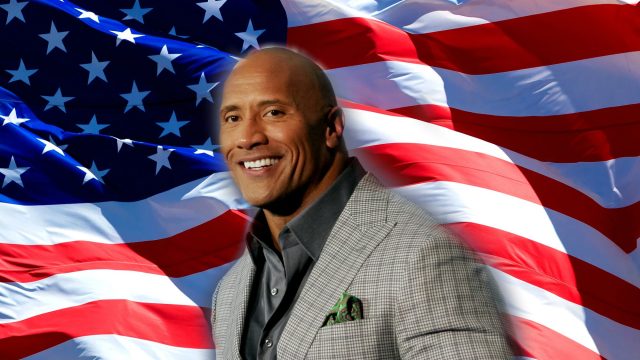 I'm here today to tell you a little story about a very big man with a very big dream. There once was a man named Dwayne "The Rock" Johnson who simply wanted to lead.
So he led. He led in the WWE ring. He stole our hearts as a leading man in many many movies, proving with The Game Plan, Fast Five, and Baywatch that there's no single way to be a leader. He led us to greatness as the reigning People's Sexiest Man Alive.
But now, he's about to embark on his greatest journey to leadership yet because papers have been filed qualifying Mr. Dwayne "The Rock" Johnson to run for President of the United States of America.
This is very real news.
It seems a man named Kenton Tilford, of West Virginia, filed paperwork with the Federal Election Commission (FEC) over the weekend making Johnson eligible to run for the highest public office in the United States. Tilford registered the organization with the name "Run the Rock 2020," which we have to admit is very catchy. It's currently unclear as to whether or not the Kenton Tilford is associated in any way, shape, or form with the Furious Six actor or if the filing is just a joke but regardless, the paperwork *is* official.
Johnson has been very open about his willingness to run for office, joking about it last year before deciding that it might be something to actually pursue, telling GQ in may that the idea was a real possibility.
There are some serious questions that go along with Johnson running for president. What's going to happen to Ballers? Does this mean Hobbs is leaving the Fast family? Can his codename be The Rock or is that too obvious? In history textbooks can he please be referred to President Dwayne "The Rock" Johnson? Will The Rock continue to act on the side? Will Tom Hanks still be his running mate? Will Zac Efron become Secretary of State?
Now, the ball's officially in the Ballers actor's court. Will he run? Not run? What's going to happen to the future of the United States? It seems like it's all up in the air, for now.