What's the Right Way to Exfoliate? We Asked Experts for the Scoop
Yes, there's a wrong way to do it.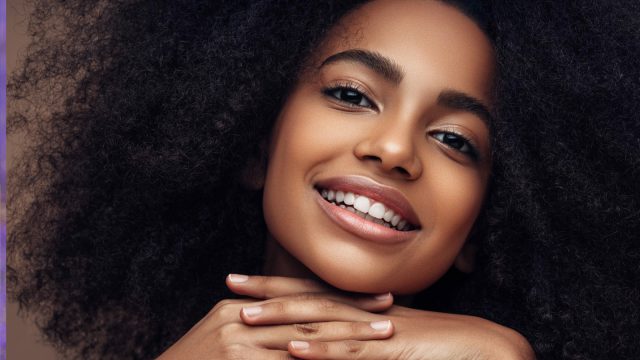 When it comes to our skin, most of us will try anything to keep it soft and glow-y. From fancy facials to the right cleanser that will do the trick to get our skin squeaky clean, we're all in search of a fresh face. But there's so much room for error, and that's especially true when it comes to exfoliating. You could be asking yourself: Do I even need to exfoliate? And if so, how often should I do it? Is there a right way to exfoliate my skin?
According to the experts, definitely. In fact, there are plenty of ways you could be exfoliating incorrectly, which can lead to irritation and even longterm damage—no thanks!
The good news is nearly everyone can exfoliate their way to glowing skin, as long as you do it properly. As you age, it becomes more necessary, too, because your natural skin turnover slows down. But not to worry. Whether your skin is dry, oily, or something in between, we talked to skincare experts for their top tips on how to exfoliate you skin like a pro.
Exfoliation is essentially the process of removing dead skin cells from the top layer of skin. It sounds weird and a bit gross, but it's all totally natural. Our skin sheds on its own roughly every 25 days, but as most people get older, that layer of dead skin tends to stay put, sitting on top of the fresh skin underneath. This can make your complexion appear dull or uneven, which no one really wants…right?
Pros recommend exfoliating a few times a week to get rid of that dead epidermis. This allows the smooth skin underneath to surface, revealing a brighter, more even tone and texture. You can wash your face and then exfoliate, use an exfoliating cleanser, or even try an exfoliating face brush, if you want.
Here's how to exfoliate your skin the right way:
1. Exfoliate at night.
Hannah Sowd, a licensed aesthetician and founder of Hannah Sowd Skin Care recommends adding an exfoliant to your nighttime routine, noting that checking the ingredients is crucial. "Many ingredients like retinol are photosensitive so they shouldn't be used during the day," she says. "Photosensitive means they'll react to sunlight, potentially causing skin to burn more easily, which is a real no-no for daytime ingredients." Instead, use your exfoliant at night, when your skin is in its natural regenerating process."
Facialist and aesthetician Andy Millward agrees that a bedtime routine is best, adding that "post-exfoliated skin allows for greater product absorption."  That means when it comes to layering our favorite skincare products like serums, moisturizers, or an overnight mask before bed, doing so immediately after exfoliating is best.
2. Choose an exfoliator that's right for your skin.
From skincare brushes (like the Olay Facial Cleansing Device), to facial peels and scrubs, exfoliating face lotions, or just a good old cleanser, there are plenty of different ways to exfoliate your skin. However, you need to be aware of your skin type before slathering active ingredients on your face.
If your skin is dry or sensitive, especially during the harsh winter months, you'll want to use extra care on the products you choose. Sowd says, "I love enzyme exfoliators for dry and sensitive skin. Enzymes are gentle yet effective and can be used one-three times per week to help remove dead cells, excess oil, and surface debris that may turn into comedones (blackheads or whiteheads). Enzymes require a few minutes [to sit on skin]. I recommend clients cleanse their skin then apply the enzyme product on clean skin before a shower. Take advantage of the steam from the shower to activate the enzyme before rinsing it off."
For dry skin try: Bliss Pumpkin Powerhouse Resurfacing and Exfoliating Enzyme Mask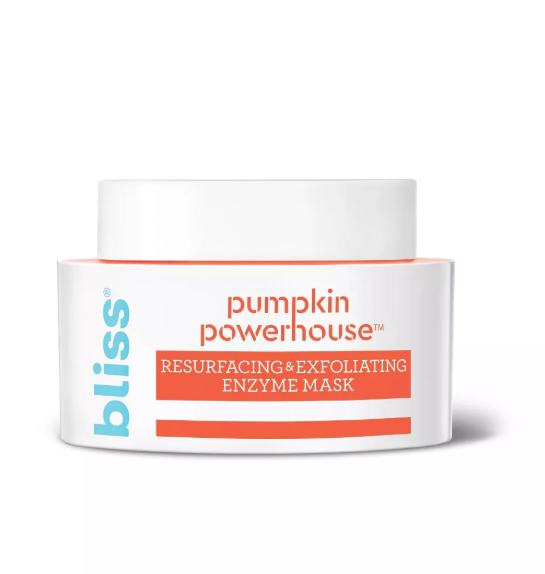 Bliss Pumpkin Powerhouse Resurfacing and Exfoliating Enzyme Mask
$$15
Shop it
Ulta
And as for ladies struggling with adult acne? "Acne-prone skin requires a more aggressive approach since the skin is generally more oily and acne bacteria is present, says Sowd. "Glycolic acid is one of the most user-friendly exfoliating products on the market for acne, so a product containing 10% glycolic acid, used two-three times a week, is an important part of an anti-acne skincare routine."
For acne-prone skin try: Mario Badescu Glycolic Foaming Cleanser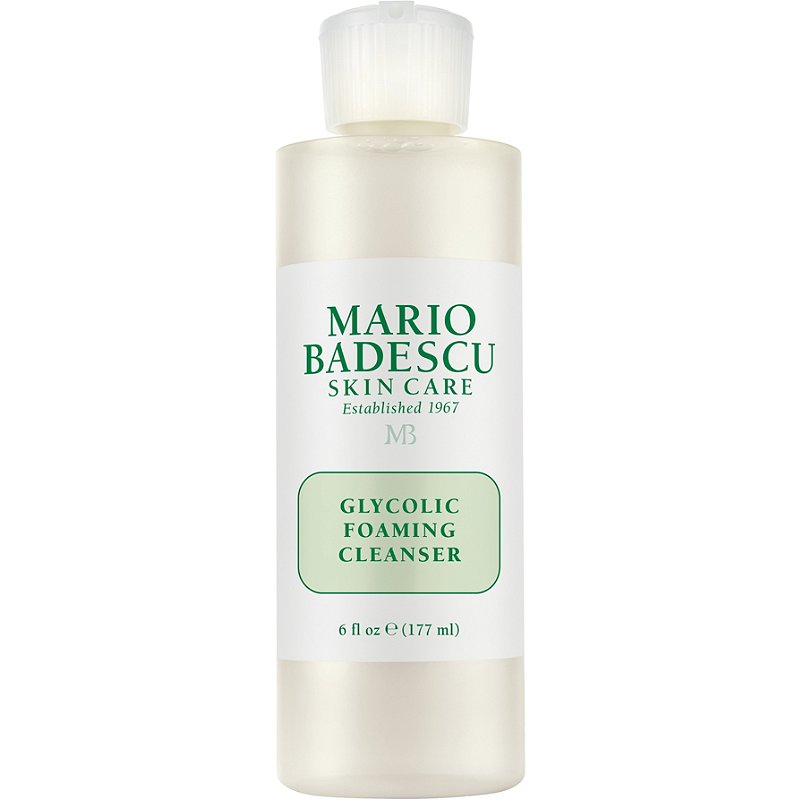 Mario Badescu Glycolic Foaming Cleanser
$$16
Shop it
Ulta
And for those with sensitive skin, be extra aware of the types of exfoliators you're using. "Anything too aggressive that inflames the skin can lead to a compromised barrier function and sensitized skin over time," explains Millward. His ingredients of choice include pineapple, papaya, cranberry or gentle alpha hydroxy acids (AHAs) such as lactic acid or mandelic acid, that dissolve skin cells instead of mechanically sloughing them off.
For sensitive skin try: Kate Somerville ExfoliKate Cleanser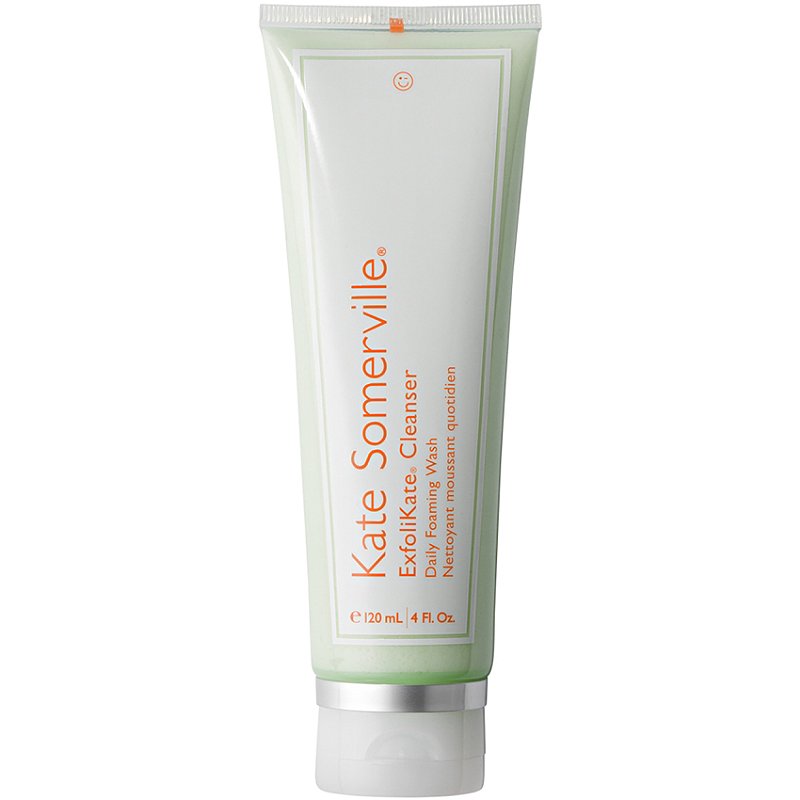 Kate Somerville ExfoliKate Cleanser
$$38
Shop it
Sephora
3. Be gentle.
Over-exfoliating is definitely something to watch out for with all skin types, especially if you use a wash cloth.
"Consider whether or not you use a wash cloth to remove your cleanser, as this will also be providing additional exfoliation," says Millward.  "Over-exfoliation can lead to a compromised barrier function, an increase in trans-epidermal water loss and leaving the skin more vulnerable to infection." Yikes.
So, while it's important to exfoliate, be gentle on your skin and stop if any irritation occurs.
4. Don't forget your body.
Now that we know how to remove the dead skin cells from our faces, what about our bodies?
Millward says that exfoliating our bodies can be done daily, if needed. "For body exfoliation the skin is thicker and therefore more tolerant. I like dry body brushing prior to the shower, as not only does this provide a form of exfoliation but it's also fantastic for stimulating the circulatory and lymphatic systems, therefore providing great detoxifying and drainage benefits to the tissues."
He adds, "alternatively, using exfoliating mitts in the shower with your body cleansing products" works, especially if you're short on time. But if you're looking for a more relaxing, spa-like experience, Millward recommends Himalayan salt scrubs, but recommends avoiding sensitive areas such as the chest and neck (and bikini area), which can be irritated by scrubs and beads. You can also try exfoliating body lotions and peels for similar results.
Some last tips for body exfoliation include working in a circular motion, which is both soothing and effective for covering large areas. You can be a little firmer on thicker skin, such as your elbows and knees, but don't be too aggressive with any skin on your body.
Finally, you should avoid exfoliating if your skin is irritated, sunburned, or if you've got any open cuts or wounds at all. Keeping skin hydrated is crucial, so always follow up exfoliating with your moisturizer of choice. Maintaining a routine that works with your schedule and skin type will leave you feeling silky smooth and glowy…trust us, your skin will thank you.