The psychedelic neon shift dress that never fails to put me in a good mood
Hey you, reader. We just started a new column called Hey, Where'd You Get That, because how many times have you stopped a stranger on the street, or turned to a friend or co-worker and asked, "Hey, where'd you get that?" If you're reading this, we're guessing this happens frequently. Which is why we'll be showcasing the "street" and "office" style of the HelloGiggles community. The staff and contributor network of HelloGiggles has an eclectic style — no human dresses the same, or frequents the same stores. And rather than get hung up on labels and brands and trends, we want to talk about the way clothes make us FEEL. There is so much emotion tied to the way we dress, and we want to share that intimate style narrative with you. Wanna submit your #OOTD story? E-mail us at [email protected]!
If you take a look in my closet, you'll find everything from French Satanic schoolgirl vibes to oversized fish-print Betsey Johnson dresses. While my sartorial leanings run the gamut from goth queen to glam and girly, one thing is for certain — you'll rarely see a pair of pants. I'm a hopelessly devoted dress girl.
About a decade ago, I vowed to shop more secondhand. While this was mostly due to fast fashion exhaustion and a goal to be more eco-conscious, it wasn't anything new. I'd been a fan of thrifting since high school. Of course, there have been times where I'd end up grabbing a few basic pieces at the mall. (Sometimes a girl needs her $10 skater skirts!) But when I can, I prefer to shop secondhand. Since I don't have the time or patience to spend hours sifting through thrift store racks like I did as a teen, I'll turn to a curated vintage shop, whether it's IRL or online. Etsy is my go-to when it comes to vintage shopping, and one of my usual searches is for "psychedelic mod dresses." That is how I discovered this beauty.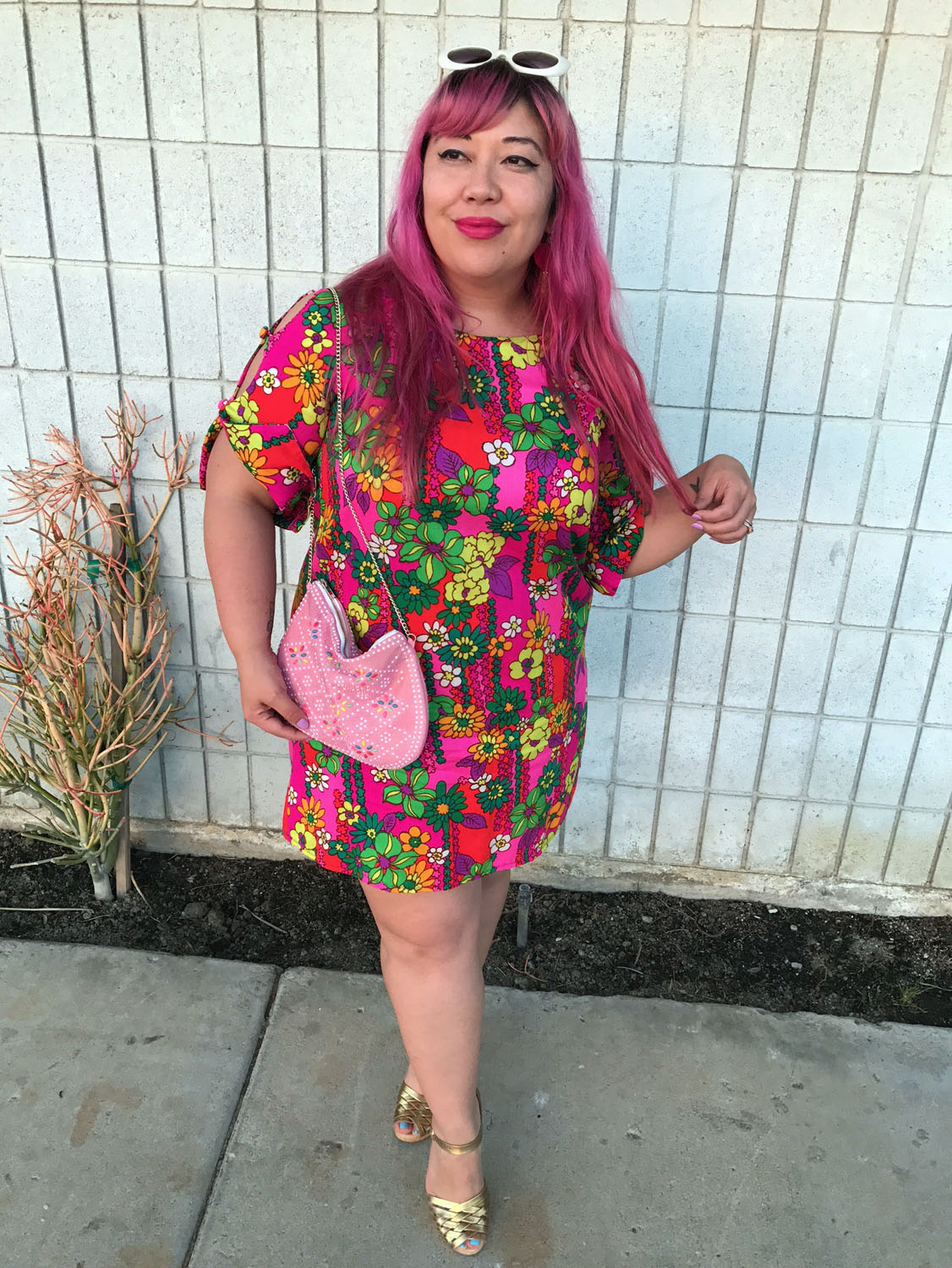 I was drawn to this dress because of its bright, psychedelic colors, bell sleeves, and oversized flower power print. The Cosmic Circle, which is the name of the Etsy shop I bought it from, is known for remaking and restructuring the vintage pieces they find. This dress was made into a mini. I bought if for $50 and crossed my fingers it would fit.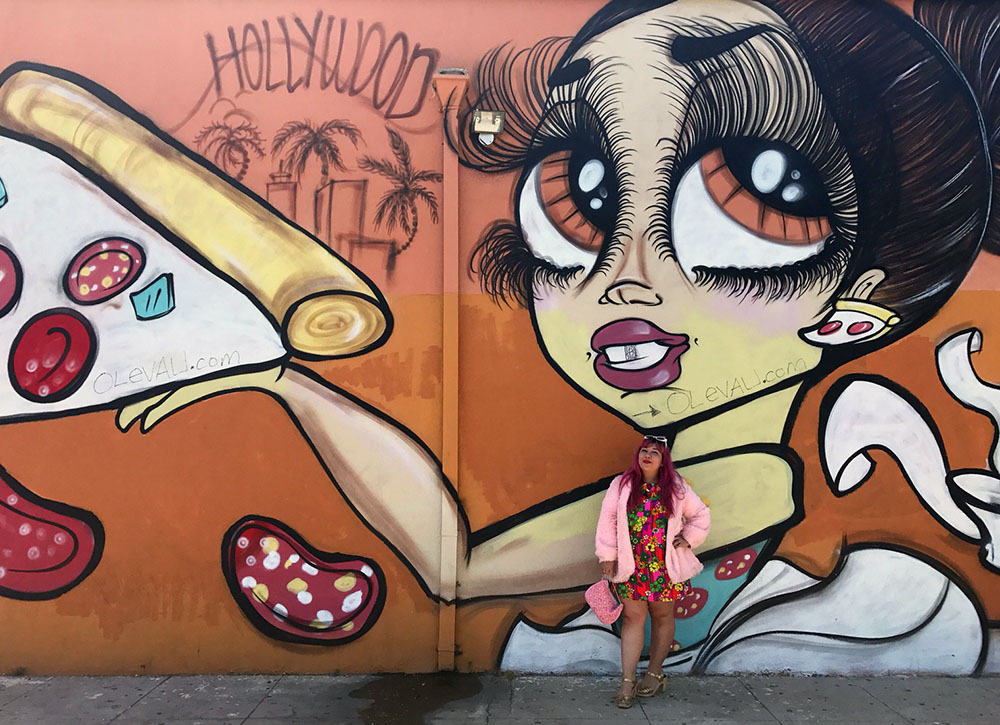 When I received the parcel there was an Unlovable comic and a note from the owner saying that she was a fan of my old fashion blog, Agentlover.com. IT WAS KISMET! Thankfully it fit perfectly and ended up becoming one of my all-time favorite dresses. I wore it to interviews as kind of a good luck charm (though it never really worked). Even though it's been over two years since I bought it, it still puts a smile on my face every time I wear it. Instant mood-lifter. There's just something about the bright colors!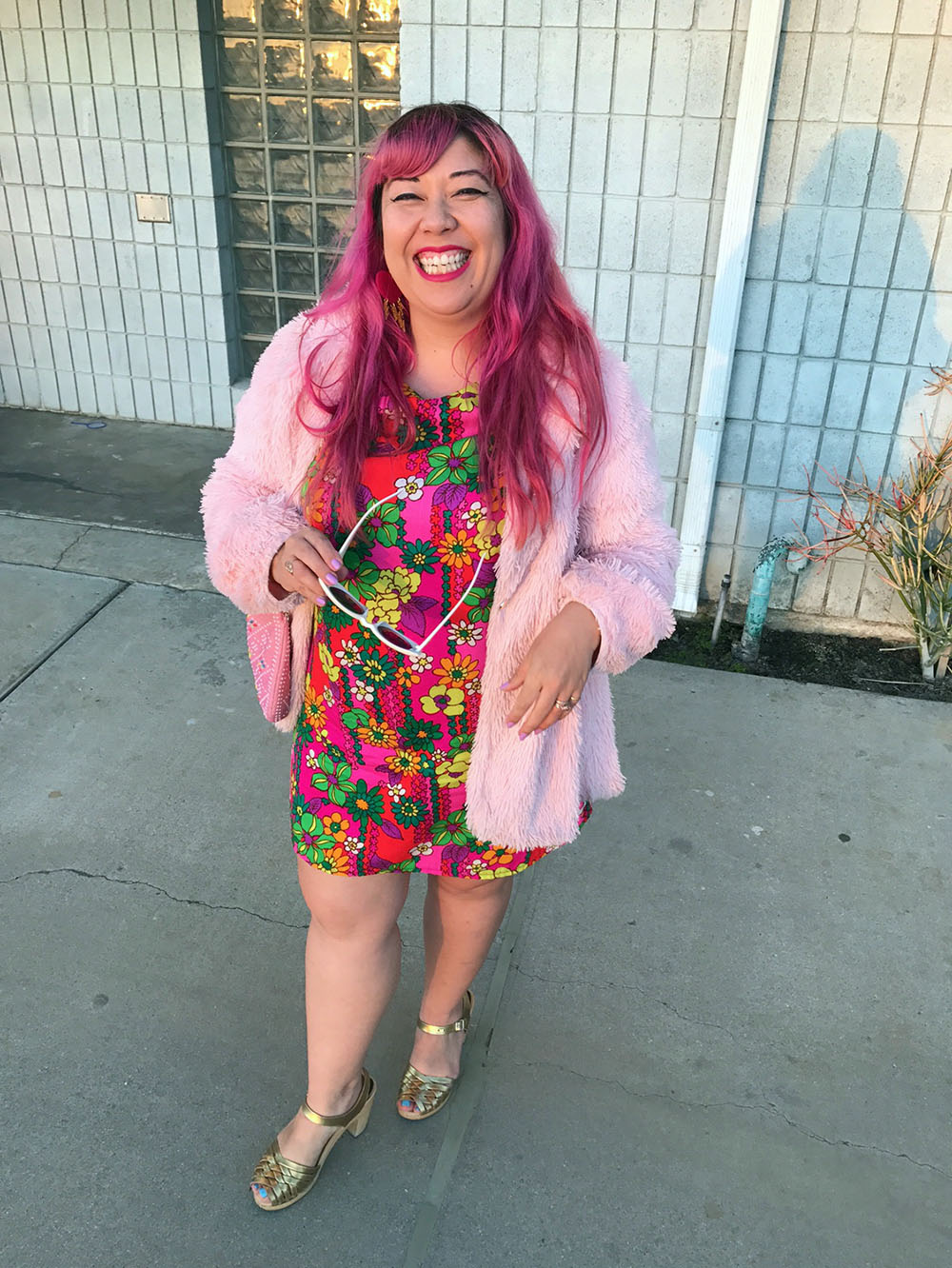 Since it's made from a thicker polyester, the dress is best worn when it's 70 degrees, though hotter weather doesn't stop me from wearing it when I want to. If it's cool outside, I'll pair it with one of my favorite outerwear pieces, a pastel furry pink coat from the brand Family Affairs. I had my eye on this coat for ages and snagged it up when it went on sale. I'm obsessed and want it in every color, though pink is my forte. (This is actually the third pink coat I own.)
The shoes I love to wear with this dress are my gold Swedish Hasbeens. If I want to add height to my 5 foot two frame, I will usually go for some kind of wooden platform heel. Swedish Hasbeens are my ride or die. They are a bit pricey, but worth it since they last forever and are pretty comfortable. It's all about that wooden platform, baby.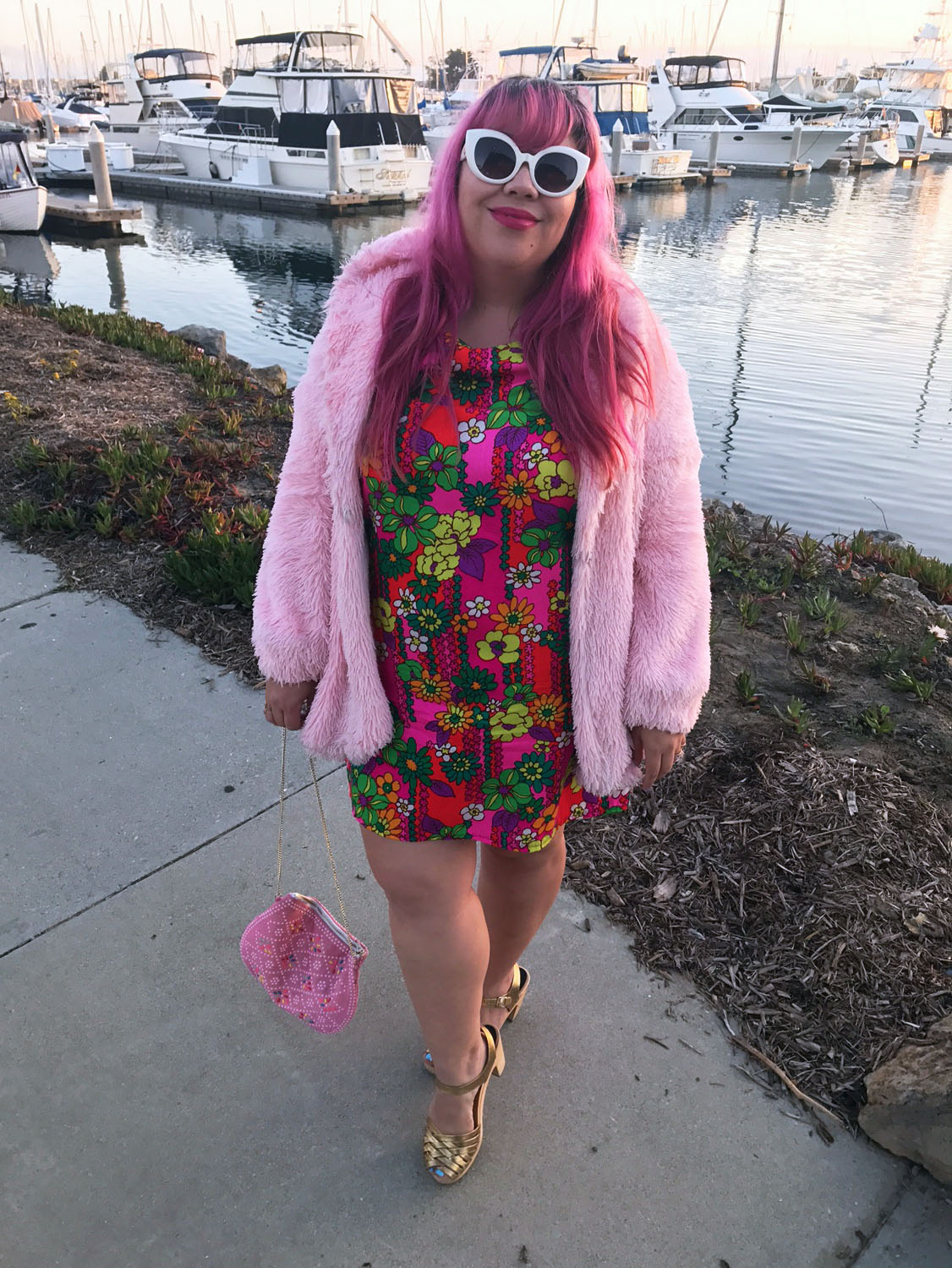 Did you ever have one of those plastic beaded purse toys when you were a kid? There's a British handbag brand called Play Purse that makes purses inspired by them. They are so dreamy. I picked up a pink version at an LA store called Pygmy Hippo Shoppe. The purse is the perfect size — fits everything I need but isn't too big that everything gets lost in it (story of my life). You'll rarely see me without a pair of Crap Eyewear sunglasses. These oversized cat-eye shades have gone with my everywhere. I have them in multiple colors.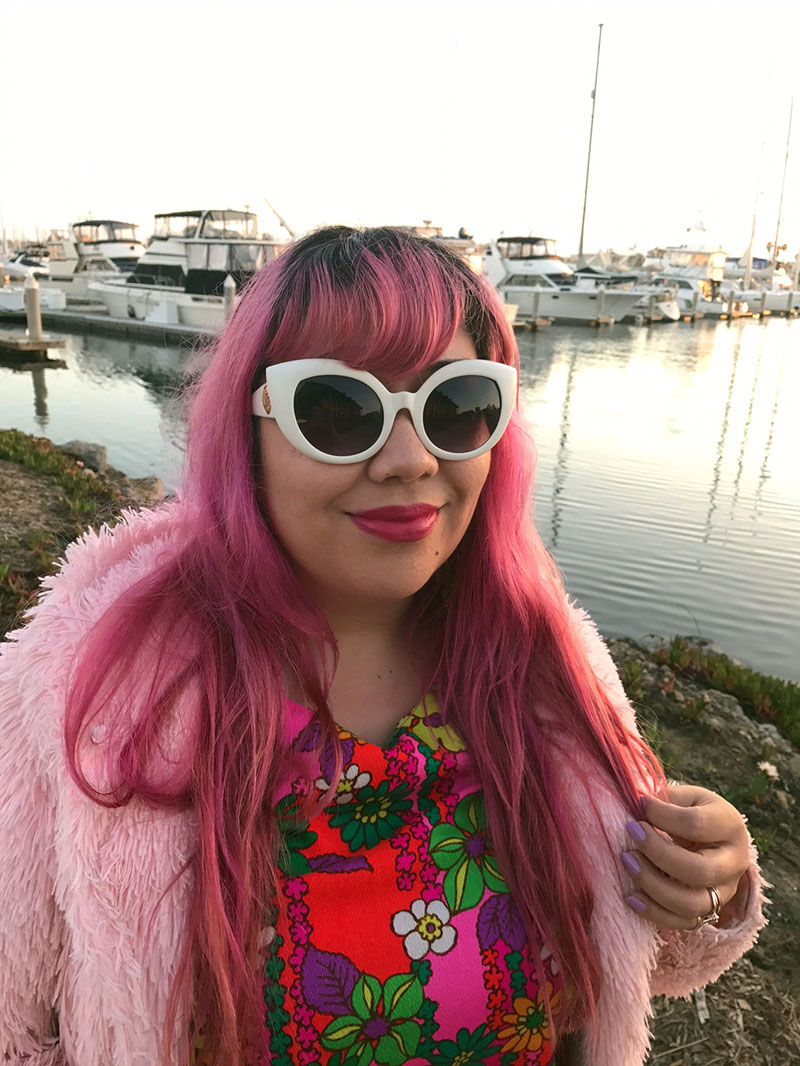 Since my hair is pink, I've been wearing a lot of matching lipstick lately as a sort of monochromatic style. My go-tos have alternated between Kat Von D Beauty's Everlasting Liquid Lipstick in Miss Argentina and Reine Rebelde Bold Lip Color Stick in Rosa Salvaje. Even though my signature look usually consists of black hair, Bettie Page bangs, and red lipstick, I feel completely natural in my blush-hued state. I don't think I'll ever get sick of it. To quote the great Emma Bunton, aka Baby Spice, "I don't think I'll ever get tired of wearing pink."
But it all here:
Vintage Flower Power Mini Dress from Etsy, $50. Find similar searching for "mod dress."
Rue St. Vincent Coat from Family Affairs, $150. Find similar here.
The Diamond Brunch sunglasses from Crap Eyewear, $56.
Play Purse, $48. Find a similar style here.
Swedish Hasbeens Braided Sky High, on sale for $124.99.